Blu-ray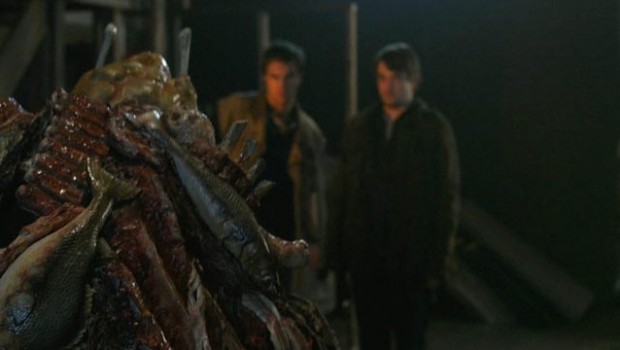 Published on December 23rd, 2013 | by admin
John Dies at the End Blu-ray Review
Summary: A psychic stoner, a zombie skinhead, a sceptical reporter, interstellar leeches, a drug named Soy Sauce and some truly zany special effects all combine to offer a hallucinogenic and truly unique viewing experience
John Dies at the End
Distributor: Madman
Runtime: 100 min
Rating: MA15+
Reviewer: Simon Black
I like films with self-explanatory titles.  The Elephant Man, There Will Be Blood, Hercules Against the Moon Men  – you're getting what it says on the box.
Directed by the criminally overlooked Don Coscarelli (Bubba Ho-Tep) and starring Paul Giametti, who also acted as Executive Producer, John Dies at the End is a worthy addition to the club, and one of the most mayhem-filled and unashamedly genre-bending horror films of 2012.
A psychic stoner, a zombie skinhead, a sceptical reporter, interstellar leeches, a drug named Soy Sauce and some truly zany special effects all combine to offer a hallucinogenic and truly unique viewing experience.  Giametti is excellent alongside his lesser-known co-stars, and though some of the more outré visual gags lack discrimination Coscarelli ultimately manages another solid outing on a shoestring budget.
Bolstered by an hour of truly worthwhile bonus features and a Commentary track from the film's director, producer and stars, the Blu-ray release of John Dies at the End is a must for those who like their sci fi/horror/comedy/monster movies thought-provoking and truly twisted.
Special Features
–        Audio Commentary
–        Fangoria Interview with Paul Giametti
–        Deleted Scenes
–        Making of Documentary
–        Effects Featurette
–        Casting Sessions
–        Trailers