Events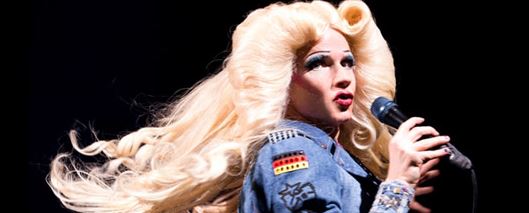 Published on April 6th, 2018 | by Admin
John Cameron Mitchell: The Origin of Love- the Songs and Stories of Hedwig, July 10 at Arts Centre Melbourne
Arts Centre Melbourne and David M Hawkins are thrilled to announce Tony Award winning actor/director/writer John Cameron Mitchell will be coming to Australia for the very first time in June with his new show, The Origin of Love: The Songs & Stories of Hedwig. The exclusive Melbourne performance will take place at Hamer Hall, Arts Centre Melbourne on Tuesday July 10, 2018 as part of the national tour.
John Cameron Mitchell directed, wrote and starred in the film Hedwig and the Angry Inch (2001), for which he received the Best Director and Audience Awards at the Sundance Festival. He was also nominated for a Golden Globe for Best Actor. His Broadway production of Hedwig garnered him a 2014 Tony Award for Best Revival of Musical and a Special Tony Award for his return to the role in 2015.
Mitchell's seriously impressive depth of work includes the improv-based film Shortbus (2006), and 2010's Rabbit Hole starring our Nicole Kidman who scored an Academy Award nomination for her role. Mitchell executive produced Jonathan Caouette's Tarnation (2004) and has played recurring roles in HBO's Girls, Martin Scorsese's HBO series Vinyl, The Good Fight and current season of Mozart in the Jungle. This northern spring will bring the release of his film adaptation of Neil Gaiman's punk-era How to Talk to Girls at Parties starring Elle Fanning and Nicole Kidman. 
Mitchell said of the upcoming Australian tour, "At last! My journey to Oz, long-deferred by silly obstacles like unemployment and air fare, is a reality! I shall strap on a Cubist corsette and chromium wig, regale you with haphazard stories from 55 years of fake rock stardom and wail your favorite Hedwig songs like some kind of wonder woman within. Please prepare for my eminent arrival".
The Origin of Love: The Songs & Stories of Hedwig will see the Tony Award-winning, Golden Globe-nominated co-creator of Hedwig performing songs and telling tales from the ground-breaking rock musical's 20 years history as well as previewing songs from his upcoming musical podcast, Anthem.
Do not miss this chance to experience the original Hedwig!
John Cameron Mitchell
The Origin of Love: The Songs & Stories of Hedwig
Special Guest Artist – Amber Martin
Produced by David M. Hawkins
Musical direction by Andrew Worboys
Costume by Erik Bergrin
Wig by Mike Potter
Photo credit: Joan Marcus
Melbourne performance details:
Tuesday July 10 2018, 8pm
Hamer Hall, Arts Centre Melbourne
Duration: 80 minutes (no interval)
Tickets: artscentremelbourne.com.au or 1300 723 038
National tour details:
Friday June 22 2018, Festival Theatre, Adelaide Cabaret Festival
Friday 6 July 2018, Concert Hall, Sydney Opera House
Tuesday 10 July 2018, Hamer Hall, Arts Centre Melbourne
Tuesday 17 July 2018, Concert Hall, Queensland Performing Arts Centre (QPAC)
#Showtuneproductions #JCMinOz
Instagram: @JohnCameronMitchell / @ShowtuneProductions
Facebook: @ShowtuneProductions