Comics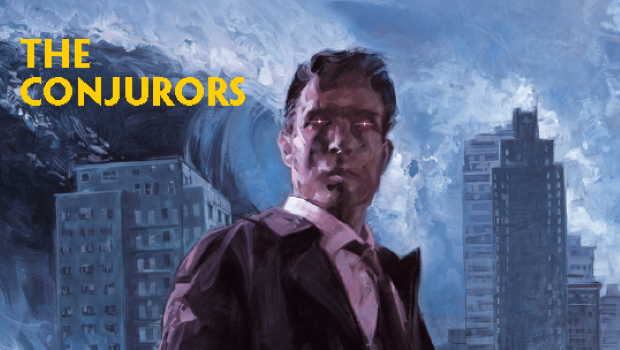 Published on January 27th, 2020 | by Chris O'Connor
Joe Golem: Occult Detective Volume 4 – The Conjurors HC Comic Review
Summary: With Simon Church on his way out, Molly held captive and Joe seemingly out for the count... can anything stop Dr. Cocteau?
Simon Church is inching closer and closer to his last breath, Molly is being held captive by Dr. Cocteau's gas-men below the city and Joe seems out of action… but perhaps there's still a glimmer there? Can Dr. Cocteau be stopped before he unleashes the power of the artifact he seeks?
Writing
I've dropped in and out of Joe Golem's story and it just happened to be that I think the last issue I read preceded this collection. There's a lot of tension contained within these pages, Molly is in less than ideal circumstances, Simon Church seems to be fading fast and Joe… Joe is having his own issues. The impact of having three fronts all with their own quite large problems running simultaneously is that the reader is kept breathless (appropriate given some of the surroundings) and there are three fronts for which we can hope to get relief. That tension is held more or less the whole way through though and though there might be glimmers of hope to keep us hanging on… there are also some pretty heart wrenching elements that are thrown down for us to take on board. Some great writing that asks some tough questions about what is right and what is wrong and what cost is acceptable and what is too much to ask when the very world itself may be at stake.
Artwork
The pages are filled with that familiar art style that can't help but let you instantly know it's a Mignolaverse story, as with any stylistic art it may not be everyone's cup of tea… but for me I find it brings me right into that world space before I've even read the first page. It's a great way of setting the tone and bringing the reader into the story without having to explain the general context… I mean that's there too… but if you've read any other Mignolaverse story you know more or less what to expect. Combine the familiarity of the line art with the somewhat limited colour palette and you have very easy on the eyes art. I don't want to be misunderstood here either, when I say "limited colour palette" that's not a bad thing… I think it lends to the overall style and it helps keep the page from getting too complicated. There are very clear colours and shades and they all do a wonderful job of moving the story forward without being distracting.
Final Thoughts?
If you like pulp detective novels, this is an easy choice. If you like stories about heroes who have the odds stacked against them but somehow manage to keep fighting… this is certainly for you. If you love the Mignolaverse… well, you've probably already got this on pre-order. A great story and a wonderful character… possibly more human than many who were born that way.
Comic Details
Publisher: Dark Horse
Writer: Mike Mignola, Christopher Golden
Artist: Peter Bergting
Colourist: Michelle Madsen
Cover Artist: David Palumbo
Genre: Horror, Crime, Action/Adventure
Format: 144pgs, FC, HC
Release Date: 26th February, 2020