Events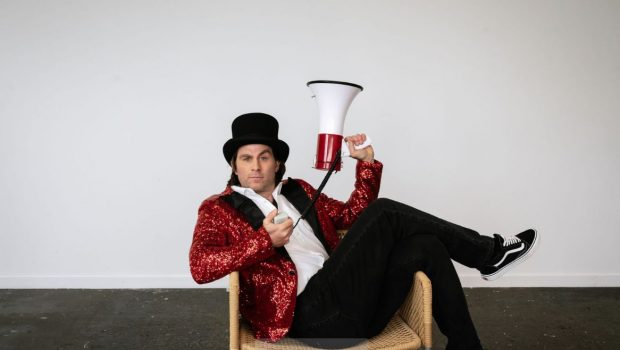 Published on July 19th, 2023 | by Adrian Gunning
Jimmy Rees announces final hometown Melbourne show at Hamer Hall to 'Not That Kinda Viral' tour
National 24-show tour kicks off next month!
Frontier Touring today announce that due to high ticket demand, Jimmy Rees adds one final hometown Melbourne show to his now 24-show Australia-wide highly anticipated Not That Kinda Viral Tour for Aug-Nov 2023. ​ The 4th and final Melbourne show will take place at Hamer Hall on Friday 3 November at 7pm. ​
Frontier Members presale for the new Melbourne show kicks off 12noon local Thursday 20 July before the general public on sale 12noon local Monday 24 July. ​ Tickets via frontiertouring.com/jimmyrees
Kicking off next month, Jimmy will visit Melbourne, Canberra, Sydney, Adelaide, Perth, Brisbane, Gold Coast, Darwin, Hobart – and touring Newcastle and Wollongong for the very first time – throughout August – November!
With multi-million views across his Facebook (1m+ followers), YouTube (160k subscribers / 31.8m+ views), Twitter (15.3k followers), TikTok (1.4m followers + 38.1m Likes) and Instagram (636k followers) platforms, highly entertaining videos/playlists include, Say It Properly, Why Is It Like This, Border Control for…, Meanwhile In Australia, The Guy Who Decides…, POV: You're From…, Funny & Relatable, The Test To Become…, The Packaging Guy, Parenting Funnies and the hilarious The Great Melbourne Earthquake and Meanwhile in Brighton.
Limited VIP packages available across the tour. Details and T&Cs: JimmyRees23VIP
​
​Don't miss Jimmy Rees live – a show full of laughs, relatability and fun – this August, September, October and November!
JIMMY REES
'NOT THAT KINDA VIRAL' 2023 TOUR
AUSTRALIA
Presented by Frontier Touring and AAMI
________________________________________
NEW MELBOURNE SHOW
FRONTIER MEMBERS PRESALE
via frontiertouring.com/jimmyrees
Runs 24 hours from Thursday 20 July (12noon local)
or until pre-sale allocation exhausted
________________________________________
NEW MELBOURNE SHOW
GENERAL PUBLIC ON SALE
Begins: Monday 24 July (12noon local)
________________________________________
ALL OTHER SHOWS ON SALE NOW
via: frontiertouring.com/jimmyrees
________________________________________
Wednesday 30 August
The Palms at Crown | Melbourne, VIC
SOLD OUT
6pm show
Lic. All Ages
ticketmaster.com.au
Wednesday 30 August
The Palms at Crown | Melbourne, VIC
SOLD OUT
8:45pm show
Lic. All Ages
ticketmaster.com.au
Saturday 9 September
Royal Theatre | Canberra, ACT
SOLD OUT
6pm show
Lic. All Ages
ticketek.com.au
Saturday 9 September
Royal Theatre | Canberra, ACT
8:45pm show
Lic. All Ages
ticketek.com.au
Thursday 14 September
Enmore Theatre | Sydney, NSW
7pm show
Lic. All Ages
ticketek.com.au
Friday 15 September
Wollongong Town Hall | Wollongong, NSW
SOLD OUT
6pm show
Lic. All Ages
merrigong.com.au
Friday 15 September
Wollongong Town Hall | Wollongong, NSW
8.45pm show
Lic. All Ages
merrigong.com.au
Saturday 16 September
Enmore Theatre | Sydney, NSW
SOLD OUT
6pm show
Lic. All Ages
ticketek.com.au
Saturday 16 September
Enmore Theatre | Sydney, NSW
SOLD OUT
8:45pm show
Lic. All Ages
ticketek.com.au
Sunday 17 September
Civic Theatre | Newcastle, NSW
SOLD OUT
6pm show
Lic. All Ages
civictheatrenewcastle.com.au
Sunday 17 September
Civic Theatre | Newcastle, NSW
8.45pm show
Lic. All Ages
civictheatrenewcastle.com.au
Thursday 21 September
Her Majesty's Theatre | Adelaide, SA
SOLD OUT
6pm show
Lic. All Ages
ticketmaster.com.au
Thursday 21 September
Her Majesty's Theatre | Adelaide, SA
8:45pm show
Lic. All Ages
ticketmaster.com.au
Friday 22 September
Riverside Theatre | Perth, WA
7pm show
Lic. All Ages
icketek.com.au
Saturday 23 September
Riverside Theatre | Perth, WA
SOLD OUT
6pm show
Lic. All Ages
ticketek.com.au
Saturday 23 September
Riverside Theatre | Perth, WA
SOLD OUT
8.45pm show
Lic. All Ages
ticketek.com.au
Friday 29 September
Brisbane Convention & Exhibition Centre | Brisbane, QLD
6pm show
Lic. All Ages
ticketek.com.au
Sunday 1 October
The Star Gold Coast | Gold Coast, QLD
6pm show
Lic. All Ages
ticketek.com.au
Saturday 14 October
Darwin Entertainment Centre | Darwin, NT
SOLD OUT
6pm show
Lic. All Ages
yourcentre.com.au
Saturday 14 October
Darwin Entertainment Centre | Darwin, NT
8:45pm show
Lic. All Ages
yourcentre.com.au
Saturday 21 October
Wrest Point Entertainment Centre | Hobart, TAS
SOLD OUT
6pm show
Lic. All Ages
wrestpoint.com.au
Saturday 21 October
Wrest Point Entertainment Centre | Hobart, TAS
8:45pm show
Lic. All Ages
wrestpoint.com.au
Thursday 2 November
Palais Theatre | Melbourne, VIC
6pm show
Lic. All Ages
ticketmaster.com.au
Friday 3 November
Hamer Hall | Melbourne, VIC
NEW SHOW
7pm show
Lic. All Ages
Tickets on sale Monday 24 July (12noon local)
ticketek.com.au