Comics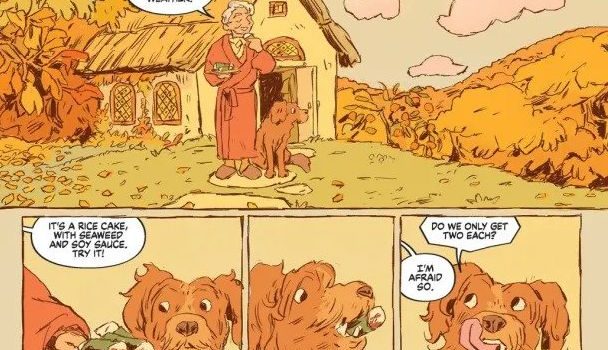 Published on May 5th, 2022 | by Tim Chuma
Jim Henson's the Storyteller: Shapeshifters #3 Review (2022)
Summary: Manages to fit a lot into such a short story. Well worth a look if you are a fan of the Storyteller setting.
Taking the setting of Jim Henson's the Storyteller we explore the Japanese folk tale involving kitsune and her family and how they never give up on her even when everyone else encourages them to do so.
This does fit a lot into the story give the short number of pages and does feel like an episode of the old TV series that I remember as there were always some overall message to the story.
The artwork is really great here at telling the story and helping you feel what the characters are going through. I would say that it is traditional Japanese style artwork inspired rather than being fully a manga on its own.
What the old man and the dog from the Storyteller are doing having sushi is never explained and come to think of it we never knew where they lived in the original either.
A recommended pick up if you were a fan of the original series or want something different to a lot of things that around these days as it is different to the usual franchise fare.`
Book details:
Story & Art: Emilia Cilento
Executive Editor: Sierra Hahn
Cover Art: Frany
Variant Covers: Mateus Manhanini
Letters: Jim Campbell
Designer: Madison Goyette
Editor: Allyson Gronowitz
Executive Editor: Sierra Hahn
Publisher: Boom! Studios
Published: 4th May 2022