Hardware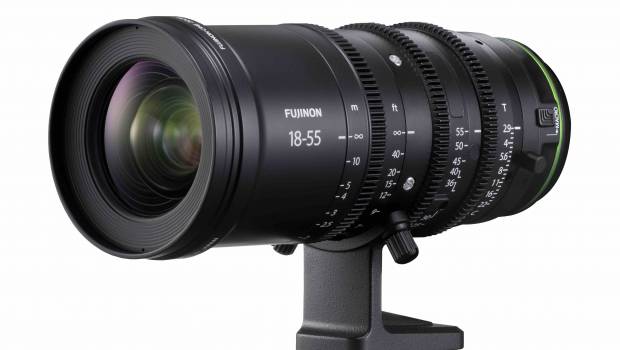 Published on February 20th, 2018 | by Admin
JIFILM ANNOUNCES NEW ULTRA-COMPACT FUJINON CINEMA LENSES FOR X MOUNT CAMERAS
High performance, lightweight cinema lenses for the X Series line of mirrorless interchangeable lens digital cameras
SYDNEY, 20 February 2018 – FUJIFILM has announced the launch of FUJINON MKX18-55mm T2.9 and FUJINON MKX50-135mm T2.9 cinema lenses for X Mount, new additions to the X Series line of interchangeable lenses.
Available in June 2018, these cinema lenses offer a lightweight and compact design with the same optical performance and operability as larger cinema lenses in their class. They cover 18-135mm–the most frequently used focal length in video production–and achieve a constant T2.9 aperture across the entire zoom range, enabling a shallow depth of field and beautiful bokeh effect. With an enhanced optical and mechanical design, the MKX18-55mm and MKX50-135mm suppress focus shifts while zooming and reduce lens breathing, ensuring continuous sharp output. In line with the optical performance of the XF16-55mm and XF50-140mm lenses, these new MKX lenses offer a range of features that enable ease-of-use for capture in a wide array of shooting situations.
Advanced Optical Performance in a Compact, Lightweight Lens Barrel
The MKX18-55mm and MKX50-135mm are lightweight and compact; achieving advanced optical performance utilising the short flange focal distance of X Mount. This feature reduces the number of people needed for the shooting process, ideal for small budget productions. In addition, the lenses offer advanced optical performance across the entire zoom range. Achieving T2.9 aperture, they facilitate the bokeh effect with shallow depth-of-field eliminating the need to readjust lighting. Combined, these features not only lead to beautiful videos, but also shorten shooting time, making the MKX lenses a very economical choice for movie production. Further adding to its superior output, contact with an X Series camera corrects distortion, colour, brightness and achieves Fujifilm's various Film Simulation modes.
Featuring an Optical and Mechanical Design Ideal for Video Shooting
The optical and mechanical approach employed in these new MKX lenses allows for elimination of time lag that is usually experienced with electrical control systems. Manufacturing technology developed for conventional FUJINON cinema lenses was applied to control the optical axis shift while zooming. The front inner-focusing system controls lens breathing, allowing for smooth focus over an entire scene. Additionally, when zooming, focus shift is suppressed by independently driving the front focusing group and zooming group of lens elements away from each other. 
 
Comfortable Operability Provided Through Dedicated Cinema Lenses
The MKX18-55mm and MKX50-135mm feature three fully manual rings for independent adjustment of focus, zoom and aperture, allowing for intuitive operation. The focus ring offers a rotation of a full 200degrees to facilitate precise focusing even when shooting with a shallow depth-of-field where a high degree of precision is required. Further, all operation rings have a gear pitch of 0.8 m, allowing the use of all standard third party accessories for video production. With an iris that supports seamless adjustment, precise and silent exposure is achieved while preventing camera shake caused by clicking, making these lenses perfect for a wide array of shooting situations. 
 
Standardised Design for Ease of Operation
Adding to their high quality video production, these MKX lenses are designed for ease-of-use. The gears for all three rings are positioned in the same place eliminating the need to re-position accessories when switching lenses. Only one matte box with an 85mm front diameter and one filter size with a filter thread of 82mm are needed between the two lenses. Equipped with a macro function that allows shooting close-ups to broaden the range of scenes that can be covered with one lens, optimum performance is achieved. 
 
FUJINON MKX18-55mmT2.9 Key Features
• Compatible with all FUJIFILM X Series interchangeable system cameras
• Compact, lightweight lens weighing just 1,080g with external dimensions (maximum diameter x length) of 87mm x 206.6mm
• Comprised of 22 glass elements in 17 groups with 6 super extra low dispersion lens elements and 2 extra low dispersion lens elements
• Achieves maximum aperture of F2.8 and minimum aperture of F22 for close-up shots
• Focus range of 0.85m/2ft 9" with wide macro function and 0.38m/1ft 2.9" at wide end and angle of view at 76.5° – 29.0°

FUJINON MKX50-135mmT2.9 Key Features
• Compatible with all FUJIFILM X Series interchangeable system cameras
• Compact, lightweight lens weighing just 1,080g with external dimensions (maximum diameter x length) of 87mm x 206.6mm
• Comprised of 22 glass elements in 17 groups with 2 extra low dispersion lens elements and 2 super extra low dispersion lens elements
• Achieves maximum aperture of F2.8 and minimum aperture of F22 for close-up shots
• Focus range of 1.2 m/3 ft. 11" with wide macro function and 0.85 m/2 ft. 9" at wide end and angle of view at 31.7° – 12.0°
Accessories Included in Both Lenses
• Tripod collar foot
• Support foot
• Zoom lever
• Lens cap
• Lens rear cap
• Lens hood
• Wrapping cloth

Availability 
The FUJINON MKX18-55mm T2.9 cinema lens will be available from June 2018
 
The FUJINON MKX50-135mm T2.9 cinema lens will also be available from June 2018