Interviews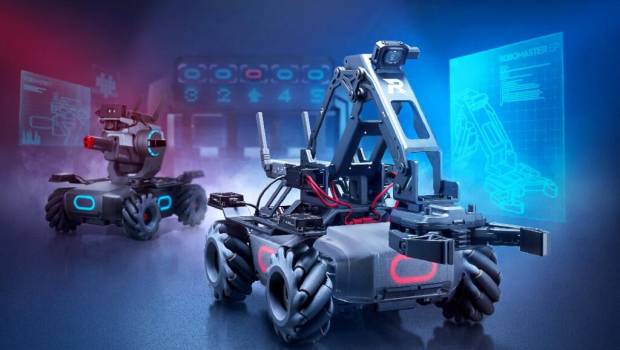 Published on September 15th, 2020 | by Andrew Bistak
Jianrong Gao, Head of DJI Education Interview
You are the Head of DJI Education, could you explain your role to our readers?
As one of the core team members helping to organize our annual robotics competition, RoboMaster, I had the opportunity to take my learnings, experience and technical knowledge from the competition to help develop a new branch in DJI – DJI Education.
In 2019, and after witnessing the success of the RoboMaster competition, DJI Education was formed with the goal to incorporate the latest cutting-edge technology into classroom learning and STEAM education.
What do you enjoy most about your role? Your biggest challenge (if any)?
DJI is a global technology company, innovator and leader in aerial technology, but the education sector is a new area for us. Working with the education sector is exciting in that we get to engage academics, schools and parents to learn how technology is playing a bigger role in today's learning.  It's also exciting for teachers and students to be able to access to the latest technology that support STEAM education in the classroom.
Although teaching materials and curriculums is already a part of our all-in-one solution with the RoboMaster series, there is more work to be done.
We understand that each country and even down to the school level have their own teaching requirements and guidelines, so an interesting challenge for us is to continue to identify and work with local curriculum partners to make our education products more relevant and practical for teachers to implement into their STEAM subjects.
DJI Education launched a new product, the RoboMaster EP Core, can you tell us a little about this new product?
The RoboMaster EP Core, an all-in-one classroom solution, takes STEAM learning to the next level. It includes an educational robot with cutting-edge hardware capabilities, supplemental teaching materials and a competition kit to introduce students to AI, engineering, programming, robotics and more.
Built to help instructors teach in an engaging, hands-on approach, the RoboMaster EP Core is equipped with high-performance mechanical accessories like robotic arm, gripper, mecanum wheels and armors which can be programmed and controlled for a variety of fun tasks.
With multiple ports, the RoboMaster EP Core supports third-party accessories for customization (e.g. Lego® blocks so users can build and expand), including smart sensors and single board computers. It can support up to 39 programmable components, allowing students to use streaming data from sensor modules, video and audio to program AI applications.
What excites you most about the RoboMaster?
The RoboMaster EP Core combines entertainment and gamification into STEAM learning, which excites most, if not all students.  We believe that play, experimenting, and creating should all be a part of the learning process.
Robotics is the future! Can you walk us through some of the education behind the RoboMaster EP core?
The RoboMaster EP Core includes a suite of add-ons, accessories and more – all supported by a detailed curriculum covering everything from the basics to advanced operation. The curriculum will be aligned with local curriculum standards and is broken into 3 clear sections; Learn, Apply, Reflect.
Each section has a clear structure with consistent lessons students and teachers to follow. The Apply section follows a use, modify and create pedagogy to enable students to develop an understanding in the practical application of the robot. Within each lesson, there is an opportunity for assessment that checks on students' overall understanding of the covered concepts.
Teachers can refer to the guidebook to define goals and expand classroom content, and use the supplementary teaching slides to highlight key information with images and videos. Teachers will also have access to a community with other teachers and attend local info session activities and events hosted by DJI Education and its partners.
DJI are working with education facilities across Australia, can you explain how your products will be incorporated into some of the curriculums?
Across the different modules, students are challenged to apply their programming knowledge to come up with a solution to a specific problem. In addition to their coding skills, students will also make use of logic, problem solving skills and teamwork.
It's really up to the school or teacher on how they want to incorporate this technology into their curriculum, and at which academic level. Some schools may use the RoboMaster competition as an learning opportunity and practical hands-on experience for students (Example: NUS), while others may offer it as an extra-curricular activity or workshop outside of school (Example: Singapore Science Center).
Example at the high school level: https://youtu.be/jIdLErsfjIc
Example at the University level: https://bit.ly/3525eEN
Can you tell us about some of the AI behind the RoboMaster?
The RoboMaster EP Core gives students a first look into AI and robotics.  It was built with various advanced components to help the robot explore the world around it.
It is equipped with an intelligent controller that supports six AI functions that can be programmed to recognize lines, vision markers, claps, gestures, people and other robots.
With an easy-to-use open software, the robot supports multiple programming languages, including Scratch 3.0 and Python, FPV control, custom UI and multi-machine communication.
The open SDK increases the expandability of the robot, offering the possibility to create interesting AI applications, such as object recognition, voice command and motion sensing.
Lastly, where do you think the DJI will be in 10-years?
The world is changing at lighting speeds, and so is our technology.
14 years ago, DJI started as a components company developing flight control systems. In late 2012, we launched our first quadcopter called the Phantom, and in 2016, we introduced the world's first foldable drone the Mavic Pro. In between, we also introduced cameras, gimbals and now robots.
What's interesting is that once people are familiar with the technology, they become creative, innovative and find new ways of using it.  A perfect example is how our drones are now becoming a life-saving tool for firefighters, law enforcements, emergency response teams, etc., and not just an aerial camera for photographers and filmmakers.
While I can't predict where DJI will be or what we will be create in 10 years, I am certain that our technology will continue to bring tangible benefits to businesses and our customers, help communities and people in need, and provide people with a different perspective of the world.
For more information on DJI and their products, please visit https://www.dji.com/au