Kids Stuff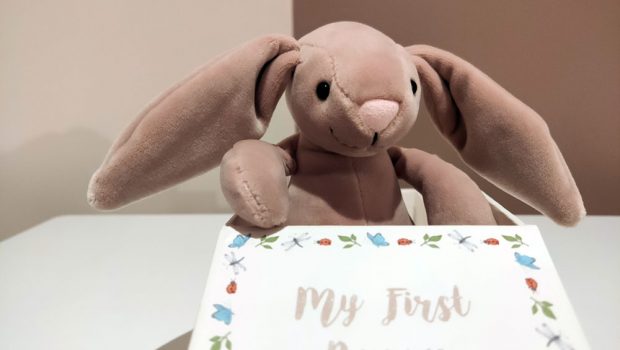 Published on July 28th, 2019 | by Admin
Jellycat My First Bunny Review
Summary: Jellycat My First Bunny is the perfect gift for newborns and older children such as toddlers who will simply adore this cuddly rabbit!
My First Bunny by Jellycat is the perfect comforter for newborns to toddlers that makes a great gift and keepsake. Beautifully packed and presented by Jellycat, this soft and cuddly bunny also allows you to add the birth details of the child (or even rabbit) which includes Date of Birth, Name and Birth Weight.
Another great aspect about this product is the way the gift box just opens up to reveal the beige bunny in the box with its oversize ears that has been designed to be allergy free. Furthermore, this cuddly bunny is quite soft, very light and measures at 19cm.
My First Bunny Unboxing Photos
Of course, let's see what our little reviewers thought of Jellycat's My First bunny?
They were a hit with our twins! As toddlers, they really loved how the box opened that revealed this rabbit "teddy" which has also become a favourite comforter in their cots. So if you're looking for a truly memorable gift, the Jellycat My First Bunny ticks all the right boxes!
Recommended!
About My First Bunny
Make a first birthday bounce with My First Bunny. Tucked up snugly in a bunny-print box, this flopsy friend is ready for the world! Velvety-soft in scrummy beige fur, this little bunny is sneezy-tot-friendly. The perfect memento for a very special day.
Barcode: 670983114959
Recommended Age: Suitable from Birth
Batteries Required: Not Required
Care Instructions: Hand Wash Only, do not bleach, tumble dry or dryclean
Dimensions (no pkg): H 190 mm @ 0.83 Kg
Display Dimensions: NA
Inner Carton Dimensions and weight: NA
Item Dimensions (in pckg) & weight: H 190 mm @ 0.83 Kg
Outer Carton Dimensions and weight: 390 X 370 X 210mm
Item Made from: 100% polyester
Packaging Type: Swing Tag

For more information, please visit
https://www.isgift.com/ProductDetail/BB4MFB_Jellycat-My-First-Bunny-min-4