Games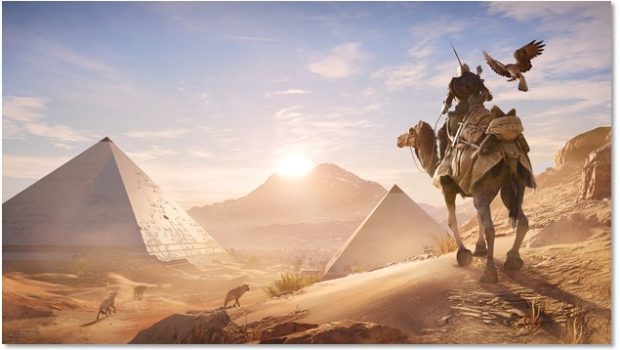 Published on September 28th, 2017 | by Admin
Jean Guesdon, Creative Director Q&A (Discovery Tour Assassin's Creed: Ancient Egypt)
What is the Discovery Tour by Assassin's Creed: Ancient Egypt?

The Discovery Tour by Assassin's Creed: Ancient Egypt is a dedicated mode of the game that lets visitors free roam the beautiful world of Egypt to learn more about its History and daily life thanks to guided tours. It is a world to discover and explore, a world free of conflict, time pressure or gameplay constraints, where combats, storyline, and quests are not active. This way, everyone, from players to history-enthusiasts & visitors can discover Ancient Egypt at their own pace or embark on guided tours curated by historians and Egyptologists.
How did you come up with this idea? Why?

This is a dream that we've had for a very longtime and we were lucky that our top management totally supported us on that initiative.
We think that the massive amount of work and dedication that we've put on recreating Ancient Egypt should be shared with the maximum number of people. We have crafted an open world environment in which you can move and interact with a lot of things. For us this is a very interesting avenue when it comes to bringing academic information about a time period.
We gave the team the following guidelines: "a teacher should not fear to bring this special mode in his classroom allowing students to immerse themselves in
Ancient Egypt and learn more about it in a very interactive way".
How did you create it?

(Maxime Durand, historian) Many of our design ideas came from participating in various educational conferences. We wanted to understand what were the needs and realities of students and teachers so we could find the best solutions to support them. This is how we understood that our tours should not last more than twenty minutes. This also has affected the choice of the subjects of our tours. We have chosen dozens of tours that could cover school learning topics and that we could visit in the game's universe. For instance, daily lives of ancient Egyptians are experienced through the game's reconstitution; like the steps and aspects of the cultivation of wheat. This freedom to visit the 3D world really makes the Discovery Tour stand out in terms of experience. While we were inspired to build this mode for students to learn about Ancient Egypt, these tours are made to be accessible for everyone and their rhythm is not rhetoric, but entertaining.
Once our design was done, we reached out to several Egyptologists who are experts in the different fields we are covering, such as Perrine Poiron who is a specialist of hieroglyphics, dialects and politics. They helped us in the structure and writing of each tour.
Then the tours are also supported with pictures and images; mostly artefacts from museums that help to exemplify further what we want to teach and that also serve as a reminder of more traditional ways of learning about Egypt. We also were lucky to work with Jean-Claude Golvin, a renowned architect, archeologist and painter, who created many specific watercolor images for us. Based on archeological research and historical data, he recreated many sites like Memphis and Alexandria with many insightful details.
On the production side, the biggest challenge was to produce this mode in parallel to the game itself, with compatible systems and tools. We had to make custom UI (user interface) and camera tools specific to this new experience of guided tours.
What is the content? How many tours do you have?

The The Discovery Tour by Assassin's Creed: Ancient Egypt will allow visitors to roam and explore the entire world of Egypt that was recreated in Assassin's Creed Origins. From Alexandria to Memphis, from the Nile Delta to the Sand Sea, from The Giza plateau to the Faiyum Oasis, visitors will be immersed like never before in Ancient Egypt.
In addition to the "free roaming experience", the The Discovery Tour by Assassin's Creed: Ancient Egypt will also offer guided tours that focus on different aspects of that time period (the Great Pyramids, the mummification, Cleopatra, Temples and priests, Daily life etc) and also a little about the science of Egyptology and how the team integrated this into the immersive world.
Like in a museum, each tour will be composed of several stops (e.g.: the different states of the mummification process) that will bring information on each specific subject. Tours have been curated by specialists that helped us bring a more academic knowledge to the experience.
It will be possible to explore Egypt with several different avatars, which will mostly be unlocked by the completion of tours.
What experience did you want to offer with the Discovery Tour?

With the The Discovery Tour by Assassin's Creed: Ancient Egypt we want people to have the chance to visit a long lost world. We want them to be immersed and amazed by the variety and the beauty of this country in that time period. Ptolemaic Egypt is not a very well know era as it is often eclipsed by the Old or New Kingdom periods in the public's mind.
Our visitors will be able to take their time and enjoy the most accurate 3D interactive reconstruction of Ancient Egypt ever made in a very accessible way (controls are super easy) and take part in interactive guided tours to learn more about this incredible place and time.
We really want to give the chance to everyone interested in Ancient Egypt to enjoy the beauty of it and realize that video games can be a source of inspiring knowledge.
What's the position of video games in culture/ education in your opinion?

I think that videogames as an education medium are only in their infancy. The medium (interactive, multi-stimuli) can be used much more than solely for entertainment. The fact that it's an interactive experience has a huge impact on what can be transmitted and the quality of knowledge acquisition. We already see teachers using Assassin's Creed in their classrooms to teach History and some governments are looking closely at how video games can be used for educational purposes. The educational potential of video games is huge.
Can we learn History with video games?

Video games can convey a lot of things including historical knowledge but it is not their role to "teach". You can learn in games but games (as they are today) can't teach on their own.
They can be used as educational tools by professional teachers but unless we create a dedicated "teaching experience" (which is the intention with the The Discovery Tour by Assassin's Creed: Ancient Egypt) they shouldn't be considered as academic sources.
Do you think the The Discovery Tour by Assassin's Creed: Ancient Egypt could be used as a tool for teachers, schools & universities?

I hope it will. For several years now, we have been receiving testimonies from teachers who tell us they're recording "safe for school" videos of our games to create their own educational material. This time, not only will they not have to fear to show the content of this unique mode to their students but it comes with additional academic information curated by historians and Egyptologists.
Do you think this type of tool can also be a way to travel?

When we create a big open world like Ancient Egypt the notion of "escapism" or "virtual tourism" is always floating around. We want visitors in the case of the The Discovery Tour by Assassin's Creed: Ancient Egypt to feel immersed and enjoy their journey in this vast and beautiful world.
If we push further I do think that virtual tourism to real historical (or fictitious) world locations can become something that some people might like.
Can it be a tool or a way to preserve and protect cultural heritages from oblivion?

Programs of virtualization and 3D scanning of existing artifacts are now part of most major museums' mandate. Growing collaboration between mainstream creations like videogames and established academic institutions might be a good way to publicize and keep alive some heritages.
At last, is this the future of the Assassin's Creed franchise? How do you see the future of the brand?

For the 10th anniversary of the Assassin's Creed franchise, we felt that it was the perfect timing to come up with something that a lot of people have been expecting for a long time. For several years the AC franchise has been exploring pivotal moments of human history and we think that a dedicated mode focusing on this historical aspect would appeal to a lot of people. The seriousness with which the AC teams are considering History allows us to give access to the
tremendous amount of work put in the recreation of Ancient Egypt. As for the future, The Discovery Tour by Assassin's Creed: Ancient Egypt does not have the vocation of replacing the original Assassin's Creed experience but rather to be a meaningful addition to it.
Do you intend to develop more tours, more content in this Discovery Tour or for next episodes?

Currently our focus is to deliver a very good and solid first iteration. We hope people will realize the potential, appeal and benefits of such a concept.
When and on which platform the The Discovery Tour by Assassin's Creed: Ancient Egypt will be available?

The Discovery Tour will be available to anyone who has purchased Assassin's Creed Origins on consoles and PC through a free update early 2018.
The mode will be available in the following languages: English, French, Italian, German and Spanish.