Hardware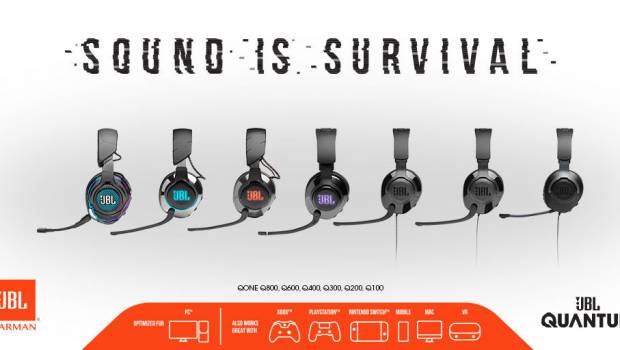 Published on September 7th, 2020 | by Adrian Gunning
JBL Quantum launches in Australia
JBL Australia/New Zealand, a wholly-owned subsidiary of HARMAN International & Samsung Electronics Co. Ltd. is pleased to announce the launch of the JBL Quantum range of gaming headsets and PC speakers in Australia. As a legacy audio brand JBL knows great sound and they are intent on making their mark in the gaming industry.
Fuelled by years of research, the combination of precisely engineered headsets with custom, cutting-edge software puts gamers in the centre of the action. From the thrill of tracking enemies in FPS games to engaging in epic MOBA battles, the JBL Quantum Headset Range contains seven different headsets, all designed to amplify victories with the ultimate sound experience.
Meanwhile the JBL Quantum DUO (RRP $249.95) gaming speakers bring every game to life, filling the room with sound and lighting effects.
The JBL Quantum headset range includes options for both casual and competitive gamers, from wired to wireless, and entry to professional level. All headsets are fully compatible with any gaming system, including PC, Mac, Xbox, PlayStation, Nintendo Switch, mobile and VR.
"Sound quality is key to the competitive edge of a gamer and nobody does sound better than JBL. We have spent years developing the Quantum range of gaming headsets and speakers with the input of gamers themselves. It has taken time, but when Sound is Survival in gaming, we wanted to ensure we were giving gamers the best that JBL sound has to offer" says Marcus Fry, Country Manager for Harman in ANZ.
Competitive Partnerships with SypherPK, TeePee & Sinatraa
Continuing in the evolution of the gaming space, following the announcement of the partnership with 'Nadeshot" and the crew from 100 Thieves, the audio brand continues to grow its presence in the space with the addition of three professional esports streamers to its roster: Ali Hassan aka "SypherPK", Tyler Polchow aka "Teepee" and Jay Won aka "Sinatraa".
By encompassing the competitive advantage provided by the precisely engineered JBL Quantum gaming headsets, SypherPK, TeePee, and Sinatraa have partnered with the brand to use its cutting-edge software for future streams and competitions.
SypherPK is well known as one of gaming's top third-person shooters. The 24-year-old Texan is known by over 12.8 million followers for his family-friendly streams, focusing on positivity and community-first content.
"JBL is quality sound," said SypherPK. "All players, from beginners to pros, can grab a headset and feel the game. It's a competitive edge I just can't play without."
JBL QUANTUM ONE
Make your game epic. The JBL Quantum ONE wired headset gives you pro-level audio with head-tracking enhanced JBL QuantumSPHERE 360™ spatial surround sound and Active Noise Cancelling tuned for gaming. Designed for precise audio positioning, JBL QuantumSOUND Signature delivers an immersive sound curve through Hi-Res certified 50mm drivers. The detachable voice focus microphone delivers clear multiplayer interactions with noise suppression, mute features, and a DISCORD-certified Game-Chat Balance Dial.
A lightweight, ergonomic design keeps you comfortable while JBL QuantumENGINE allows for powerful customisation options and user profiles. The JBL Quantum ONE headset represents the absolute cutting edge in audio for the deepest level of virtual realism.
JBL Quantum ONE will be available exclusively from JB Hi-Fi for $499.95
JBL QUANTUM 800
Stay one step ahead of the competition. The JBL Quantum 800 headset gives you the edge with accurate spatial audio positioning, lossless 2.4GHz, and Bluetooth dual-wireless capability, Active Noise Cancelling, memory-foam comfort, and 14-hour battery life. Designed for total immersion, JBL QuantumSOUND Signature gives you a true audio advantage in battle. The voice focus microphone delivers clear multiplayer interactions, with a DISCORD-certified game-chat system, also compatible with TeamSpeak, and more.
An ergonomic design with leather-wrapped, memory foam cushions keeps you comfortable for hours. The JBL Quantum 800 headset helps you level up, whether you are a seasoned pro or new to the game.
JBL Quantum 800 will be available exclusively from JB Hi-Fi for $349.95.
JBL QUANTUM 600
Designed for immersion and performance, the JBL Quantum 600 2.4GHz wireless gaming headset gives you a clear edge over the competition with accurate and immersive sound. JBL QuantumSURROUND sound replicates a wider, more realistic spatial environment, so you never miss a detail. The voice focus boom mic enables clear communication with other players, while a DISCORD-certified game-chat balance dial allows you to easily balance chat and game audio levels.
Leather-wrapped, memory foam ear cushions keep you comfortable, while a 14-hour battery life enables cord-free, long-lasting gaming sessions. Dominate your opponents and gain a clear audio advantage with JBL Quantum 600 headset.
JBL Quantum 600 will be available exclusively from JB Hi-Fi for $229.95.
JBL QUANTUM 400
Gain an audio edge. JBL Quantum 400 headset keeps you one step ahead with surround sound that engages you in the game and lets you anticipate every move. Designed for precision and immersion, JBL QuantumSOUND Signature helps you level up your performance for a real advantage in combat. JBL Quantum 400 also features a voice focus boom mic for clear multiplayer interactions, a game-chat balance dial, is certified for DISCORD, and compatible with TeamSpeak and more.
A lightweight headband with memory foam ear cushions lets you game in comfort for hours on end. Up your game with JBL Quantum 400 headset and dominate your opponents.
Check out the JBL Quantum 400 unboxing video here.
At $159.95 the Quantum 400 will be available exclusively from JB Hi-Fi.
JBL QUANTUM 300
Step up your game with superior audio. JBL Quantum 300 wired headset creates a new level of immersion thanks to JBL QuantumSOUND Signature and accurate audio positioning. JBL QuantumSURROUND generates a realistic soundscape that drops you in the middle of the action, gives you an edge, and maximises your performance.
Designed for durability, the lightweight headband and memory-foam ear cushions keep you comfortable. A flip-up, voice focus boom mic keeps the communication flowing with both allies and enemies.
JBL Quantum 300 will be available exclusively from JB Hi-Fi for $129.95.
JBL QUANTUM 100 & JBL QUANTUM 200
Turn your game into an epic event. Featuring JBL QuantumSOUND Signature, the JBL Quantum 100 and JBL Quantum 200 headset put you in the centre of the action. Own the game with the immersive and accurate sound that lets you hear the tiniest details and feel every explosion, while memory foam cushions let you game in comfort for hours.
The JBL Quantum 100 features a voice focus detachable boom mic for clear communications.
The JBL Quantum 200 features a voice focus echo-cancelling boom mic with flip-up mute enabling clear multiplayer interactions. Enter the gaming arena with the JBL Quantum 100 or JBL Quantum 200 headset. Available in black only.
Available exclusively at JB Hi-Fi.
JBL Quantum 100 $59.95. JBL Quantum 200 $89.95