Hardware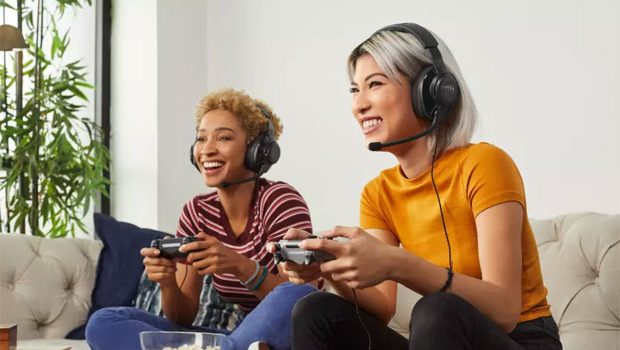 Published on September 8th, 2021 | by James Wright
JBL QUANTUM 300 REVIEW
Summary: The JBL Quantum 300 provides impressive surround sound and comfort at a great price!
The JBL Quantum 300 have been designed for gamers, especially with their unique 3D Surround technology (*) with powerful 50mm neodymium drivers to help immerse you into your amazing 3D worlds with this closed-back gaming headset. Furthermore, they are quite lightweight (245grams) and also come with memory foam ear cushions to ensure your gaming periods don't get interrupted due to a lack of comfort.
While designed for PC gamers, they are a hybrid headset that means they will also work on other devices such as consoles or smart devices with a 3.5mm input. No 3.5mm input? No problem as there is a jack to convert it to USB in order to use it on your PC, Mac or PlayStation. The only caveat with the Quantum 300 is that some of the additional features such as the JBL Quantum Sound will only work on a PC as additional software is required to enable this feature or to further tweak the configuration of the audio.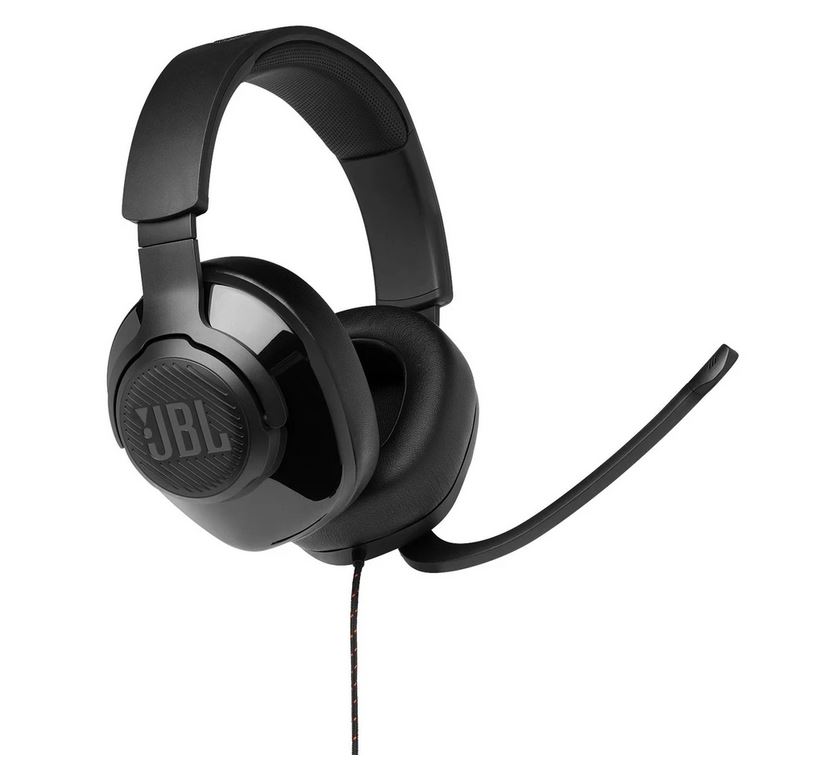 Technical specifications:
Driver size: 50mm Dynamic drivers
Frequency response: 20Hz – 20kHz
Max input power: 30mW
Sensitivity: 100dB SPL @1kHz/1mW
Impedance: 32 ohm
Microphone frequency response:
100Hz – 10kHz
Microphone sensitivity: -40dBV @ 1kHz/Pa
Microphone pickup pattern: Directional
Microphone size: 4mm x 1.5mm
Cable length: Headset (1.2m) + USB audio
adapter (1.5m)
Weight: 245g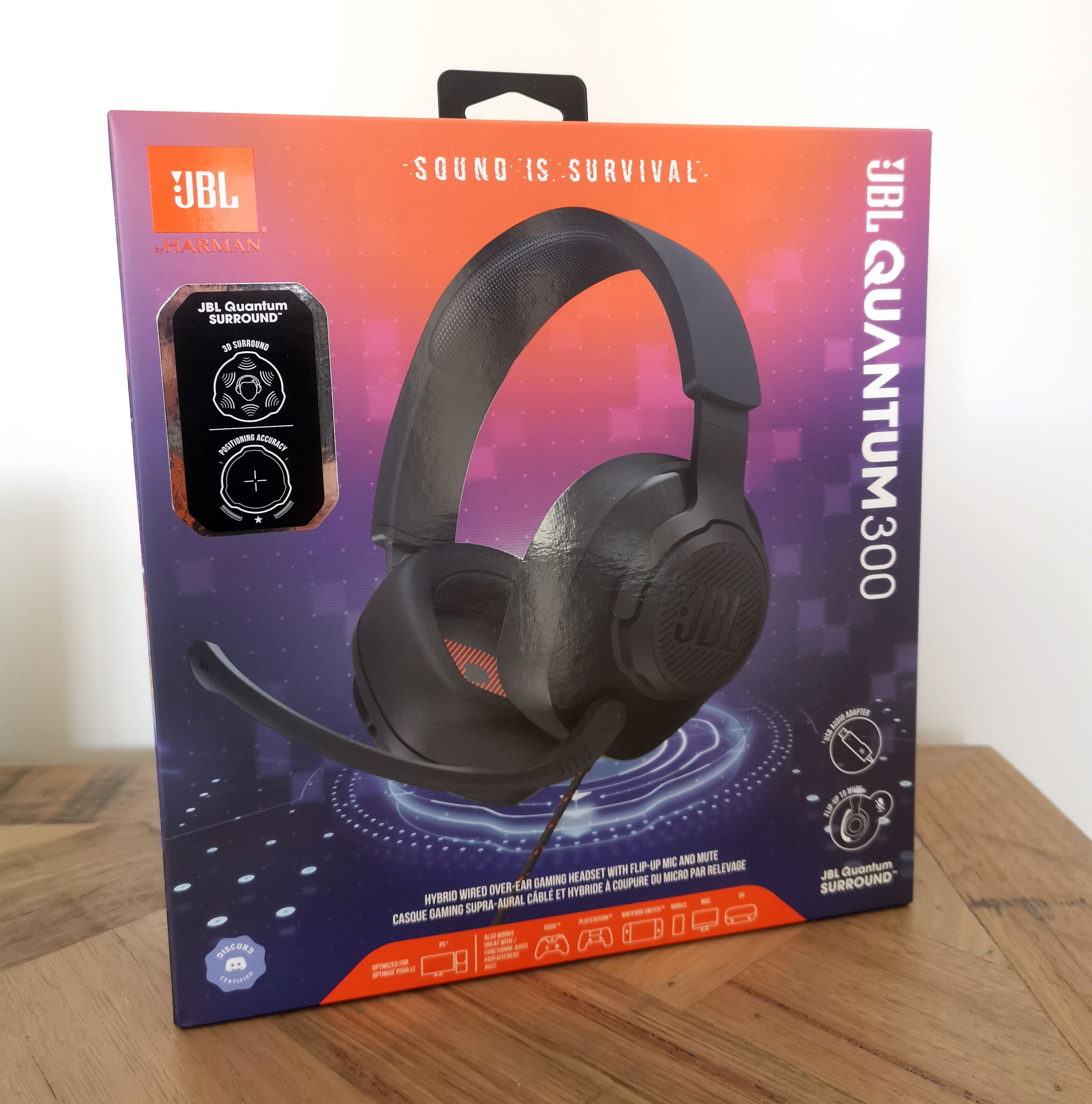 Box Contents
JBL Quantum 300 headset
USB audio adapter
Windshield foam for boom microphone
QSG | Warranty card | Safety Sheet
Well-packed from JBL, the Quantum comes with everything you need to start your audio journey and in terms of setup, it's just plug and play and presto, the audio is working immediately. While this is also the case on the PC, you do need to install the JBL QuantumENGINE software (https://update.quantum.harman.com/upload/JBL_QuantumENGINE_1.8.2.1193_x64.exe ) which gives you full access to all facets of audio, including the equalizer and how your spatial sound will work.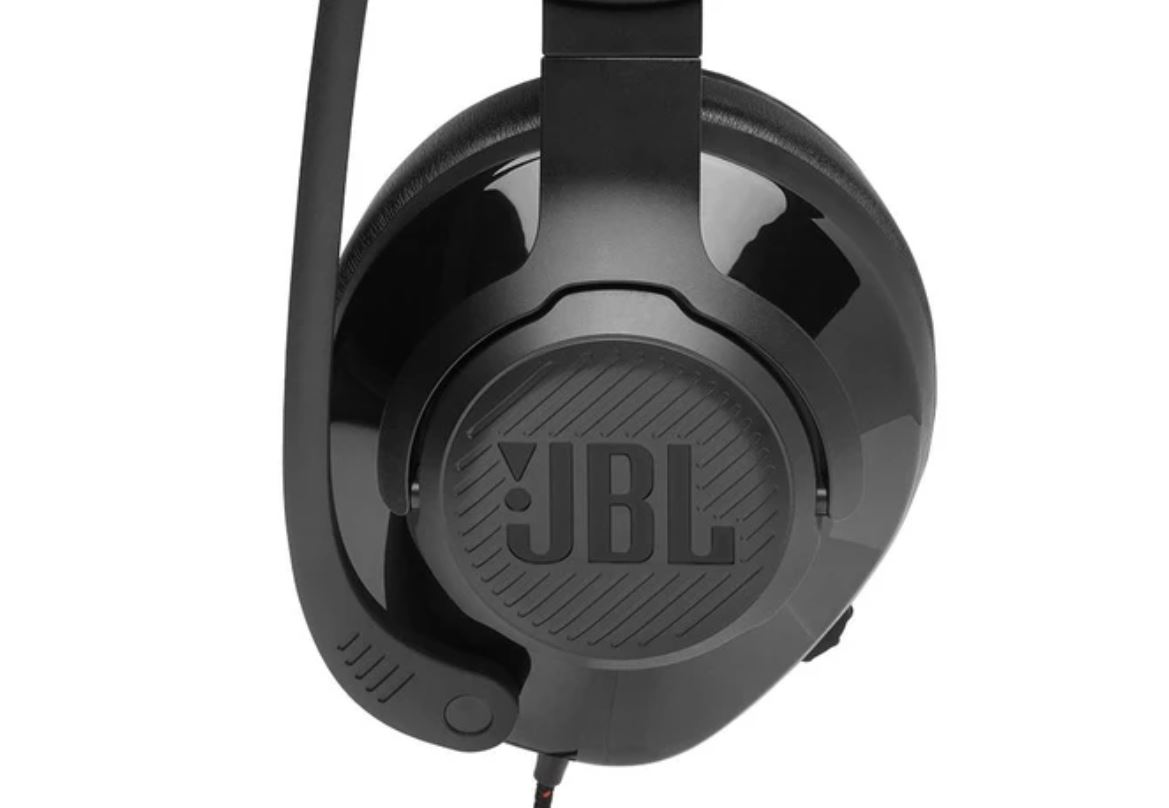 Best of all, this software is very easy to use and once installed, the interface is well-designed that quickly allows you to make those changes. Additionally profiles can be created so that you don't lose your settings for certain games.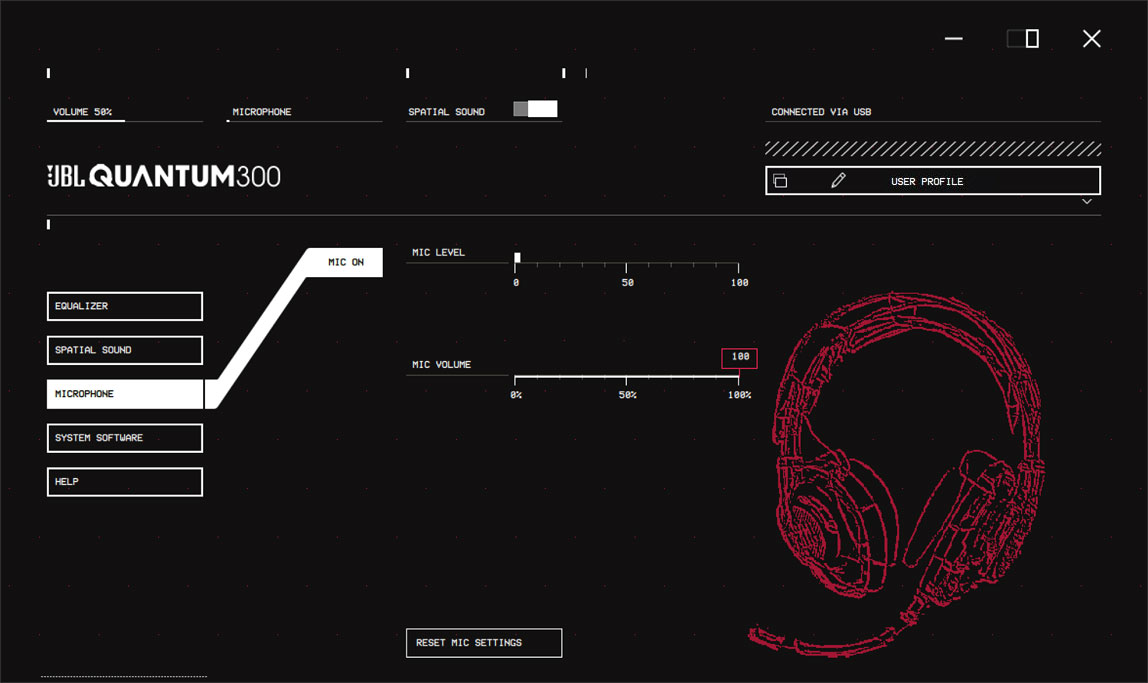 While the majority of testing was done on our PC, we also trialed the gaming headset on our PlayStation 4 and Nintendo Switch, with the later working a treat as well. When connecting it to your PC, the UBS dongle (which looks like a USB stick) is basically the 'sound card' for the JBL Quantum 300 that in turn allows you to experience spatial audio as the main draw card.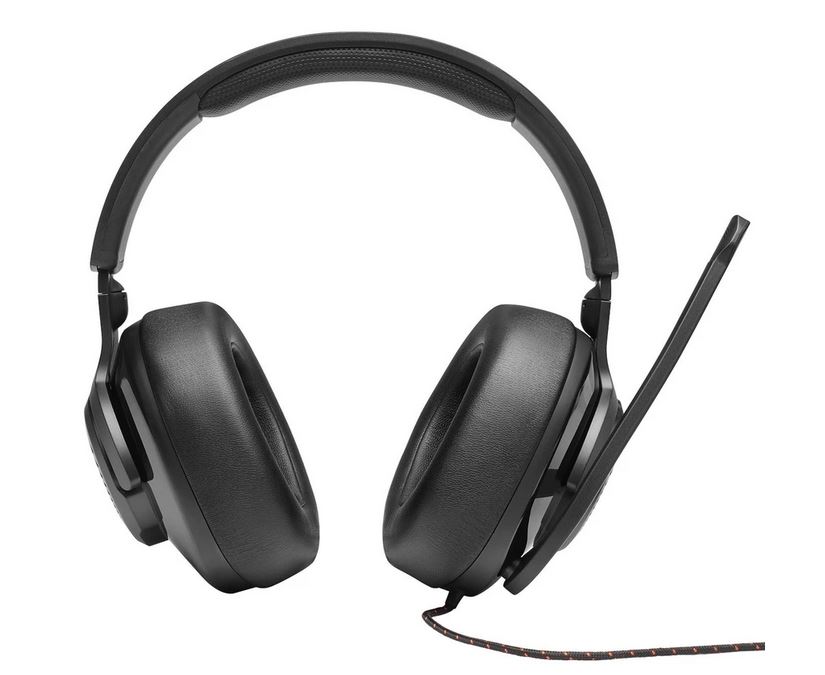 The audio quality on the PC was good and with surround sound enabled, you really get the sense of 3D audio that makes your gaming much more enjoyable. Given that, levels are decent, including a deep bass that is great for titles such as Call of Duty or Aliens: Fire Team Elite.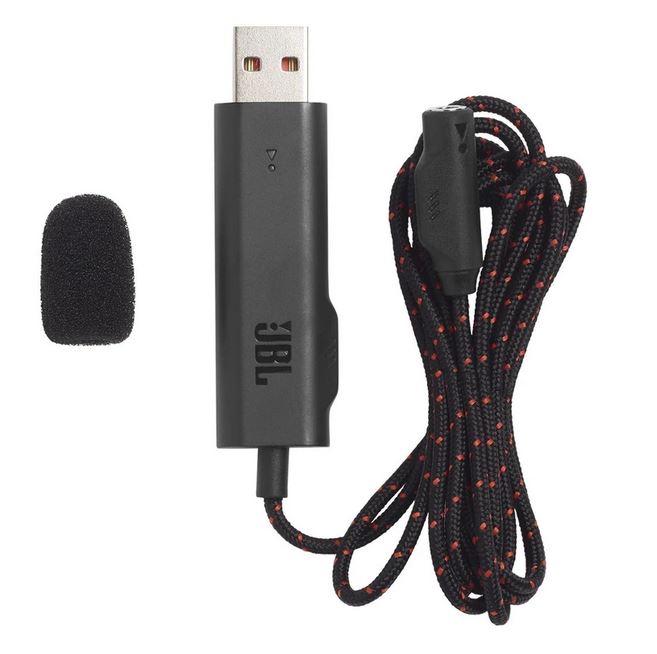 Adding to the game experience is the microphone and my friends, colleagues and online enemies (still nice folk) had no issues in hearing my voice and to some extent, the mic does a good job at muting background audio. Additionally watching films and music was a pleasant experience thanks to the smooth audio and comfort levels. Furthermore, the headset worked well on the PS4 and Nintendo Switch with no issues whatsoever in terms of audio quality. While no surround sound, the stereo audio worked a treat and considerably better than TV speakers.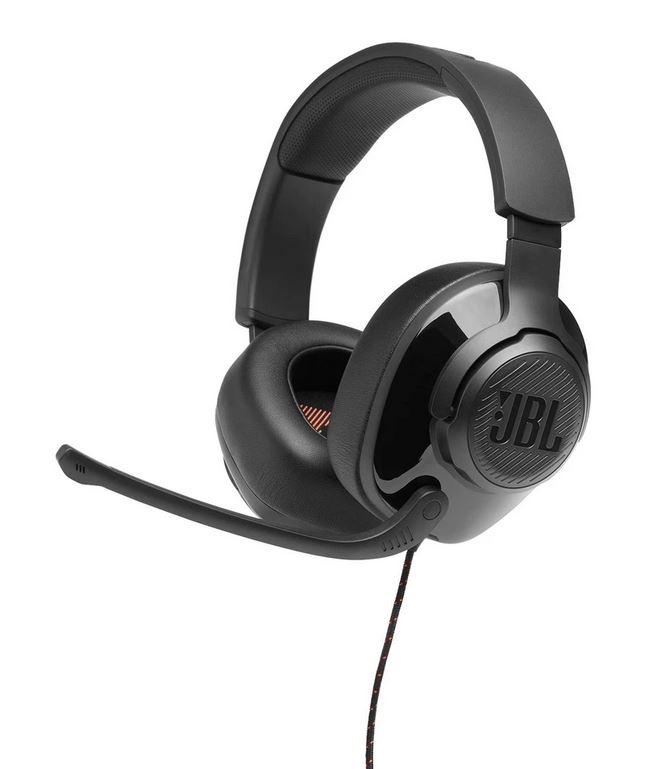 The comfort levels on the JBL Quantum 300 are great and the padded earcups were fantastic. It's also a super lightweight headset and the headrest can be adjusted to suit your needs, including the microphone. Additionally the aesthetics channel that gamer exterior and all in all, while it doesn't scream to the world "hey I'm a gamer!", the design adds just enough of style to its Spartan look to make it look the part. The only slight drawback with the design is that it does feel a little too-plastic but overall, it does feel sturdy, however I would not want to drop it too often just in case.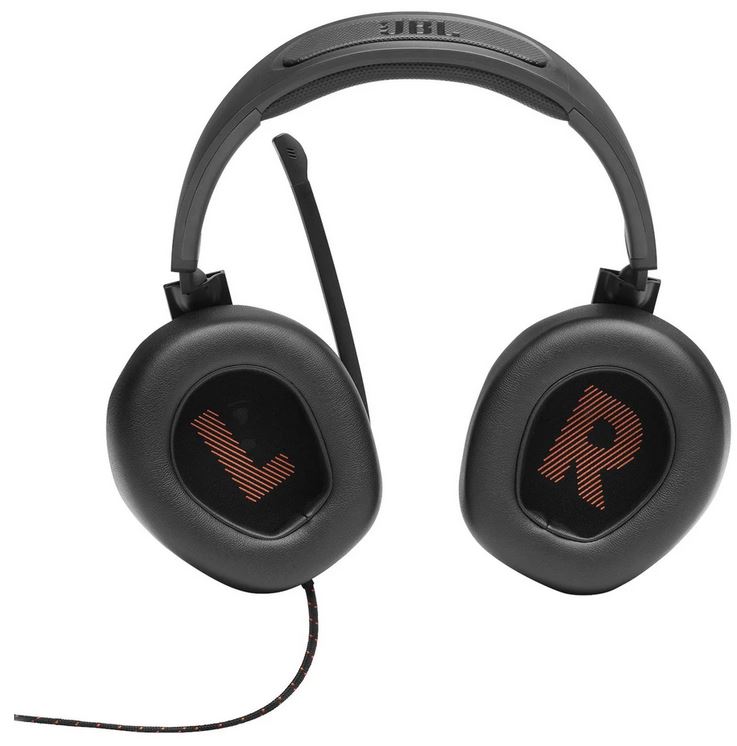 Final Thoughts?
With a RRP of just $129AUD (Sep 2021), even cheaper if you Google them, JBL deliver an affordably priced gaming headset that packs a surround sound audio punch. For the price, you really cannot fault the audio quality and it definitely gives its competitors a true run for their money. Overall, a well-designed headset from JBL that works on a myriad of devices, however is PC-centric in heart and soul.
Recommended!