Hardware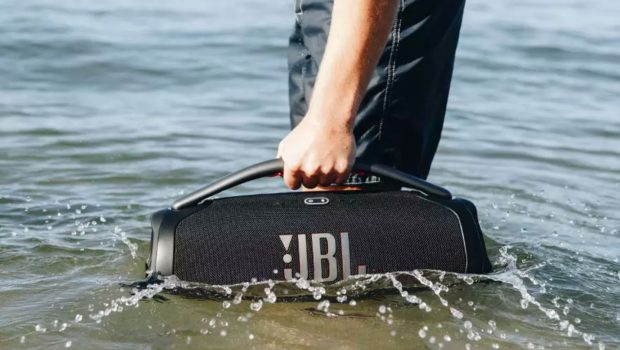 Published on April 16th, 2023 | by Andrew Bistak
JBL BOOMBOX 3 REVIEW
Summary: The JBL Boombox 3 succeeds in delivering audio perfection on the go!
Massive sound. All day long…
JBL continue expanding their Boombox range of speakers that once again offers lovers of a music a truly powerful and portable sound system that produces excellent audio acoustics, is weather hardened and comes with a generous 24-hour battery to keep that wireless music playing.
When it comes to audio output quality, the JBL Boombox 3 is crystal clear and it can be super loud courtesy of its powerful RMS (Root Mean Square) mixed speaker and subwoofer combination, including two configurations for both battery and AC modes.
This is broken down into the following;
AC Mode
1x80W RMS-subwoofer
2x40W RMS-midrange
2x10W RMS-tweeter
Battery Mode
1x60W RMS-subwoofer
2x30W RMS-midrange
2x8W RMS-tweeter
Although there is a slight difference to audio output depending on AC or battery, JBL should be commended on making this variance quite small. Needless to say, the deep bass can be quite commanding for certain types of music genres.
At its core, the JBL Boombox 3 has been designed for outdoor usage and it comes with an IP67 dust and water proof rating that means it can be submerged in up to 1metre of water for 30 minutes. If you do take it to the beach and it gets a bit sandy, simply rinse off the sand. So look out beach and pool parties or just camping in general because the Boombox 3 is designed for all types of outdoor usage.
Aesthetically it comes in two different colours, black (reviewed)…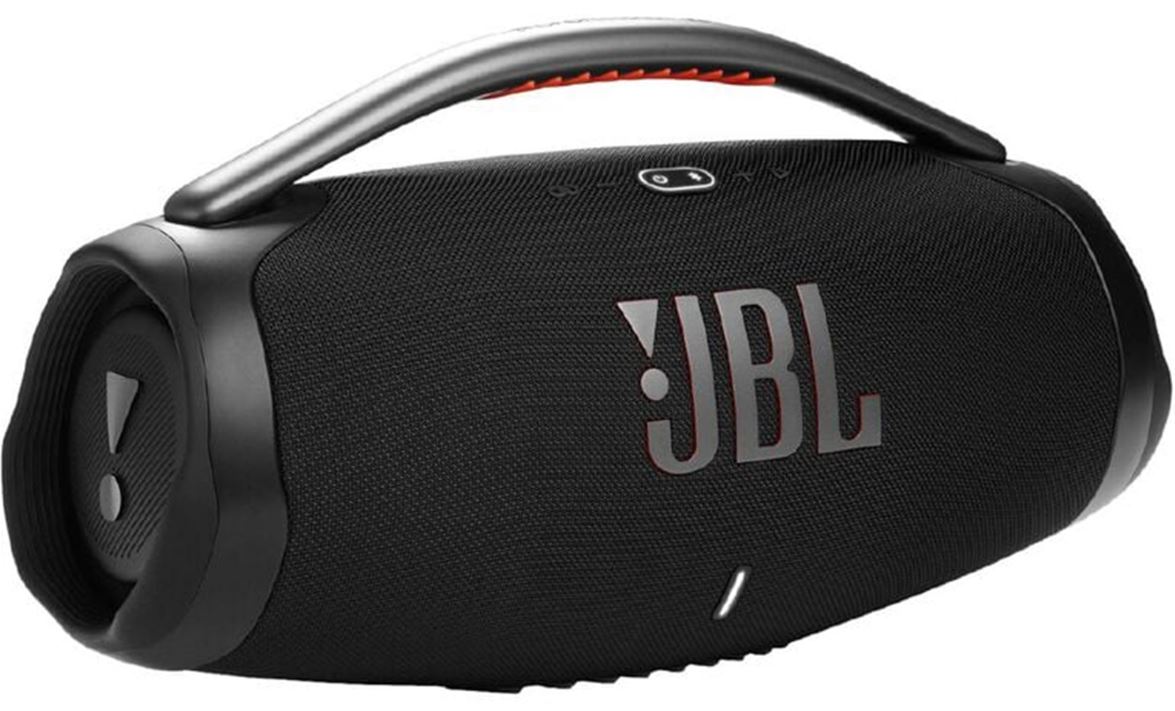 or camouflage.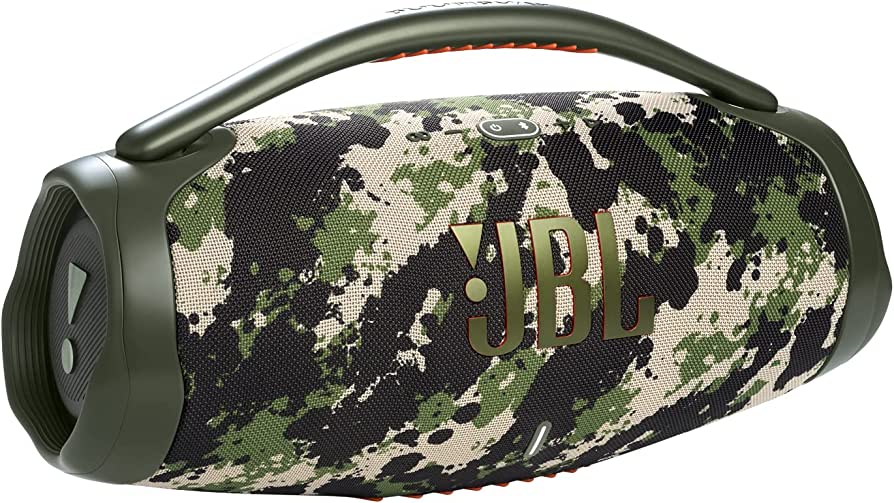 In terms of design, the JBL Boombox 3 mirrors its previous siblings and retains that similar shape with accessible controls and inputs. Further adding to its design is the metal handle with silicone grips that makes carrying the Boombox 3 a comfortable experience.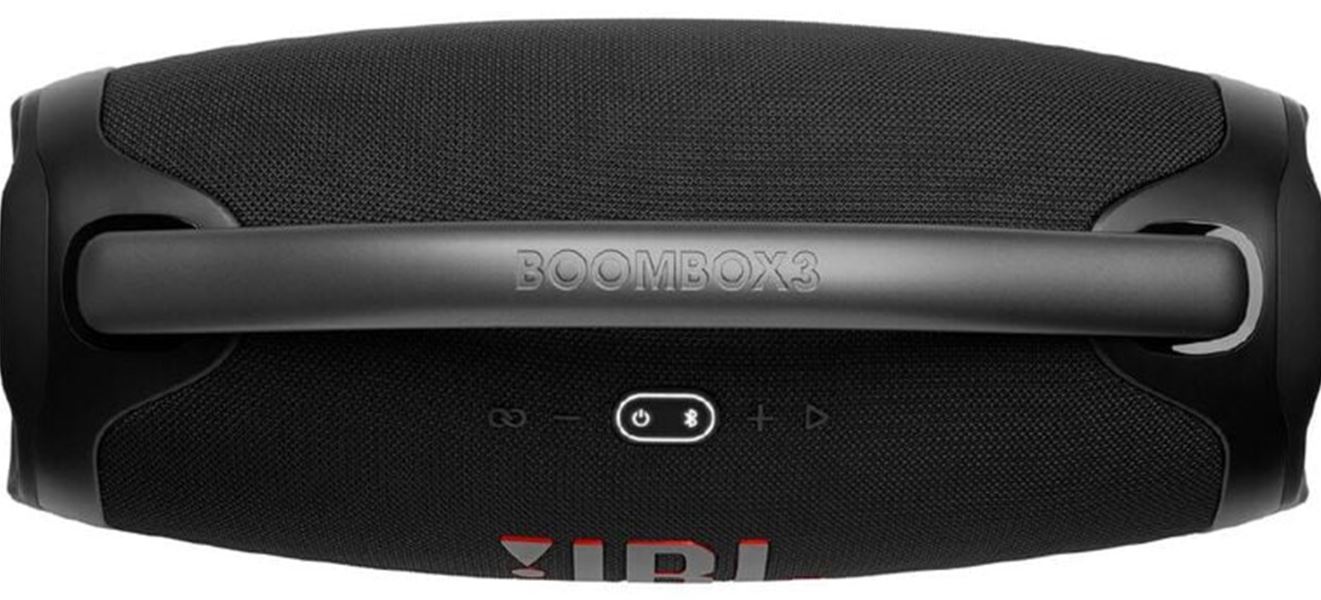 The front of the Boombox 3 also boasts the JBL logo and just above that is the controls which include repeat, volume down, power, Bluetooth, volume up and play. Overall, it is a well-designed product and apart from its tweaked appearance, the biggest change is inside the unit itself with its improved audio technology, particularly the new subwoofer.
As the JBL Boombox 3 has been designed for improved portable audio, it is larger than most portable speakers but then again, it is considerably more powerful. The unit measures at 19.0 x 10.1 x 7.9cm with a weight of 6.7kg. So yes, it's bigger and heavier than most but wow… does it boom.
It also comes with a charging cable and to fully charge the Boombox 3, it can take up to 6 hours. If you have a phone or device that has a 3.5mm audio cable, you can connect this to the Boombox as well, however Bluetooth of course is the preferred method, wireless all the way.
Another feature for the end user is that supports a powerbank mode which allows you to charge your smartphone or tablet via the USB-A port. This port is located on the back of the unit with the AC input that is protected by a removable cover in order to prevent water from entering the system.
The Setup
Well packed from JBL, the Boombox 3 comes with everything you need that includes the following;
1 x JBL Boombox 3
AC power cord (AC plug and quantity varies by region)
1 x Quick Start Guide
1 x Safety sheet
1 x Warranty card
Unboxing Gallery
As you can see from the images above, the JBL Boombox 3 is well packed from JBL and this audio device feels professionally built and could "probably" outlast an apocalypse.
While its design is minimalistic at best, it is far from Spartan and aesthetically has that outdoor element to it. Considering the "ghetto blasters" of the 80's, the Boombox 3 is huge jump in evolution compared to classic tape desks of yesteryear. Of course the premise is still the same, portable music on the go!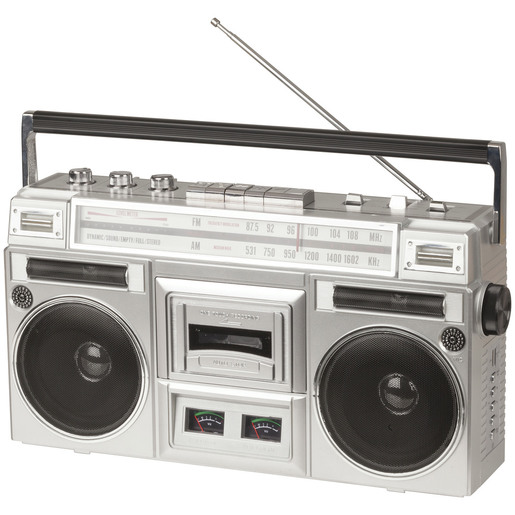 Setting up the JBL Boombox 3 is like any other device that uses Bluetooth connectivity which requires you to turn the device on and then search for it on your smartphone or tablet to complete the pairing process. Once paired, all audio will be automatically streamed to the Boombox 3 and as mentioned, you can even use a 3.5mm audio cable.
However it's all about the audio quality!
Whether on AC or on battery, the JBL Boombox 3 is a beast when it comes to its audio capabilities. First and foremost, the Boombox 3 produces crisp and clear audio at all different audio ranges with excellent mids and highs. Further, the bass is not only powerful but quite smooth and you can even feel its vibration at times.
The placement of the speakers inside the unit works well and it does create this 3D bubble around the Boombox that is perfect for outdoor parties as the sound doesn't dissipate too much due to the lack of outdoor acoustics. All in all, a well designed speaker for the outdoors.
Indoors, the Boombox 3 cannot be faulted and I felt sorry for our neighbours when my wife was playing her "classics" much to the disdain of the family. However it's all about music and this device is perfect for all different sorts of music genres from pop to metal and even classical.
Another highlight of this product is that it supports the JBL Portable app that allows you to fine tune the settings, including the equalizer, enabling the party boost mode and install firmware updates when available. The app is also very easy to use as well!
As a fun side quest, we tested the JBL Boombox 3 on our PlayStation 5 that is achievable by a third party USB Bluetooth dongle. That's right, by connecting this Bluetooth adapter to your PS5, you can actually connect the Boombox 3 to this console. Once the Boombox is turned on, you simply go into your PS5 settings, followed by sound settings, audio input and then output device that will allow you to wirelessly connect this portable speaker. Compared to TV speakers, it is far superior, including quite a few low to midrange soundbars. One thing you cannot do with the speaker is connect multiple devices but for most, this is a moot point.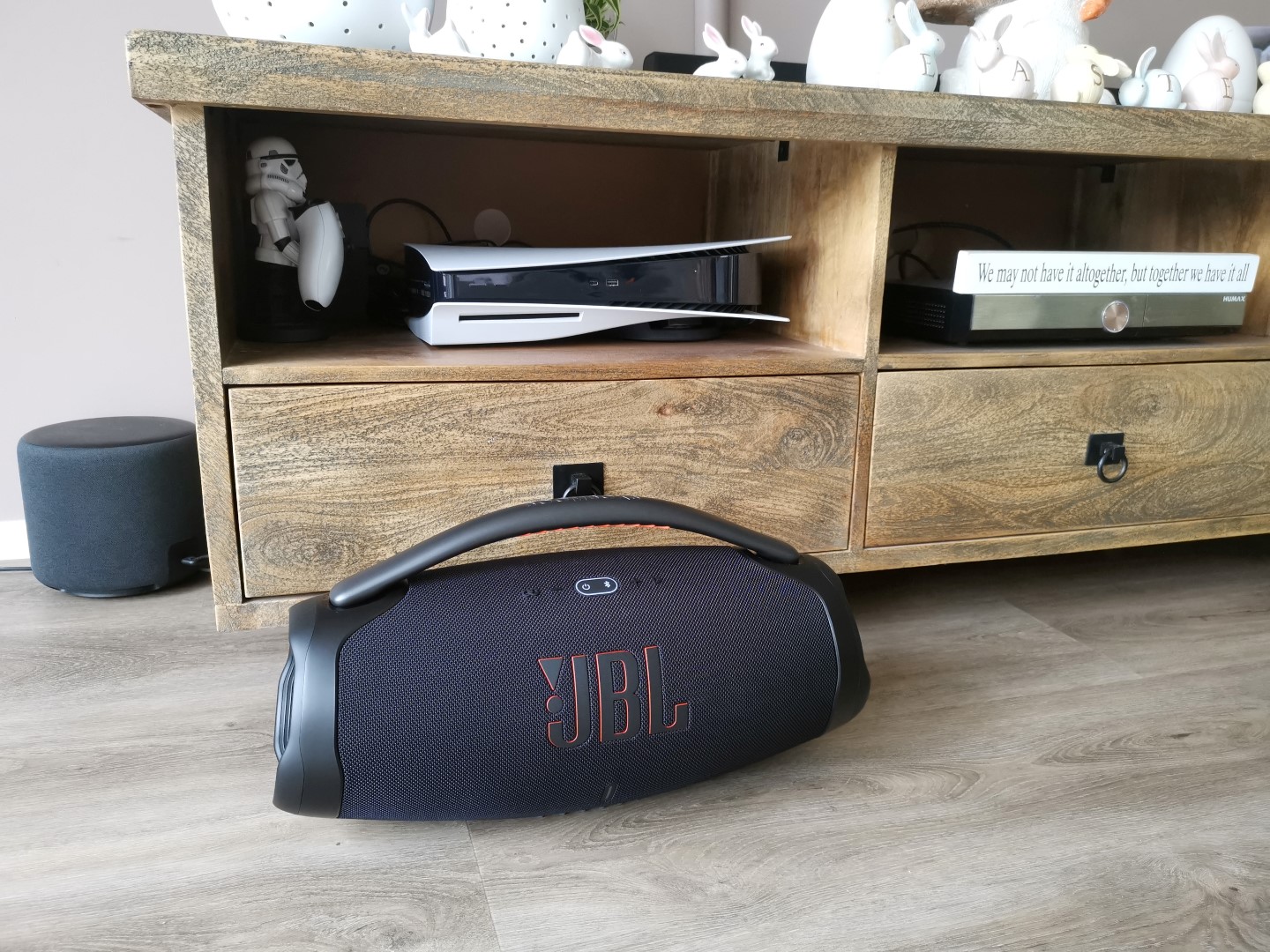 Final Thoughts?
The JBL Boombox 3 is indeed a beast when it comes to portable audio from parties, camping, personal training with a group and everything in between and beyond… even gaming Sure, it's a little on the larger and heavier side but in terms of audio and acoustics, it is almost flawless and comes with a RRP of $699AUD (April 2023).
Recommended!
JBL Boombox 3 Specifications
Output power (W)
1x80W RMS-subwoofer + 2x40W RMS-midrange + 2x10W RMS-tweeter (AC mode) 1x60W RMS-subwoofer + 2x30W RMS-midrange + 2x8W RMS-tweeter (Battery mode)
Audio Specifications
Dynamic frequency response range (Hz)
40 Hz – 20k Hz
Dimensions
Dimensions (in) 19.0 x 10.1 x 7.9
Dimensions (cm) 48.2 x 25.7 x 20.0
Weight (kgs) 6.7
Weight (lbs) 14.7
Control and Connection Specifications
Bluetooth profiles A2DP 1.3, AVRCP 1.6
Bluetooth frequency 2.402GHz – 2.480GHz
Bluetooth transmitted modulation GFSK, π/4 DQPSK, 8DPSK
Bluetooth transmitter power ≤ 9 dBm (EIRP)
Bluetooth version 5.3
Battery
Maximum music playing time (hrs) 24
Charging time (hrs) 6.5
Features
JBL PartyBoost
Charging cable
5 mm audio cable Input
Powerbank
Waterproof ip67
wireless
Rechargable battery