Comics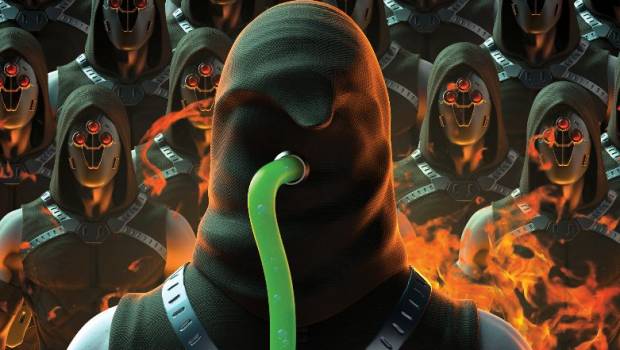 Published on October 23rd, 2020 | by Adrian Gunning
JAWDROPPING QUINONES, BOOTH, BRAGA, AND HARDING VARIANT COVERS REVEALED FOR COMMANDERS IN CRISIS #2
Steve Orlando and Davide Tinto's new hit series Commanders In Crisis will pack an extra punch with four stunning variant covers for issue #2 this November.
These variant covers will showcase the talents of Joe Quinones (1:25 incentive), Brett Booth (1:10 incentive), Laura Braga, and Paul Harding.
"Commanders In Crisis has always been about loving our roots and looking to grow higher," said Orlando. "With incredible work from Laura Braga, we take the classic foundation of comic art and infuse it with bright, never energy. And with Paul Harding's digitally sculpted cover, we take comics art and covers somewhere they've never gone before! And that's before the addition of power hitters like Joe Quinones and Brett Booth to ISSUE 2! With Brett, we have a timeless style that drove the very era that made this humble author a lifelong comics fan—then and now his work explodes with wild, bombastic energy and adventure! I've meanwhile followed Joe's work since WEDNESDAY COMICS, and more recently DIAL H, where he spent a year plus reinventing how much creativity you could fit on page—he's created an instantly iconic, statuesque vision of our heroes, and I couldn't be more thankful! We ALL couldn't be more lucky to have these covers coming our way!"
In Commanders In Crisis #2, The Crisis Command, last survivors of the multiverse, are faced with an impossible task: avenging the death…of an idea! DOA is EMPATHY ITSELF, and while empathy withers and dies across the world, Originator uses her abilities to bring the John Doe back for 24 hours to reveal the name of his killer!
Commanders In Crisis #2 will be available at comic book shops on Wednesday, November 18:
Cover A by Tinto – Diamond Code SEP200193
Cover B by Harding – Diamond Code SEP200194
Cover C by Braga – Diamond Code SEP200195
Cover D [limited 1:10 incentive] by Brett Booth – Diamond Code SEP208285
Cover E [limited 1:25 incentive] by Joe Quinones – Diamond Code SEP208286
Commanders In Crisis is also available for purchase across many digital platforms, including Amazon Kindle, Apple Books, comiXology, and Google Play.