Comics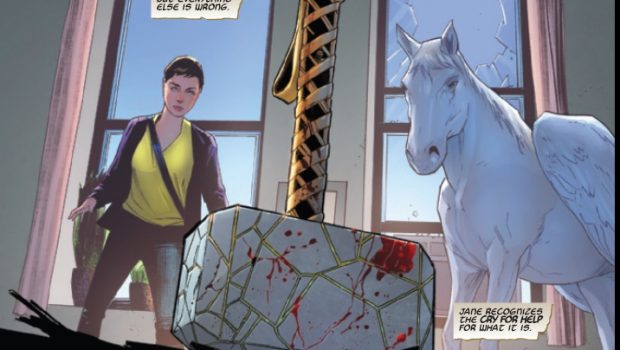 Published on June 14th, 2022 | by Tim Chuma
Jane Foster & the Mighty Thor #1 Review (2022)
Summary: Not sure if this leads into the movie at all but it at least uses the same characters in the same universe.
When yet another threat presents itself against Asgard (it is practically a running track for bad guys in the Marvel universe at this point) Mjolnir that has been possessed by the soul of the deceased Odin smashes through the window of Jane Foster's apartment and tells her to take action.
Not sure where this fits in with the new Love & Thunder movie or if it is on its own storyline. The part with Odin controlling Thor's hammer seems to fit in with the Hulk vs Thor storyline and something else has happened before this story kicked off for that.
There are a lot of battles in this book with them not wasting any time in attacking Asgard as soon as they have their troops in place. Jane Foster is known as Valkyrie when she wields the hammer decides to act but does not join the battle as yet.
This one does seem like it is setting up the story more than moving things forward as much. Given how complicated a lot of these storylines can get in even just a few issues it would be best if you are around from the start for this one.
Worth a look if you are interested in this character. Again I am not sure how much it is going to play into the movie but it seems like it is going to be a fun story.
Comic details:
Writer: Torunn Gronbekk
Penciler: Michael Dowling
Cover Artist: Ryan Stegman
Publisher: Marvel
Published: June 08, 2022