Books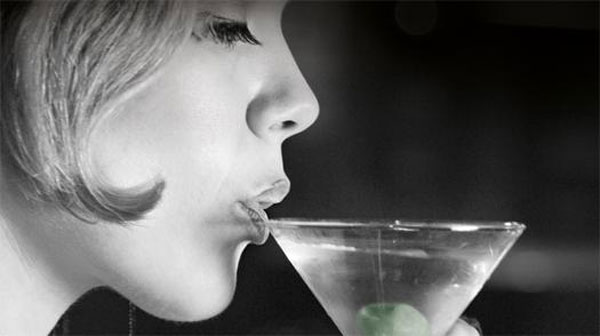 Published on February 19th, 2014 | by Admin
The James Bond Omnibus 005 Review
Summary: This is a really fun collection of classic Bond tales from the original newsprint run
The James Bond Omnibus 005
Publisher: Titan Books
Format: Omnibus/Graphic Novel
Author: Jim Lawrence
Artist: Yaroslav Horak
Reviewer: James Wright
Originally published as a comic strip in the late 70's (the UK's Daily Express), The James Bond Omnibus number five is based on the work of Ian Fleming and more particularly secret agent 007, James Bond. This omnibus collects 9 amazing stories of this secret agent as he goes head to head with a variety of nefarious villains from around the world, not to mention a bevvy of Bond girls as well.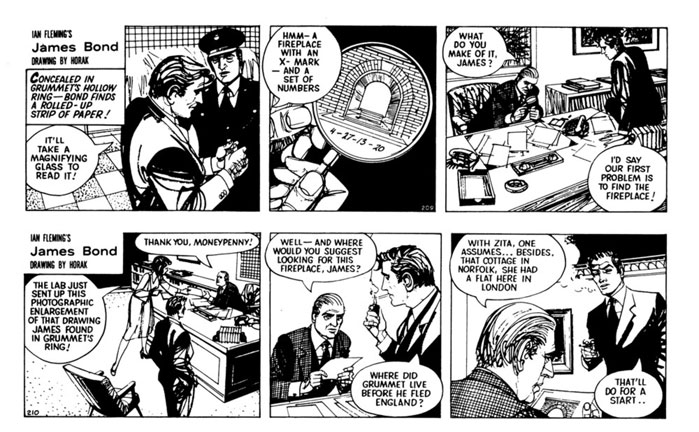 It should also be noted that as these stories are from the 1970's, so you can rest assured that it is oozing with sexploitation with every story featuring a naked women. There's also a considerable amount of James Bond action from fights to a variety of Bond inspired gadgets and vehicles. Although the car that went amphibious and then turned into a hot air balloon was a little too much.
The stories collected in this omnibus include;
Till Death Do Us Part
The Torch-time Affair
Hot-Shot
Nightbird
Ape of Diamons
When the Wizard Awakes
Sea Dragon
Death Wing
The Xanadu Connection
The omnibus itself is also jam packed with around 270 pages of comics with a gorgeous James Bond inspired cover of a girl drinking a martini. It's the perfect addition to any Bond or comicd fan and best of all, there are four more omnibus before this one.
In terms of story, some are clichéd, some are fun and some are a little bland but overall, it definitely feels like James Bond and the artwork definitely portrays Sean Connery. Given that, the first story was a little slow and I think I laughed out loud when the female character spent most of the issue running around in her underwear. Fortunately the stories did improve and Lawrence does a great job at injecting excitement, drama and even romance into his stories. It's almost like he is channelling Ian Fleming himself.
In terms of artwork, kudos to Yaroslav Horak who successfully managed to jam pack each panel with some spectacular artwork and considering that each strip is around 3 panels long, it's quite an achievement. My favourite story in the omnibus was The Ape of Diamonds which sees Bond visit Egypt in order to hunt down a mysterious gorilla who has kidnapped a VIP that is definitely a play of King Kong meets 007.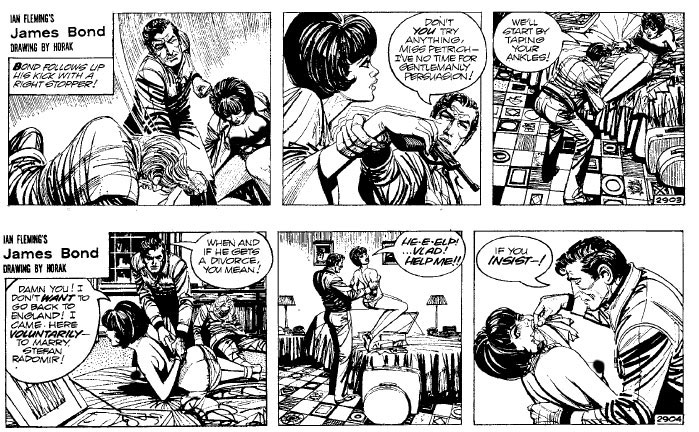 There's also some great one-liners in the book like Bond telling one of his girls that "I've got a feeling we could use a girl with your talents at MI-6" or to a villain, "gunplay always brings out the beast in me", it's classic Bond dialogue. With that said, some of the characters are a little over the top, especially the women but once again it was a time of sexploitation and definitely a different era. Nonetheless it was still quite entertaining and it's really hard not to do the Sean Connery voice when reading Bond's lines.
Final Thoughts?
This is a really fun collection of classic Bond tales from the original newsprint run. My only gripe is that I wish the panels were a little larger but considering how fun and over the top the stories are, I could forgive this. So if you're looking for your next Bond fix, especially from a time when Bond was Bond, than I could more than happily recommend this collection, especially with classic dialogue like "We'll see about some clothes in a moment".
Classic literature at its best!