Blu-ray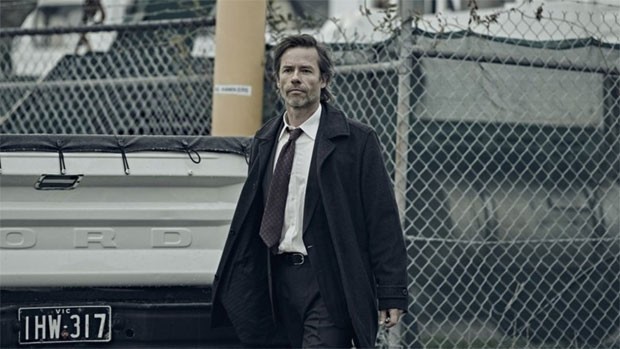 Published on April 3rd, 2016 | by Rob Mammone
Jack Irish Season One Blu-ray Review
Summary: With pluck and common decency, Jack Irish works his way through a complex maze of conspiracy and intrigue, laced with a dash of murder.
Based on the character and setting of the Jack Irish crime novels by Peter Temple, starring guy Pearce (Jack Irish), Marta Dusseldorp (Linda Hillier), Aaron Pedersen Cam Delroy), Roy Billing (Harry Strang), Claudia Karvan, Marcus Graham, Brooke Satchwell. Directed by Kieran Darcy, Mark Joffe and Daniel Nettheim and written by Andrew Knight, Matt Cameron and Andrew Anastasios.
South African born, Australian award winning crime writer Peter Temple has had a storied career. Winner of Miles Franklin award (unusual for a genre writer), Temple has recently had his Jack Irish series of novels adapted for television and screened here in Australia by the ABC. The first three books, Bad Debts, Black Tide and Dead Point, were made into television movies with German funding assistance. Such were their success that the ABC commissioned a 6 part mini-series that recently screened to considerable acclaim.
Pearce is a long way from the Hollywood blockbusters that made his name internationally, and is all the better for it. As Jack Irish, a lapsed lawyer turned somewhat diffident private detective, he finds himself falling into cases by accident, and helping those less fortunate. With the aid of an erstwhile bunch of genuine Australian characters, Irish often wins through on grit, luck and common decency.
The beauty of the series is its Australian-ness. The viewers get to see both sides of that – the larrikin-ness of years gone by, exemplified in the three characters sitting in the Fitzroy pub, surrounded by memorabilia of a football team gone to the Gods. The other side of the coin is the real world issues of corruption and crime that we see through the lens of Dusseldorp's television journalist, Linda Hillier. While the former is there to provide light relief from the heavy material, it does help to ground Irish and help fulfil the ABCs remit of reflecting all aspects of Australian society back to itself.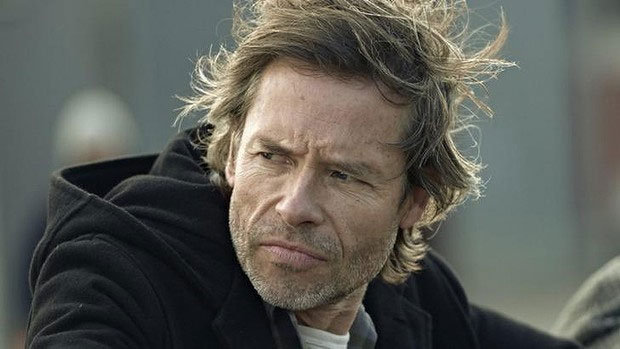 This latest series sees Irish and Hillier tracking along parallel, yet converging storylines. Dismayed by Irish's seeming lack of direction in life, Hillier takes a journalism job in the Phillipines, hoping to find down and interview Hadji Adhib, an Australian jihadist operating on the island of Mindanao. Irish, in turn is asked to help find Tina Longmore (Brooke Satchwell) daughter of a prominent Australian government minister, Senator Longmore (John Bach).
Tina Longmore has fallen in with an envangelical church, headed by Rob Shand (Marcus Graham, playing a weak snake oil salesman of a religious minister). This quickly leads Irish into a complex maze of conspiracy and murder played out in and around Melbourne, and involves Hillier with terrorists in the Phillipines. Post GFC, the elites who led the world into it, and have partially failed to lead us out, have found themselves treated with increasing contempt by a populace they ostensibly rule.
The rise of populists like Donald Trump in America, and Marine le Pen in France, point to a failure in governance and competence and a hollowing out of the bond of trust between the governors and the governed. If the people are increasingly turning towards empty headed, dangerous populists as these two, how badly have the actually smart people botched things?
This is depicted in this six part series as a complex web linking government policy with religious zealotry that unravels as Irish pokes and prods until the whole mess collapses around him. What started as a missing persons case morphs into a murder investigation, before coming to rest up against the difficult issue of terrorism and the response of government to it. No one in any of the organisations depicted – be it the government, private enterprise and religion, come out well in an often searing examination of the personal and ideological failings exhibited by the characters at the heart of this conspiracy. When elected officials fail to do their job, the people they hire – mercenaries, religious figures, are often much, much worse.
All through it, Pearce exhibits a world-weary charm exemplifying the best of the Australian character –getting on with the job at hand with a minimum of fuss and bother, always with the aim of doing the right thing by the underdog. While the basic premise – conspiracy, terrorism, murder, are par for the course in these type of thrillers, the real beauty of this Australian series rests with the supporting characters.
While Dusseldorp brings a dogged decency to her role (really, she is one of Australia's stand out female actors) it is actors like Pederson (Delray) and Billing (Strang) as dodgy racing identities, and bar flies Wilbur (John Flaus), Ron Falk (Norm) and Terry Norris' (still with us, thank God!) Eric, who are the heart and soul of the series. Common, ordinary men who exemplify the best characteristics of Australian men and women – phlegmatic, slightly dodgy, looking out for each other with a thread of common decency running through them – who form the heart of the viewing pleasure that is Jack Irish.
This series of Jack Irish examines the failures of those who govern us and how ordinary men and women suffer for those failures. Nonetheless, with grit and determination, with charm and decency, it shows that for all the failures of those who rule, it is the ruled who help sort out the mess handed to them. One of the best local productions in many a year, we should all look forward to more in this entertaining series.
Extras: standard interviews with the cast and crew as well as a behind the scenes look at the production filming.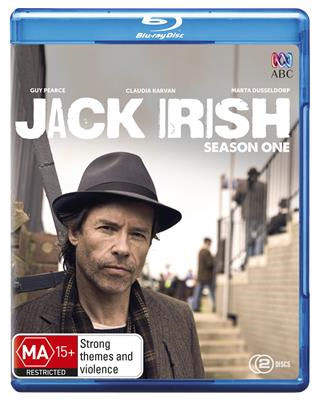 Blu-ray Details

Actors – Guy Pearce, Marta Dusseldorp, Aaron Pedersen, Roy Billing, Shane Jacobson, Claudia Karvan
Film Genre – TV Drama
Label – ABC
Audio – English (DTS-HD 5.1)
Subtitles – English
Running Time – 342
Aspect Ratio – 1.78:1
Region Coding – B (Blu-Ray)
TV Standard – PAL
Rating – MA15+
Year of Release – 2016
Primary Format – Movies/TV – Blu-Ray