Events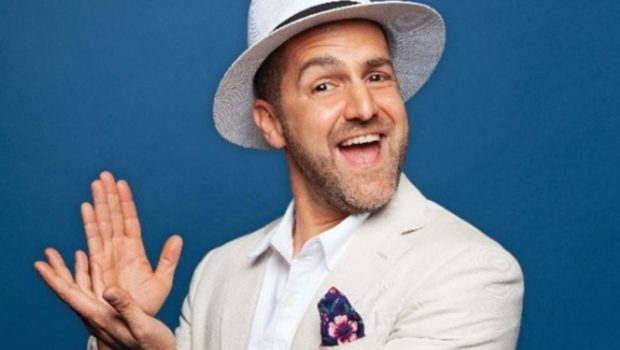 Published on April 1st, 2022 | by Admin
Ivan Aristeguieta HAPPY PAPI – Touring Australia 2022
Australia's favourite Venezuelan, Ivan Aristeguieta, is one Happy Papi, and with a spring in his step, he is back on stage where he belongs. Ivan salsa dances his way across the country in one of the most anticipated new shows of Aussie comedy! Like a chorizo in a vegan burrito, happiness can be found in the most unexpected of places.
Ivan has had Aussie audiences laughing since 2012 after migrating to Australia and taking on the challenge of performing comedy in a second language. Ivan is one happy migrant and he's squeezing all the privileges the First World can give him. From his own TV show, Lost in Pronunciation, his live stand-up TV special debut, Chorizo Sizzle, performing at the prestigious Just For Laughs Comedy Festival in Montreal and numerous TV appearances on Australian shows such as: Melbourne International Comedy Festival Gala, Have you Been Paying Attention and Hughesy We Have a Problem.
During the pandemic, he entertained online audiences with his interactive  Zoom cooking show, About This Much, and arrived back and live on stage in 2021 with his award-nominated show 'Pinata'.
Tour presented by Laughing Stock Productions, more information at http://ivanaristeguieta.com.au/.
SOCIAL MEDIA
https://twitter.com/ivancomedy
https://www.facebook.com/IvanComedy/
https://www.instagram.com/ivancomedy
https://www.youtube.com/watch?v=R6pApK7Kyks
Ivan Aristeguieta
HAPPY PAPI – AUSTRALIAN TOUR 2022
Adelaide
ADELAIDE FRINGE
Garden of Unearthly Delights
9:00 pm, Fri 18 Feb – Sun 6 March (No Mon)
TWO WEEKS ONLY
www.adelaidefringe.com.au
Gold Coast
GC LAUGHS FESTIVAL
Lakeside Room
7.45pm, Thurs 17 March
ONE SHOW ONLY
Canberra
CANBERRA COMEDY FESTIVAL
Street Theatre
8.45pm, Sat 26 March
ONE SHOW ONLY
www.canberracomedyfestival.com.au
Melbourne
MELBOURNE COMEDY FESTIVAL
The Athenaeum
8:00pm, Wed 31 March – Sun 24 April (7:00pm Sun, No Mon)
www.comedyfestival.com.au
Perth
PERTH COMEDY FESTIVAL
The Rechabite
7:15pm, Thurs 5 – Fri 6 May
8.30pm, Sat 7 May
www.therechabite.com.au
Sydney
SYDNEY COMEDY FESTIVAL
The Factory
7.15pm, Fri 20 May
9.00pm, Sat 21 May
7.45pm, Sun 22 May
Brisbane
BRISBANE COMEDY FESTIVAL
Brisbane Powerhouse
8.45pm, Thu 26 May , 6pm, Fri 27 May
TWO SHOWS ONLY