Uncategorized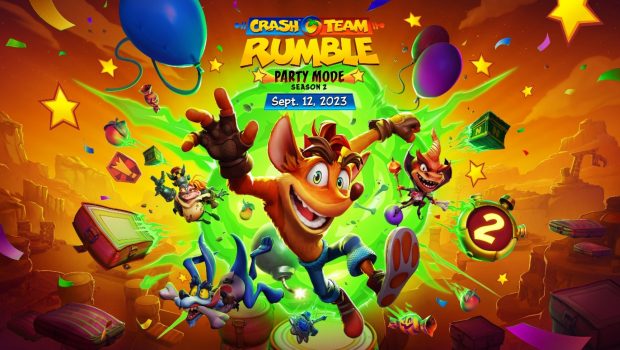 Published on September 13th, 2023 | by Andrew Bistak
It's Time to Party in Crash Team Rumble Season 2
The party never stops when Crash Team Rumble Season 2 launches 13 September! Get ready for all new ways to play – new modes, maps, a new hero, and new power – all releasing during Season 2. Grab your friends and hop into the brand-new Party Mode, a 4-player co-op remix that gives fans a fresh take on Rumble. Throw down on two new maps, fraught with danger and new strategies to uncover, and prepare for the arrival of Ripto, who is crashing the party from the Spyro universe!
Party Mode Brings Fast Paced Co-op to Crash
For players looking to take a breather from competitive matches, Season 2 delivers with Party Mode! Assemble a team of 4 and unwind in 5 distinct mini-game rounds, each with their own challenges. You'll need to work together as a team to accomplish each task, while simultaneously collecting clocks that increase your remaining time! Master each Party Mode Wave and you may even unlock a secret Boss Wave, the ultimate test of skill for Crash veterans. Every round, your team's score is calculated based on how quickly you complete each goal, so you'll need to practice minimising your time, and maximising your score
Dragons Beware, Ripto is Crashing the Party
Say hello to your new king. Ripto is back to cause mayhem and mischief as the newest Booster to join the hero roster! Wielding his sceptre, he controls the battlefield with a myriad of deadly and powerful spells. Blast your foes away with huge fireballs, summon lightning to strike enemies into the ground, and conjure huge tsunami waves to leap into the air. In the hands of a skilled player, Ripto can combine his abilities together to create devastating combos. Be on the lookout for his release later during Season 2!
Duke it Out in Two New Maps
No season would be complete without new arenas to throw down. Season 2 brings even more new maps to the table than Season 1, with Waste Deep and Jazz Junction releasing soon. Explore the dangerous sewers of Waste Deep, littered with Cortex's diabolical experiments. Be the first to activate the relic stations on this map to wreak some mad scientist havoc on the enemy team! Later in the season, players can also rumble on Jazz Junction, a night-time map amid a jazzy jamboree. Boogie with the local musicians and equip game-changing masks to turn the tides of a match. It's a hectic and playful arena, where no match is ever the same!
Season 2 is live today, complete with an all-new 100 tier Battle Pass! Progress through either the free or premium track, and unlock new skins, cosmetics, music, and more. The Season 2 Premium Battle Pass is included with the Crash Team Rumble Deluxe Edition, or available via separate purchase for 950 Crash Coins for Standard Edition owners. Completing all 100 tiers of the Season 2 Premium Battle pass will also reward you with 1000 Crash Coins total.