Games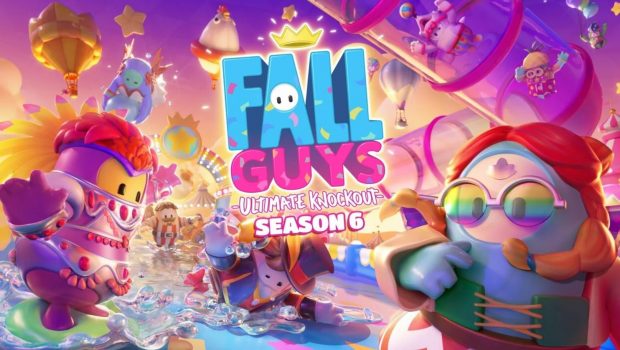 Published on November 24th, 2021 | by Alex Novus
It's Party Time! Fall Guys Season 6: Party Spectacular Is Launching 1st December
Fall Guys: Ultimate Knockout fans will be tumbling into a festival themed Blunderdome on Wednesday 1st December 2021 with the launch of season 6 – Party Spectacular –  the latest addition to Mediatonic's battle royale party game!
Intriguing details were revealed at the 'Season 6 Reveal' stream event!  But if you missed out (or just want a little refresher),  join us for a closer look at the ultimate carnival of Crowns below….
Fall Guys – Season 6 Cinematic Trailer
Fall Guys season 6 will see beans dive and dash through dazzling new Rounds on PC and PlayStation, stacked with a frankly ridiculous assortment of never-before-seen obstacles to test your stumbling skills. Coming this season:
5 new Rounds
25 new costumes
50 tiers of Fame Path rewards
Sackboy Limited Time Event
Epic Games Accounts will be required to play Fall Guys once live in Season 6, bringing new features to the game: cross-platform progression between PS4 and Steam, and the return of custom usernames.
Season 6 New Rounds:
Party Promenade
The party starts here in our wildest gauntlet to date, packed with all-new obstacles! In this celebration of clumsiness, navigate your bean through zooming vacuum tubes, dodge water balloon cannons and swing to victory on the awesomely acrobatic trapeze bars.
Full Tilt
A fiendishly fresh take on a Fall Guys classic. We're debuting our dizzyingly new 360° see-saws in a treacherous race to the finish. Beware the force field and rapid rotating bars, primed to boot you off the festival lineup!
Pipe Dream
A totally tubular dash to the finish line. Every trip to the Pipe Dream brings a different maze challenge, with each vacuum tube potentially leading to stumbling peril. You may meet flippers and fans, perilous pivoting platforms or..? No spoilers!
Airtime
Your Fall Guys flight to Airtime is now departing! Strive to stay in the air for as long as possible via outrageous displays of aerial agility. Swing on trapezes and practice your fancy footwork on conveyor belts and rotating platforms. And if you fall? Drums and flippers await to put you back in the limelight!
Leading Light
In the greatest game show in the universe, who wouldn't want to be in the spotlight? But fame isn't easy when you're tumbling over turntables and floundering over fans! Beware, as crafty beans won't want to share the headline slot, using force fields to disrupt your flow and become the centre of attention!
Fame Path Festivities & Rewards
Season 6's Fame Path is overflowing with goodies to get you fully equipped for the Party Spectacular! Your Blunderdome antics will set you tumbling through 50 tiers of rewards with more than 20,000 Kudos to unlock, over 20 Crowns, ludicrously colourful costumes and other treats.
New Costumes, Fixes & Limited Time Events
No new season party would be complete without the hottest fall looks, so prepare to jump into over 25 new costumes of carnival couture, guaranteed to send you to the slime in style.
Your Blunderdome Construction Crew have been preparing a platter of new Limited Time Events to reward the most dedicated beans! Plus, we've implemented a slew of fixes and improvements for smoother stumbles, based on feedback from our players.
More Limited Time Events – More incredible rewards, more challenges, more wild Show variations…MORE! And it all kicks off with the burlap bundle of joy, Sackboy!
Roll Off returns! – Circular tumbles are back in the Final Round, with multiple fixes now in place.
Flipping wonderful – Issues solved with multiple beans using the same Flipper on Rounds such as Tundra Run and Short Circuit.
Spectate on the Squad – Spectator Mode fixed to now automatically pan to Party members.
Plus plenty more details to follow in our release notes at launch!
Fall Guys: Ultimate Knockout is out now on PlayStation and PC. Stumble over to fallguys.com, join Discord or follow @FallGuysGame on Twitter for regular updates.