Games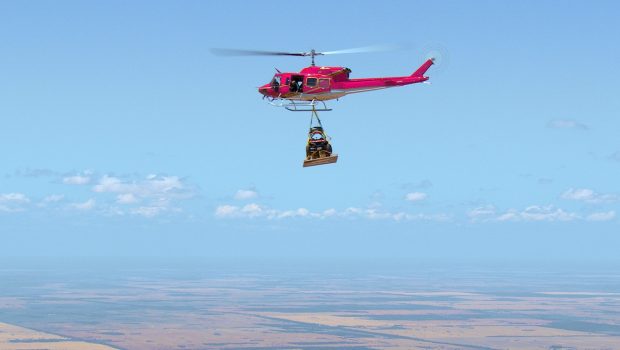 Published on November 9th, 2021 | by Andrew Bistak
It's not a bird or a plane – Xbox ANZ dropped a car out of the sky in Victoria to launch Forza Horizon 5
To launch the highly anticipated Forza Horizon 5, set in the ever-evolving open world landscapes of Mexico, Xbox ANZ took to the skies in Victoria, Australia, to bring the game to life in the most adrenaline-fuelled way yet. ​
Paying homage to theForza Horizon 5 'Initial Drive', Xbox ANZ has created a heart-stopping stunt which saw one of the game's vehicles, the Polaris, dropped from a helicopter 4,500 ft (1.37kilometers) to parachute from the Victorian skyline. Not only can fans watch the blockbuster stunthere but Australian and New Zealand fans can get in on the action, with the chance to win the one-of-a-kind branded helmet worn by the stuntman on the day.
Tania Chee, Xbox Business Lead for ANZ said, "We know Australian and New Zealand fans have a deep love for car culture and have supported the Forza franchise for years, and we've celebrated them through initiatives like ourForza Horizon 4 Drive-In experience,or by bringing the iconic Panorama Bathurst track in game for Forza Motorsport 5.
"As one of the most anticipated releases of 2021, we knew we had to reach for the sky for Forza Horizon 5 to create our most exciting stunt yet".
In Forza Horizon 5, you can discover living deserts, lush jungles, historic cities, hidden ruins, pristine beaches, vast canyons, and a towering snow-capped volcano while you lead breath-taking expeditions across Mexico. The Forza Horizon 5 Standard Edition is available in Xbox Game Pass at no additional cost. What's more, with Xbox Cloud Gaming (Beta) included in Xbox Game Pass Ultimate, you can race through a world of striking contrast and beauty from anywhere using a supported device.
To see the action for yourself, view the campaign video atthis link. For more information on the competition and to enter, visit theXbox ANZ Twitter account.