Games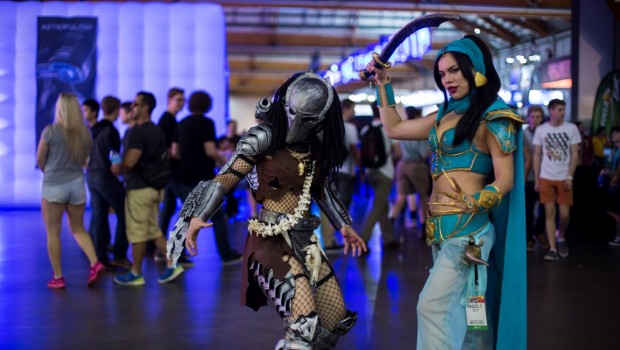 Published on October 10th, 2015 | by admin
IT'S A WRAP! EB GAMES EXPO WRAPS UP FOR 2015
It's a wrap! Australia's leading video games event, the EB Expo has concluded for yet another hugely successful year.
More than 36,000 people played, battled, danced, rocked out, laughed and raced at the exciting event, held last weekend (October 2 – 4) at Sydney Showground, Sydney Olympic Park. This year's EXPO showcased the world's most anticipated, unreleased games, for the first time ever in Australia.
Show goers got unprecedented hands-on experience with the hottest video games set for release later this year, and in 2016, including Call of Duty: Black Ops III, Assassins Creed: Syndicate, Rainbow Six Siege, Guitar Hero Live, Just Cause 3, Battleborn, Uncharted: The Nathan Drake Collection, Tom Clancy's The Division, Halo 5: Guardians, Rise of the Tomb Raider, Fallout 4 and Star Wars™ Battlefront™ which was named game of the show.
Gamers had the time of their lives, driving more than 8,800kms in Forza Motorsport 6, raiding over 2,200 tombs in Rise of the Tomb Raider and taking more than 17,000 kills in Halo 5: Guardians (Warzone). Around 30 plus Assassins Cos players were also out in force wearing some of the most elaborate costumes ever seen. Also proving to be a big hit was the Hearthstone Booth which featured the fast-paced digital strategy card game Hearthstone: Heroes of Warcraft for the first time.
Additionally, more than 1,000 people danced enthusiastically on the Just Dance 2016 Competition stage. Denzal Van Uitregt crowned the Australian Just Dance Champion, reclaiming his title from last year. He will now represent Australia at the Just Dance World Cup during Paris Games Week later this month.
There was also much fun to be had by kids, who raved about the new children's gaming phenomenon Yo-Kai Watch. With its popularity now exceeding Pokémon, children eagerly played the Japanese sensation for the first time and viewed exclusive episodes of the mega-popular Yo-Kai Watch TV show.
The EB Expo Family Day on Sunday offered a huge range of family-friendly entertainment and games including appearances by comedy duo the Umbilical Brothers, life-sized storm troopers, Mario and Luigi from Mario Bros, the newly-released Skylanders SuperChargers and Disney Infinity 3.0. The massive weekend also featured fireworks, The Sydney Brick show, The Zing Pop Culture Zone showcasing thousands of specialty and hard-to-find products from pop culture brands, and the Community Playground.
Given the ongoing, massive popularity of EXPO, next year's event is sure to be just as amazing.