Games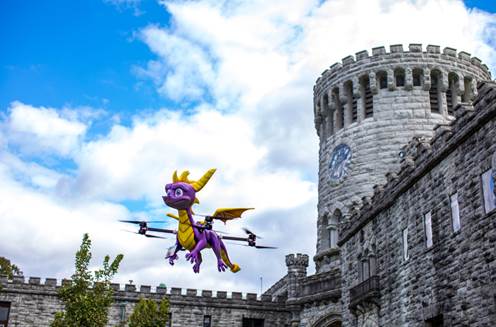 Published on October 31st, 2018 | by Admin
IT'S A BIRD…IT'S A PLANE…NO, IT'S A LIFE-SIZED, FIRE-BREATHING, TALKING SPYRO DRONE!
Activision has created the first ever, fire-breathing and talking Spyro drone! A first of its kind, the Spyro drone is soaring across the United States to commemorate the upcoming video game launch of Spyro Reignited Trilogy on November 13. Kicking off from "Stone Hill" near New York City, the life-size Spyro drone is spreading his wings to explore the cities and iconic landscapes across the country that have a striking resemblance to what fans will immediately recognise as iconic levels and themes from the trilogy. 
While it has been 20 years since the first Spyro game was released, some friendships never die. To ensure that Spyro can connect with old and new friends alike, the Spyro drone will be capturing his cross-country adventures on his social media channels for fans to enjoy.
During the U.S. tour, two icons will also connect when Spyro delivers an early copy of Spyro Reignited Trilogy to entertainment icon, Snoop Dogg.