Films
Published on August 23rd, 2015 | by Nicki Newton-Plater
Irrational Man – Film Review
Reviewed by Nicki Newton-Plater on August 22nd, 2015
Entertainment One Films presents a film by Woody Allen
Produced by Letty Aronson, Stephen Tenenbaum and Edward Walson
Screenplay by Woody Allen
Starring: Joaquin Phoenix, Emma Stone, Parker Posey, Jamie Blackley, Tom Kemp
Cinematography Darius Khondji
Edited by Alisa Lepselter
Running Time: 95 minutes
Rating: M
Release Date: August 20th, 2015
Irrational Man see's the return of Woody Allen's cynical and intriguingly morbid screenwriting that comes with a pinch of black humour and has divided audiences for decades, but with weak underlying themes, which do not inspire nor provoke. Professor Abe Lucas (Joaquin Phoenix) arrives at his new Rhode Island college in a flurry of gossip, rumours and female admirers. Despite how many people welcome Abe with open arms, he remains dissatisfied with his life and struggles to find meaning or any sense of optimism in his daily activities. However, a chance encounter between himself and his love and star-struck pupil Jill (Emma Stone) allows him to find the enjoyment in life that he has been missing by taking a stranger's matters into his own hands.
With Irrational Man returns Woody Allen's evil streak that comes hand in hand with his flair for black humour, which is often lost on many. Allen's filmmaking style is often referred to by many as an acquired taste, but one does not feel the true extent of his talent in Irrational Man. The film seems to be Allen's take on sadism in his storytelling, where one feels pleasure because of another's pain, as well as imposing the moral question of whether inflicting pain or death on another is ever justified. While the lead character of Abe is obviously a damaged human being, the side of the argument he represents is not strong enough to make one contemplate this notion once they leave the cinema.  The story itself is intriguing and also unpredictable, which makes for a film that is watchable, but with underlying themes that remain weak.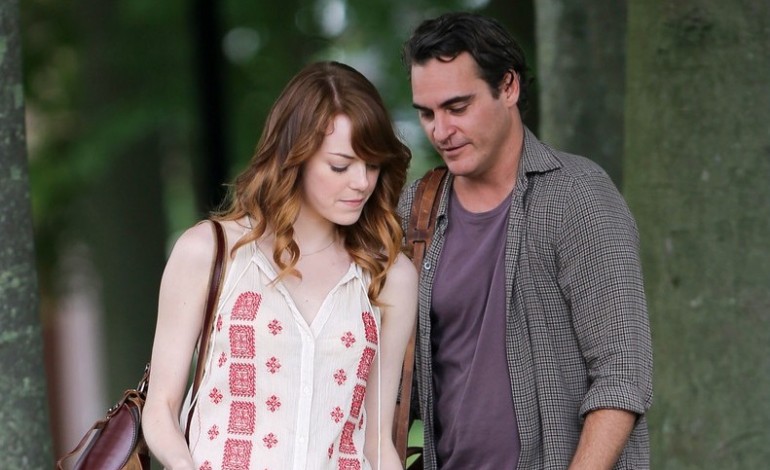 Despite the label of black humour being attached to Irrational Man, it is very hard to categorise the film as a comedy, yet it is too light-hearted to be known as a drama. It relies more on situational humour rather than verbal humour, but this is still not overtly evident. The film could be categorised more as amusing rather than comical and it is this with it's quirky screenplay. Visually, it is rather a beautiful film with the Rhode Island scenery on show. Full use is made of the New England landscape, as well as the town's architecture, giving the film a peaceful and serene front to it's evil narrative.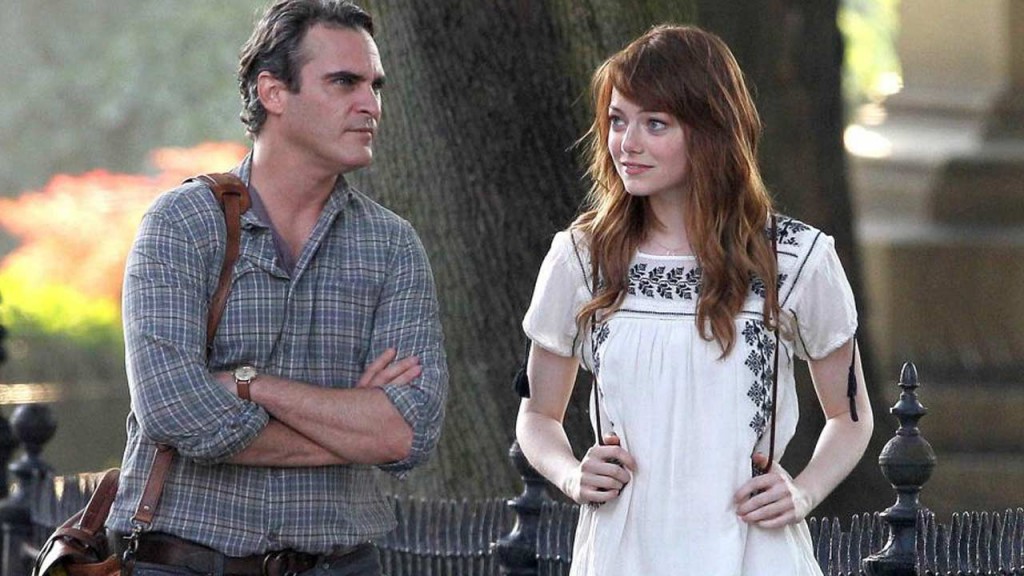 Joaquin Phoenix and Emma Stone work well together on screen and have a great deal of chemistry, despite some flimsy dialogue spoken between the two actors. Phoenix is a chameleon by nature so he has the ability to switch from damaged and self-destructive to likable and charismatic in the film and be both characters wonderfully. Emma Stone is also very good as Jill and towards the end of the film her performance grows radically stronger. However, both Phoenix and Stone are given dialogue, which is not particularly strong (but still remains Allen-esque) and makes their performances seem a little forced. Despite being entertaining and unpredictable, Irrational Man is not one of the Woody Allen films that will be worth coming back to over time. It is a film that is trying to be a lesson in morality, but gets lost within itself too easily.
Summary: Despite being entertaining and unpredictable, Irrational Man is not one of the Woody Allen films that will be worth coming back to over time.