Films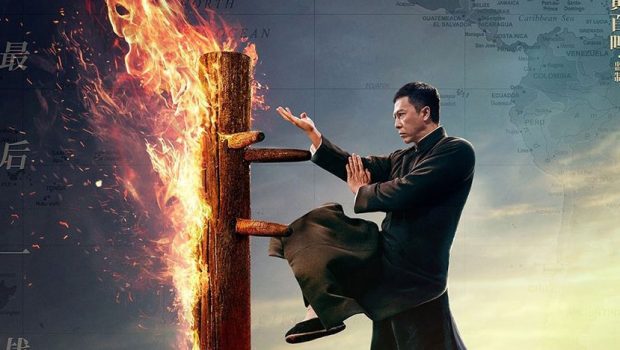 Published on December 25th, 2019 | by Tim Chuma
IP Man 4: The Finale Review (2019)
Summary: The final years of IP Man and his adventures in the USA.
Things have settled down a bit since the last film for IP Man (Donnie Yen), but time marches on and his wife has since passed away and he finds out about his cancer diagnosis. Even though he is a famous Kung Fu teacher his teenage son doesn't do what he is told and gets expelled from high school.
One day Billy, one of Bruce Lee's students turns up with a plane ticket and invitation for IP Man to attend the 1964 Long Beach tournament as he knows his master is stubborn and would just throw them in the bin if he sent them. This does lead to a misunderstanding as the students don't know what Bruce's student is saying. IP Man changes his mind later and decides to head over to the USA to find a good school for his son.
When he arrives he finds that the Chinese Benevolent Association is holed up in Chinatown and wants him to convince Bruce Lee to close down his school as he is taking non-Chinese students in exchange for letter of recommendation. After some tense moments including a shattered table he decides to decline their offer.
He does end up attending the tournament and after some of the opposing teams have a dust up with Bruce out on the street. Bruce was constantly being challenged by people in his real life, most of the fights lasted 30 seconds and were mainly the other person running around. He fought people in Chinatown mostly.
The film then veers into "inspired by" territory with a friend of IP Man trying to get a letter of recommendation from Frank Loyd Wright (?!) and a clumsy anti-racism message and cartoonish evil westerner in the form of a the Marine Barton Geddes played by Scott Adkins in a thankless task. He can play a bad guy and pull it off. His turn as BOYKA in the Undisputed movies was so good he did a heel turn in between movies and became the hero. I have always wanted to play an "evil westerner" in a Hong Kong movie even if the Silver Spleen has said "It gets boring after a while" (he plays quite a few of them.) He only really gets to clean house once, and demolishes a room full of martial arts masters in about 30 seconds.
Chris Collins as the Karate Master Colin Frater is nice and beefy but does not get that many scenes. Nobody takes their shirt off with all this beefcake around, boo! I want bare chested sweaty men pounding on each other and also Kung Fu fights.
Even though I could pretty much tell which way the story was going to go, it was still pretty good. There is still an emotional punch in some of the scenes despite knowing that it was always going to go down this way.
This is definitely the last one in the IP Man series and it at least wraps it up well with a nice flashback scene at the end. I could not really see Donnie Yuen playing the same character like Kwan Tak-Hing played Wong Fei Hung 76 times for 3 decades.
Although this movie does feature Kwok-Kwan Chan playing Bruce Lee it is not really his story. The next film in the series will supposedly cover his story in more detail. This movie more than makes up for any of the sins committed by a certain US film maker against Bruce Lee's legacy.
A nice wrap up to the series and well worth your time when it comes out on streaming or whatever service you get to see it through.
Film Details:
Director: Wilson Yip
Fight Choreographer: Yuen Woo-Ping
Starring: Donnie Yen, Scott Adkins, Kwok-Kwan Chan, Chris Collins, Vanness Wu, Kent Cheng
Bruce Lee Kung Fu Demonstration 1964 (no sound)
Bruce Lee at the Long Beach tournament 1967