Games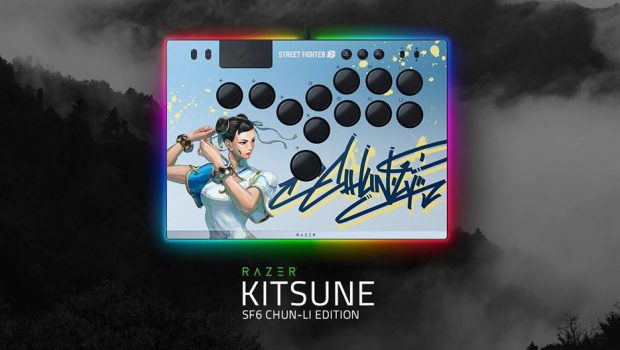 Published on June 7th, 2023 | by Andrew Bistak
Introducing the Razer Kitsune: An All-Button Optical Arcade Controller for the Ultimate Fighting Game Experience
With Street Fighter 6 hitting the shelves and the next era of fighting games on the horizon, we want to give you a preview into the newest weapon that's about to change the game: the Razer Kitsune. It's an all-button optical arcade controller designed for the PlayStation®5 console and PC* that's set to redefine how you experience fighting games.
The Razer Kitsune isn't your traditional fight stick. It's an evolved, ultra-precise arcade controller with a precise quad movement button layout perfect for eliminating input errors and executing optimal commands. Say goodbye to joystick mishaps and hello to clean, crisp play! This quad-button layout is the up-and-coming competitive edge for the pro fighting game player.
What's under the hood you may ask? We'll have much more to share when we officially unveil, but as a preview, we've packed the Kitsune with our state-of-the-art Razer™ Low-profile Linear Optical Switches. With a shorter actuation height and lightning-fast response, you'll have the speed and precision you need to maximize your combos and control the neutral. Out with the traditional push buttons on standard fight sticks; we are here to share our long history of keyboard technology with the fighting game community.
Crucially, the Razer Kitsune was developed in close collaboration with Capcom, ensuring it not only meets but exceeds the needs of professional-level play. Abiding by all Capcom Pro Tour standards, the Kitsune's design carefully adheres to regulations, including compliance with the latest simultaneous opposite cardinal directional input rules. This adherence solidifies the Kitsune's place in tournament legality, ready to be picked up and played at the highest level of competitive fighting games.
From the travelling pro player to the frequent at their local tournament we want the Razer Kitsune to be the perfect portable companion. It's slim and portable with a form factor that ensures easy storage and setup; its leverless design fits comfortably in your backpack, and its detachable USB Type C cable eliminates the hassle of constant coiling or uncoiling.