Hardware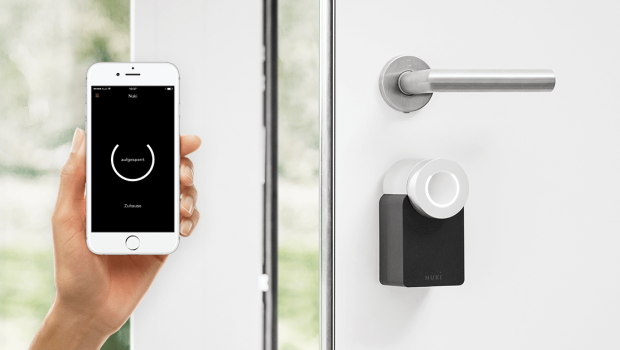 Published on August 21st, 2020 | by Adrian Gunning
Introducing the Next Generation of Smart Locking Technology with Nuki
Never lose your house keys again!
Technological advancements have improved many aspects of our daily lives – everything from our homes, health and work lives have been positively impacted. With Nuki, we take that extra step forward, making access controls smarter and physical keys irrelevant, with their bank-grade, highly encrypted Smart Locks.
Since an idea struck two brothers in 2013, Nuki has quickly become a market-leading brand in Europe with the release of several products such as the Smart Lock, Bridge, Fob and most recently the Nuki Opener, which was announced at IFA in June 2019. Now launching in Australia, smart access has never looked so
elegant and lost house keys and annoying key-handovers are about to become a thing of the past.
Simply install the Nuki Smart Lock over the top of the existing door cylinder (check on this link to ensure that your existing lock is compatible –
https://nuki.io/en/installation-check/ ) on the inside of your door and download the app (available for iOS and Android) to effectively turn your smartphone into a key. Alternatively, please visit JB to see if your door is compatible, https://www.jbhifi.com.au/pages/nuki-smart-lock-installation-check
Designed as a sleek retrofit solution for smart and secure access, Nuki Smart Lock 2.0 integrates seamlessly with existing Smart Home ecosystems like Apple HomeKit and Google Home and can even be voice controlled via Siri, Alexa and the Google Assistant.
Nuki's Smart Lock 2.0 boasts a plethora of features including Bluetooth 5 for improved range, enhanced internal processing power for speed of use, a door
sensor for at-a-glance status updates on your home door, plus full Apple HomeKit compatibility. The Nuki system is also completely secure with end-to-end encryption.
To date, Nuki has delivered almost 100,000 Smart Locks to customers mainly across Europe.
"We are incredibly proud of how positively our system has been received by customers and that we are experiencing fast and healthy growth. We're really
excited to add Australia to our list of markets and to see how the Aussies respond to Nuki," says Nuki CEO Martin Pansy.
Nuki Smart Home products will now be available from MacGear, JB Hi-Fi, and Amazon AU via the Nuki online shop. Stay tuned for more information from Nuki at https://nuki.io/en/
About Nuki Smart Home Products:
Nuki Combo (consisting of Nuki Smart Lock and Nuki Bridge) – RRP: $549.00
Nuki Smart Lock – RRP: $419.00
Nuki Bridge – RRP: $199.00
Nuki Fob – RRP: $79.00
Nuki Keypad – RRP: $149.00
About Nuki Home Solutions
Nuki Home Solutions is a leading provider of retrofit, smart access solutions in Europe. The company's vision is aimed at making existing door locks smarter and
thereby replacing the physical key. The current product portfolio includes the Nuki Combo, consisting of Nuki Smart Lock and Nuki Bridge, the Nuki Opener – a retrofit solution for apartment buildings as well as various smart product extensions like the Nuki Fob and the Nuki Keypad. Nuki Home Solutions was founded in 2014 in Graz by Up to Eleven. The CEO of Nuki Home Solutions is Martin Pansy. Further information can be found at www.nuki.io/en