Hardware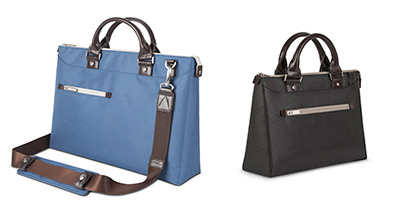 Published on August 31st, 2015 | by admin
Introducing the lightweight and stylish Moshi Urbana range of Notebook bags
SYDNEY, Australia – 31 August, 2015 – Moshi is pleased to announce Australian availability of its Urbana range of protective notebook bags, allowing customers to protect their notebooks and portable devices while remaining fashionable and sophisticated. Comprised of two designs, the range includes the Urbana Mini, a sleek, stylish and slim handbag for tablets or small notebooks and the Urbana Briefcase, designed with the same tech-savvy premium aesthetic, suited for notebooks up to 15" in size.
Moshi Urbana Mini Handbag
RRP: $149.99 AUD
Urbana Mini features padded compartments for a tablet and smartphone as well as three zippered compartments for all daily essentials. Urbana Mini comes with an adjustable shoulder strap that can be removed for a sleeker, hand-carry look. Like all Moshi bags, Urbana Mini has a water-resistant exterior to protect against accidental spills and sudden rainstorms.
Constructed from ultra-lightweight and durable materials, the bag's light-coloured lining also helps you locate items at a quick glance. Roomy enough to hold an iPad case with Bluetooth keyboard or even the latest MacBook, Urbana Mini is compatible with Moshi's complete iPad accessory line-up and is available in Metro Black and Sky Blue.
Moshi Urbana Briefcase
RRP: $159.99 AUD
For those wanting a larger, fashionable solution for their mobile devices and laptops up to 15", the original Urbana briefcase is also available. Moshi Urbana comes in a variety of stylish colour options including forest green, mineral grey and cerulean blue. A padded ViscoStrap™ also provides hours of flexible comfort to help alleviate shoulder strain throughout the day.
With fully padded compartments for 13-15″ laptops and iPad/tablets, a water-repellent coating and slim profile with modern design accents, Urbana is the ideal unisex bag to complement any lifestyle.
Pricing and Availability
Manufacturer: Moshi
Product Name: Moshi Urbana Mini Handbag
Australian Distributor: MacGear
Colour Options: Metro Black, Sky Blue
Australian Retailers: www.beezer.com.au, www.macintoshaddict.com.au , www.modlifeonline.com.au
RRP: $149.99 AUD
Availability: Now
Website: http://www.moshi.com/bags-handbag-urbana-mini#black
Product Name: Moshi Urbana Briefcase
Australian Distributor: MacGear
Colour Options: Mineral Grey, Cerulean Blue, Forest Green
Australian Retailers: www.beezer.com.au , www.macintoshaddict.com.au ,
www.modlifeonline.com.au
RRP: $159.99 AUD
Availability: Now
Website: http://www.moshi.com/bags-laptop-case-urbana#blue
Video: https://www.youtube.com/watch?v=Eiu1h__3a3E