PS5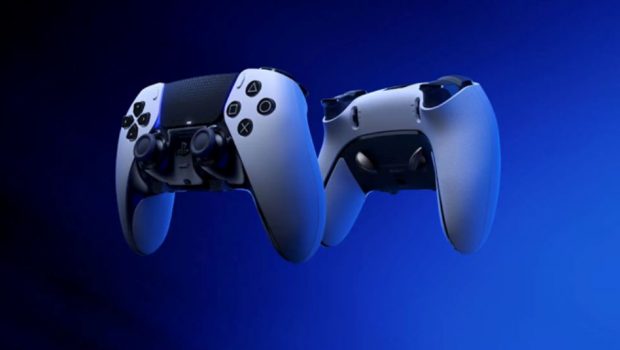 Published on August 24th, 2022 | by Adrian Gunning
Introducing the DualSense Edge wireless controller, the ultra-customisable controller for PlayStation 5
Sony Interactive Entertainment has today unveiled the new DualSense Edge wireless controller for Playstation 5, the first-ever high-performance, ultra-customisable controller of its kind.
Designed to allow players to create custom controls tailored to their playstyle, the DualSense Edge wireless controller features a number of hardware and software-based customisation options:
Ultra-customisable controls: Players can remap or deactivate specific button inputs, adjust stick sensitivity, travel distance and dead zones. For example, players can reduce travel distance for faster inputs in competitive FPS games or reduce the dead zone for precise throttle control in racing games.
Ability to save multiple control profiles: Players can save their ideal control settings to unique profiles and swap between on the fly. No more scrolling through huge settings menus between games!
On-controller user interface: The dedicated Fn button allows players to adjust their setup in-game; swap between pre-set control profiles, adjust game volume and chat balance, and access the entire controller profile settings while in game.
Changeable stick caps and back buttons: Three types of swappable stick caps (standard, high dome, and low dome) help players find the right level of comfort, grip and stability. Two swappable sets of back buttons (half-dome and lever), can be configured to any other button input.
Replaceable stick modules: Each individual stick module can be replaced, increasing controller longevity (sticks sold separately).
Built-in DualSense wireless controller features: Tying all the new features together is the signature comfort and immersive experience of the DualSense wireless controller when played supported games, with haptic feedback, adaptive triggers, built-in microphone, motion controls, and more.
The DualSense Edge wireless controller comes with a USB Type-C braided cable which features connector housing to lock into the controller, making it much less likely to slip out at a crucial moment (we've all been there!). It also comes with a carrying case, keeping all the components together and organised while also allowing players to charge the controller while stored in the case.
Daisuke Kurihara, Art Director, led the controller's design process and shares a few insights on how it was created:
"The opportunity to create the DualSense Edge wireless controller was a dream come true for our team. We wanted to build on the legacy of iconic PlayStation controllers by creating a controller that empowers players to experiment and personalise elements based on their own unique playstyle – whether they are a competitive gamer or someone who just enjoys having more options to customise their play. The DualSense Edge wireless controller also features a number of thoughtful design touches that we hope players will enjoy, including a distinct DualSense controller-inspired black-and-white colour scheme and a unique PlayStation Shapes pattern on the touchpad and trigger surfaces.
"We are thankful to the many gamers, professional esports players, and developers who helped provide feedback on the controller's design."
To find out more about the new DualSense Edge wireless controller head to PlayStation.com.
For the latest PlayStation news, follow on Facebook, Twitter, YouTube and Instagram.