Hardware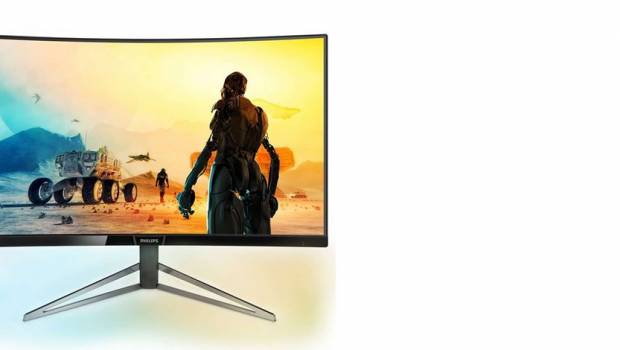 Published on August 22nd, 2018 | by Admin
Introducing Philips Momentum 32″ Curved Monitor, offering HDR and QHD with FreeSync
Sydney, Australia – 21th August 2018: Get in the moment and encounter a new level of visual immersion. The latest addition to the Philips Momentum range, the 328M6FJRMB, provides a flawlessly smooth experience with intensely rich images that rival reality.
The model's Quad HD resolution, Ultra Wide-Colour Technology, and DisplayHDR 400 on a 32″ curved screen provides an immersive experience with crystal clear imagery. These features work in conjunction with AMD FreeSync Processing and a 144Hz refresh rate, redrawing the screen image 2.4x faster than a standard display. This ensures images remain ultra-smooth without blurring, stuttering, and tearing – the perfect partner for intense, competitive gamers.
Philips' Flicker-free backlighting with LowBlue Mode takes gamer comfort one step further, helping to reduce any chance of eye strain, fatigue, or long-term retinal harm due to flicker and shortwave blue light, especially during long sessions with the lights turned down.
Taking advantage of such low-light environments, the unique Philips Ambiglow technology acts to intensify entertainment with a halo of light, enlarging the screen and adding a new dimension to viewing experience. Its quick processor analyses the incoming image content and adapts the colour and brightness to match the image. Better yet, the user can adjust the ambiance to their liking with user friendly options.
A major improvement on older LED monitors, the advanced features of the Philips 328M6FJRMB sets new standards for video entertainment and high-speed gaming.
Other product highlights:
Ultra Wide-Colour Technology – Delivers a wider spectrum of colours for a vivid and realistic picture.
Quad HD – 2560 x 1440 pixels images enabled by high bandwidth sources such as Displayport, HDMI and Dual link DVI.
Smart Ergo Base – A stylish stand delivers screen rotation, swivel, tilt and height adjustment allowing users to place the screen where it's most comfortable.
Product Summary
Product Name: Philips Momentum 328M6FJRMB
Screen Size: 32 (31.5")
Resolution: QHD (2560×1440) HDR400
RRP: From $849 (incl. GST)
Availability: Now
Product Link and Images:
https://www.philips.com.au/c-p/328M6FJRMB_75/momentum-curved-qhd-lcd-display-with-ambiglow
High Resolution Images: https://www.dropbox.com/sh/it4rbhc841xfunf/AACwUXA31UqAMgTaHQR-mBI-a?dl=0