Hardware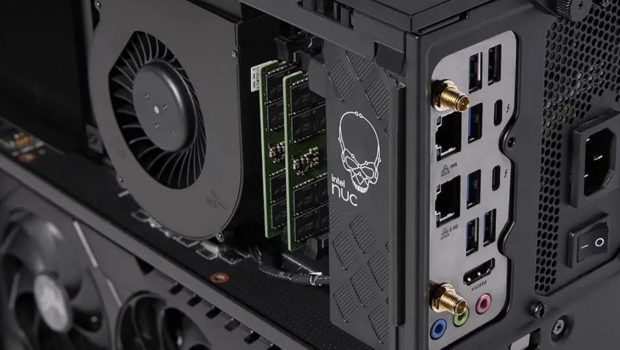 Published on December 28th, 2022 | by James Wright
Intel NUC 13 Extreme Kit Review #2023 … The Raptor Canyon Gaming Rig
The Intel NUC 13 Extreme has been designed to miniaturize a gaming PC that makes it 70% smaller than typical 50L gaming towers, however still offering unparalleled performance with the top of the range 13th Gen Intel Core i9 desktop processor with eight Performance-cores, 16 Efficient-cores and 32 threadswith a maximum turbo frequency of up to 5.8Hz. It also has space for triple slot 12-inch graphics cards plus it boasts the latest tech infrastructure such as DDR5 RAM, Thunderbird ports and Wi-Fi 6E.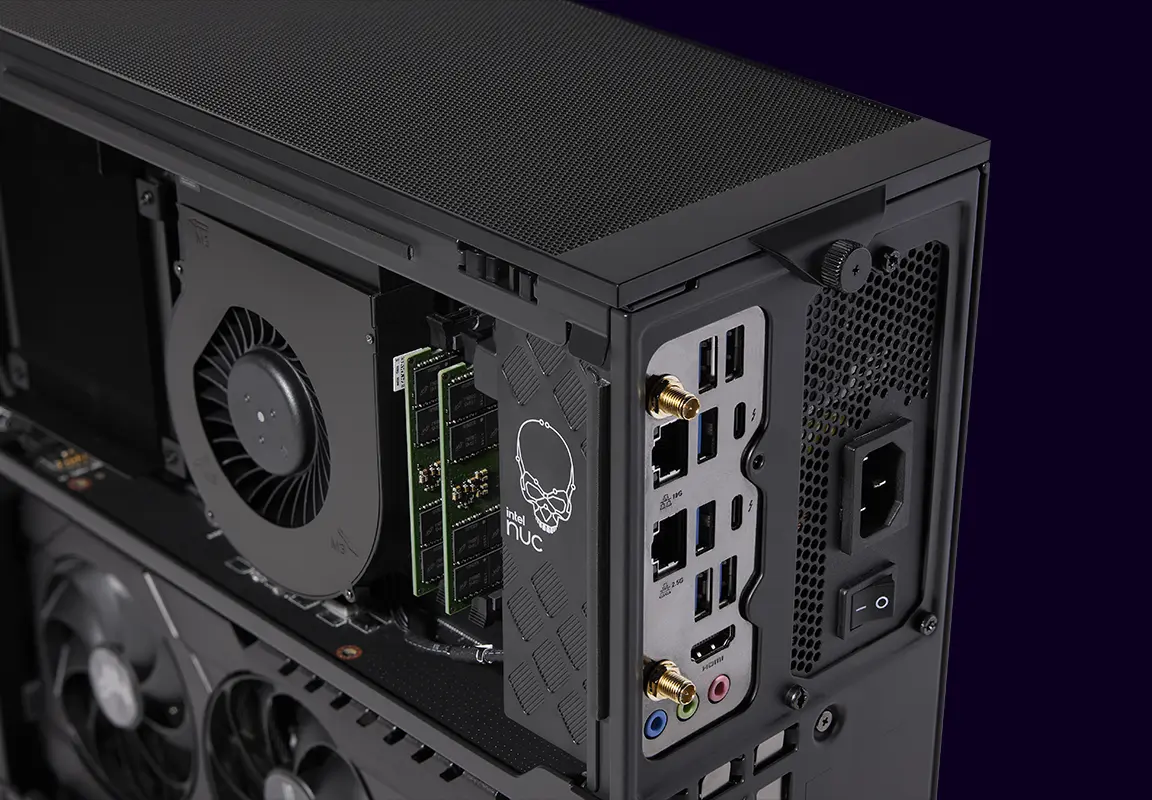 As a result, it makes building the ultimate gaming rig a breeze that both PC enthusiasts and gamers will appreciate and while our test unit included the powerful Asus TUF NVIDIA GeForce RTX 3080Ti, Kingston Fury Gen4 NVMe SSD plus 32GB of Kingston DDR5-4800 Fury RAM that with its optimized airflow, the Intel NUC 13 Extreme Kit is quite a silent PC beast. If you do purchase the kit, you will need to add memory, storage, a graphics card plus the operating system. Additionally our review unit contained Windows 11 as the operating system.
Highlights
Support for up to 64GB dual-channel DDR5-5600 MHz SODIMMs.
Support for PCIe Gen5 x16 new triple-slot 12" graphics cards.
Support for up to three PCIe Gen 4 NVMe SSDs (M.2 2280).
Intel® 2.5GbE (i226-V) / 10GbE (AQC113) LAN.
Intel® Killer™ Wi-Fi 6E.
Two Thunderbolt™ 4 ports.
Six USB 3.2 Gen2 rear ports.
Technical specifications
Intel® NUC 13 Extreme Kit
NUC13RNGi9
Intel® NUC 13 Extreme Kit
NUC13RNGi7
Intel® NUC 13 Extreme Kit
NUC13RNGi5
Processor
Intel® Core™ i9-13900K processor
Up to 5.8 GHz Intel® Thermal Velocity Boost,
125W unlocked, 24 cores (8P+16E),
32 threads, 36MB Intel® Smart Cache
Intel® UHD Graphics 770
Intel® Core™ i7-13700K processor
Up to 5.4 GHz Intel® Turbo Boost Max
Technology 3.0,
125W unlocked, 16 cores (8P+8E),
24 threads, 30MB Intel® Smart Cache
Intel® UHD Graphics 770
Intel® Core™ i5-13600K processor
Up to 5.1 GHz Max Turbo,
125W unlocked, 14 cores (6P+8E),
20 threads, 24MB Intel® Smart Cache
Intel® UHD Graphics 770
Graphics
PCIe x16 Gen5 slot with PCIe 5.0 (12VHPWR) and three 6+2-pin PCIe power connectors, supports up to ~450W, 313 mm length, triple-slot cards
Memory
Dual channel DDR5 SODIMMs, 64GB max
Storage
Three M.2 key M slots: 80 mm CPU-attached PCIe x4 Gen4 NVMe, two 42/80 PCH-attached PCIe x4 Gen4 NVMe or SATA3 SSD, RAID-0 and RAID-1 capable
Ethernet
Intel® 2.5GbE (i226-V) / 10GbE (AQC113) LAN
Other features & technologies
HDMI 2.1 TMDS compatible connector (up to 4K60) | Two Thunderbolt™ 4 / USB4 Type-C ports | Supports three 4K displays (Intel® UHD Graphics)
Intel® Wi-Fi 6E AX1690i, 802.11ax 2×2 ~3.0Gbps w/ 6GHz + Bluetooth®  v5.2 (5.3 capable), dual external antennas
Six USB 3.2 Gen2 Type-A connectors (rear) | Two USB 3.2 Gen1 Type-A (front) |  One USB Gen2x2 Type-C (front)
3.5 mm front stereo headset jack  | Up to 7.1 multichannel digital audio via HDMI or DisplayPort (Type-C) signals
Analog audio with discrete Mic-in, Line-in, Speaker-out, FP audio header
Operating system
Not included. Microsoft Windows 11, compatible with various Linux distros
Power
Full modular – 750W 80+ Gold SFX 12VO internal power supply with geo-specific C13 AC cords
Geo-specific power cord
No cord, US, EU, UK, AU, CN
What's needed
Memory, storage, operating system
Unboxing
Once out of the glorious PR packaging, the first thing that you notice about the Intel NUC 13 Extreme Kit is how unassuming the desktop is and more importantly, it's small form-factor. However from an aesthetic point of view, the NUC 13 is a little on the Spartan side.
The Intel NUC 13 Extreme Kit measures 33.78cm x 12.94 x 31.75cm (13.3″ x 5.1″ x 12.5″), however it is quite heavy (around 7kg) due to the compressed size and high quality components inside the case. Intel also ensure easy access to front ports that include two USB 3.2 Gen 1 Type-A ports, one USB 3.2 Gen 2×2 Type-C port and a 3.5mm audio jack.
There's also a plethora of input and outputs on the back of the unit which include audio (3.5mm, mic-in, line-in, speaker), dual Thunderbolt 4 ports, 2 Ethernet ports (2.5Gbps / 10Gbps) the onboard HDMI 2.1 video output plus six USB 3.2 Gen ports. Lastly there are two antenna connections for Wi-Fi.
Opening the case is relatively easy but wow, Intel have really compacted everything quite well, particularly with their clever cable management. Nonetheless PC enthusiasts and gamers should have no issue in tweaking these kits for their own needs, however newcomers may find it a challenge due to the limited working space.
Once the review unit booted, you immediately notice the speed and Windows 11 was loaded in a flash. Just to confirm the components, we used CPU-Z to confirm the components and specifications of the Intel NUC 13 Extreme Kit;
From CPU-Z, there was nothing in the unusual and the software confirming the two main components, the Intel Core i9 13900K and NVIDIA GeForce RTX 3080 Ti. Additionally AIDA64, another Benchmarking tool mirrored the performance of the i9-13900K, scoring it in the top 3 of current desktop configurations (Dec 2022), including the powerful NVIDIA GeForce RTX 3080Ti which makes it perfect for gaming.
Our final benchmark test was 3DMark that with the NVIDIA GeForce RTX 3080Ti delivers a strong 1440p performance, including 4K gaming and of course ray tracing capabilities.
Equally, real-world gaming such as Call of Duty Modern Warfare 2, Horizon Zero Dawn, Forza 5, Shadow of the Tomb Raider and The Callisto Protocol didn't miss a beat on the Intel NUC 13 Extreme Kit with strong performance at 1440p with full detail. Additionally Crisis Core (Final Fantasy VII Reunion) looked and played fantastic on this high-end gaming rig.
Final Thoughts?
The Intel NUC 13 Extreme Kit is an interesting piece of tech that will definitely suit a niche market for those looking for a small gaming rig chassis with literally all the bells and whistles, more so… the latest of Intel processors. Given that, the Intel NUC 13 Extreme Kit is not cheap at around $2799AUD, however when matched with high-end RAM and a graphics card, it definitely delivers performance and power.