Hardware
Published on November 8th, 2022 | by James Wright
Intel Core i9-13900K and i5-13600K Review (13th Gen)
Summary: The Intel Core i9-13900K and i5-13600K provides its 13th generation of microprocessors, a hypersonic experience.
Intel recently launched (20 October 2022) their most powerful desktop CPU with the Intel Core i9-13900K that comes with a wealth of performance driven features, including a maximum turbo frequency of up to 5.8Ghz. Also joining the Intel Core i9-13900K as part of this 13th generation of (codename) Raptor Lake 10nm microprocessors is the Intel i9-13900KF, i7-13700K, i7-13700KF, i5-13600K (reviewed) and i5-13600KF which nicely round out this new family and challenge AMD.
In reference to the letters (K,F), K indicates that the processor is unlocked and has an integrated Intel UHD Graphics 770, where F indicates no integrated graphics. So courtesy to our tech friends at Intel, we are checking out their new Core i9-13900K ($1099AUD) and i5-13600K ($599AUD) CPU's. Increased cores, improved DDR5 speeds, faster PCIe and it's easy to see why the Intel Core i9-13900K has been labelled as the "world's fastest gaming CPU" with a top (not-overclocked) speed of 5.8GHz.
Additionally and as you can see from the two slides provided by Intel below, the new 13th generation of processors pack some impressive features that gamers and PC enthusiasts will truly appreciate.
For overclocking, it is via the XMP profile through your LGA1700 socket ready (Z690 or Z790) motherboard which makes tweaking speed a very easy process and to maximise this feature, the Intel Extreme Tuning Utility is a must have tool as it monitors your CPU, including boasting a stress tool. And yes, like the previous generation of processors, overclocking is simplicity at its best.
Unboxing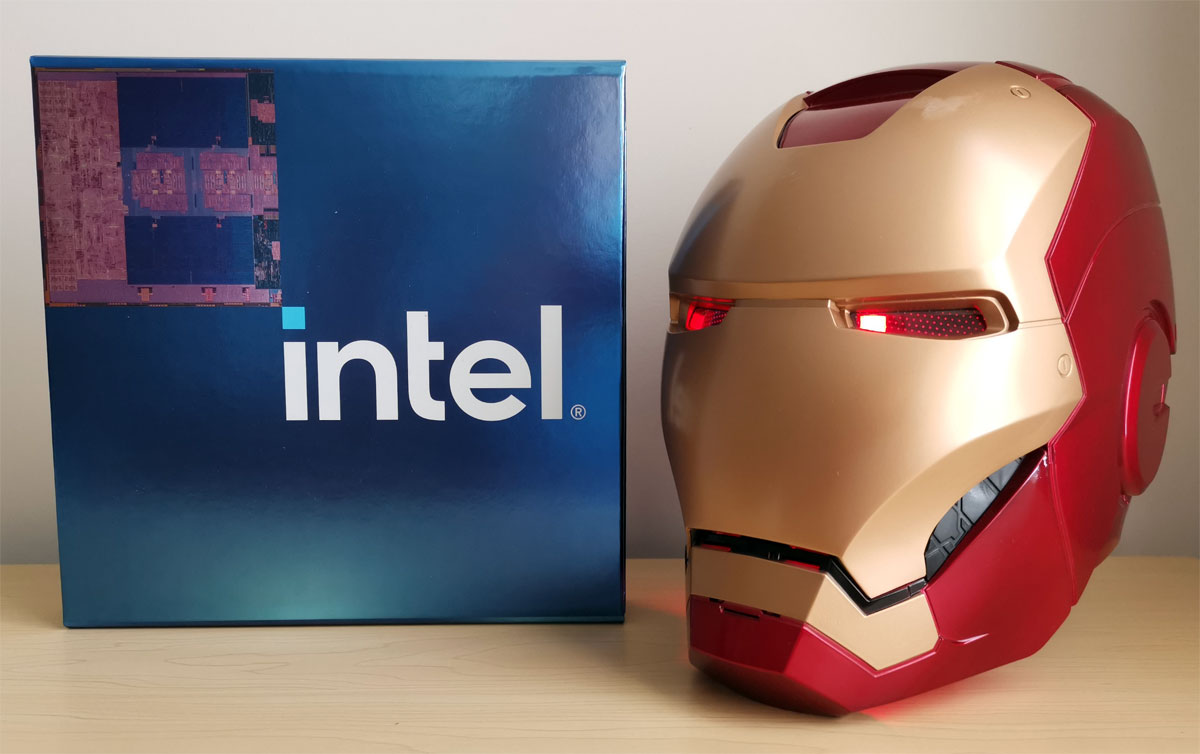 Just like the Tony Stark's Iron Man suit upgrades (or Marks), the Intel Core i9-13900K and i5-13600K pushes the capabilities of performance and power.
In reference to motherboards, while the new CPU(s) is backward compatible with the Z690, the new Z790 boards upgrade performance by accessing higher DDR5 speeds (up to DDR5-5600, opposed to DDR5-4800) and add 20 PCIe 4 lanes, including an additional UBS 3. Gen 2×2 at 20Gbps. Of course, if you own one of last year's motherboards, we would recommend you stick with that, unless you're building an entire new system.
With the Z690 motherboards, most manufacturers such as ASUS and ASRock already have BIOS updates to support the new range of CPU's from Intel and in order to fully utilise your experience, we recommend DDR5, although DDR4 is still supported. The other caveat is that you need a performance driven and reliable AIO cooler or similar air cooler in order to keep temperatures under controls. If you find your system is shutting down after intensive gaming or apps (in excess of 100 degrees Celsius), then chances are, you have a CPU cooling issue.
With the new i9-13900K compared to last year's i9-12900K, Intel have boosted the speed by another 600Mhz to 5.8Ghz and on the fresh i5-13600K, from i5-12600K another 200Mhz that brings it 5.1Ghz from 4.9Hz. However while speed (Ghz) plays an integral role with performance, another important aspect are the two core types that are broken into Efficiency Cores (E-Cores) and Performance Cores (P-Cores).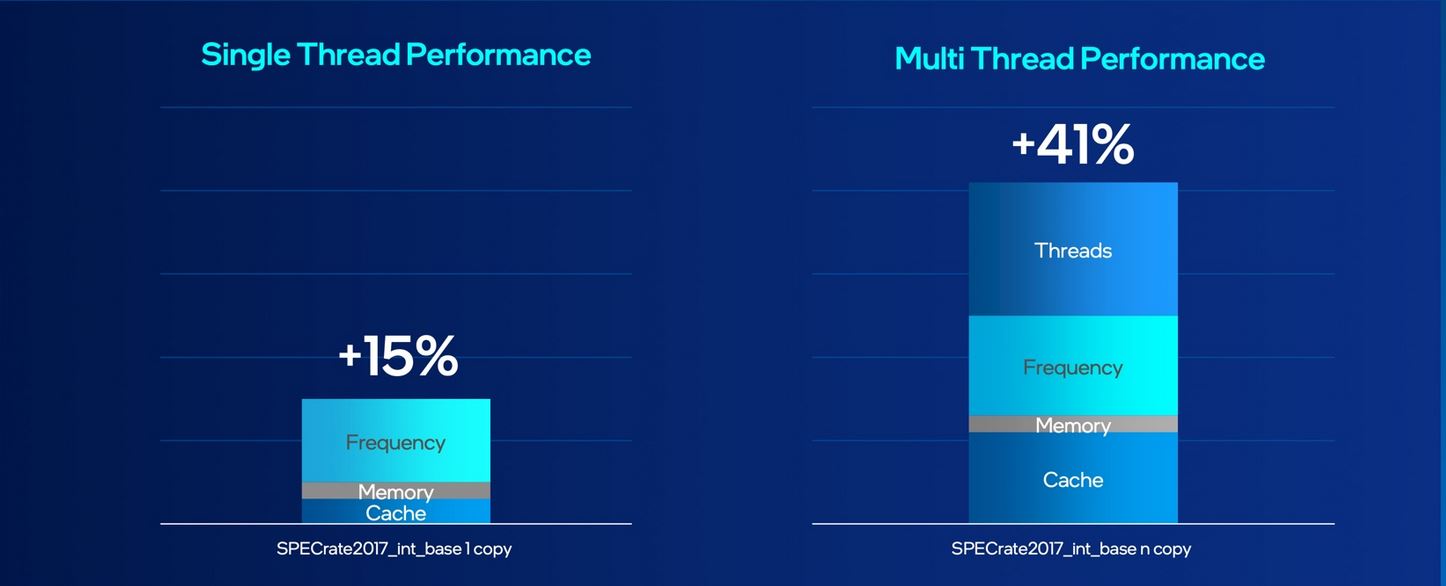 In laymen terms, P-Cores are used for high workloads that require intensive CPU processing such as gaming, video editing or crunching of massive amounts of data through hyper-threading. On the flip side you have the E-Cores which are used for less strenuous CPU activity like  background tasks or running single processing threads. Both are equally important and to fully maximise these hybrid cores, Windows 11 or the latest version of the Linux kernel is required in order to use Intel's Thread Director application which allows for increased processing capabilities that can be directed by the operating system.
Nonetheless, Windows 10 is still perfectly acceptable that uses a hybrid method of processing over its cores. Compared to the Aldar Lake CPU's, Intel have increased the cores on their new family with 24 cores for the Intel i9-13900K (16 E-Cores, 8 P-Cores) and on the i5-13600K 14 cores (8-Cores, 6 P-Cores). Additionally, the L3 cache has been upgraded from 2MB to 4MB which is quite a large upgrade on what the CPU can quickly access. On the higher mode, that's a combined total of 68MB  (L2 32MB, L3 36MB) for the cache. Even with all these features, the power consumption levels still remain at very acceptable levels with the 13900k at 253w and the 13600K at 181w.
Gallery & Setup

If you own last year's motherboard, you just need to remove your cooler, take the existing Aldar Lake CPU out and carefully align the pins of on the new 13th Gen CPU with the LGA1700 socket. A lever helps keep the CPU in place. Following this, you apply the thermal paste and yes, there are different camps on the internet on what patterns or dots you should use, including the amount and brand. One word of advice, it's important not to get the thermal paste on the motherboard that can cause issues, however it can be carefully removed with a paper towel… from experience The last step is to install your cooler onto the CPU and your motherboard will automatically detect the CPU, including Windows 10 or 11.
However thanks to ASRock, they gave us the chance to check out their new Z790 PRo RS1 motherboard that in essence allowed us to build an entire new gaming rig and our test system included the following components;
Motherboard: ASRock Z790 Pro RS1
Cooler: Corsair iCUE H150i Elite Capellix (water Cooler)
Power Supply: Super Flower Leadex Platinum SE 1000W
Hard Drive: WD_Black SN750 SE NVMe SSD
Memory: Kingston FURY Renegade DDR5 RGB Memory
Graphics: AMD Radeon RX 6800 XT
Case: Thermaltake V250 Mid-Tower
Operating System: Windows 11 Professional
All in all, the setup was a stress free process and our motherboard automatically detected the new CPU(s) as did Windows 11. The process was then replicated with the Intel Core i5-13600K and again, no issues whatsoever with the install.
Here are the CPU-Z statistics below;
So without further ado, let the installation and benchmarking commence!
Our first test was AIDA64, a very popular benchmarking tool that provides detailed system information, diagnostics and benchmarking for Windows systems. It's also a great tool to help troubleshoot if you have any CPU, motherboard, graphics card or heating issues. AIDA64 has an excellent test called CPU Queen which is a simple integer benchmark which focuses on the branch prediction capabilities and the misprediction penalties of the processor that is based on the game of chess. The higher the results, the faster your CPU.
Score Breakdown: Intel Core i9 13900K 156821, Intel Core i5 13600K 119901, Intel Core i9 12900K 113260 & Intel Core i5 12600K 83751
Our next test was Geek Bench 5, a benchmarking tool that offers a single core performance test and then a multi-core performance one. As you can see from the below single core test, there is a slight improvement of almost 10% from the Intel Core i9-12900K to the Intel Core i9-13900K. Whereas, on the i5-13600K, there is a 4% gain compared to last year's similar model. However it's all about multi-core…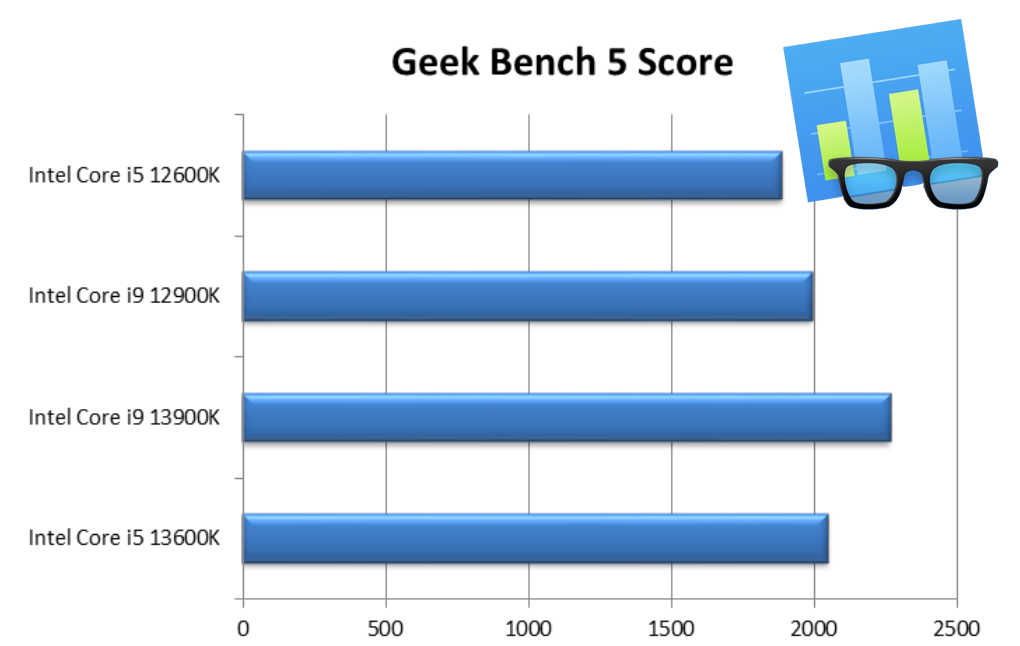 Score Breakdown: Intel Core i5 13600K 2049, Intel Core i9 13900K 2267, Intel Core i9 12900K 1992, Intel Core i5 12600K 1886
On the multi-core tests (below), there was a considerable difference between the latest generation of processors to this year with Intel cementing itself as a powerful multitasking workhorse. In order words, a 50% increase for the Intel Core i9-13900K and almost 40% for the i5-13600K. That's a huge increase from the last year in terms of speed.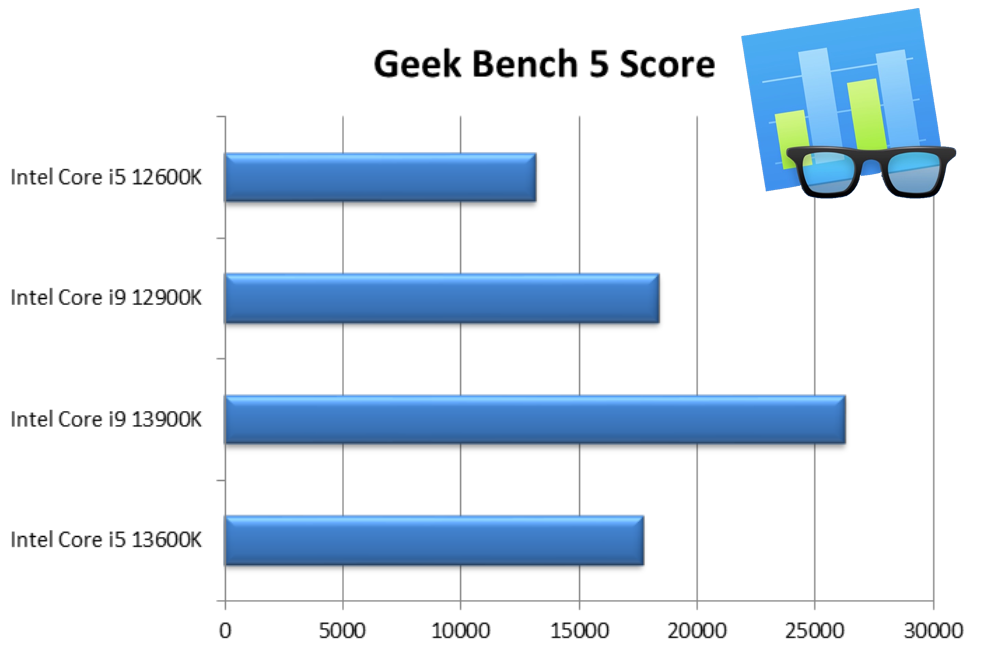 Intel Core i5 13600K 17701, Intel Core i9 13900K 26261, Intel Core i9 12900K 18390, Intel Core i5 12600K 13167
Cinebench R23 from Maxon focuses on video and 3D which is quite taxing on the CPU that makes it ideal to test processor speeds. Again, excellent progress made from Intel that pushes the multi-core capabilities on their 13th generation of processors to new heights.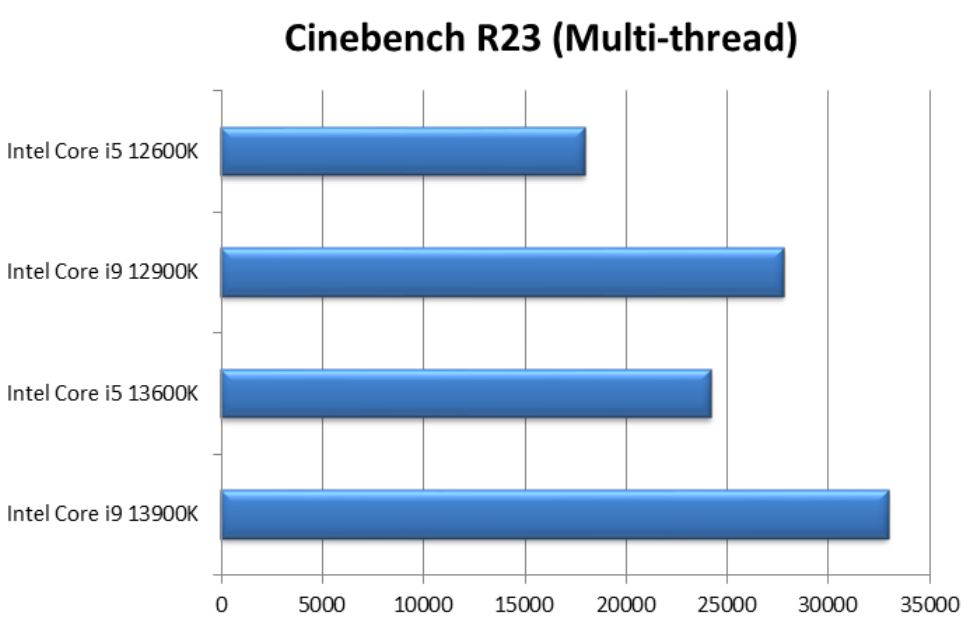 Score Breakdown: Intel Core i9 13900K 2309, Intel Core i5 13600K 1901, Intel Core i9 12900K 2031 & Intel Core i5 12600K 1921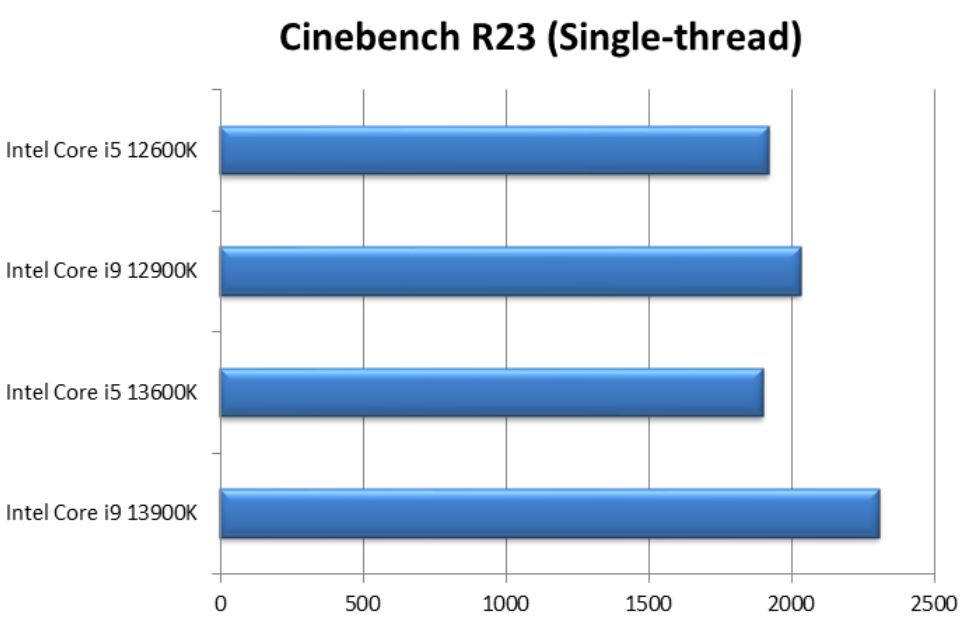 Score breakdown: Intel Core i9 13900K 32950, Intel Core i5 13600K 24201, Intel Core i9 12900K 27812 & Intel Core i5 12600K 17999
Verdict? From system benchmarks, the Intel Core i9-13900K and i5-13600K improve upon two already strong microprocessors and if you're looking for additional grunt, the new 13th Generation definitely has a CPU for your needs and budget.
Gaming
As both CPU's come with integrated graphics, surprisingly you can play games on low detail on either 720p or at a push 1080p. Far Cry 6 on 720p with low detailed scored a very playable 50 frames per second on the Intel Core i9-13900K and 48 frames per second with the i5-13600K. So if ever your graphics card gives up the gaming ghost, you'll still be able to play until you get your replacement card.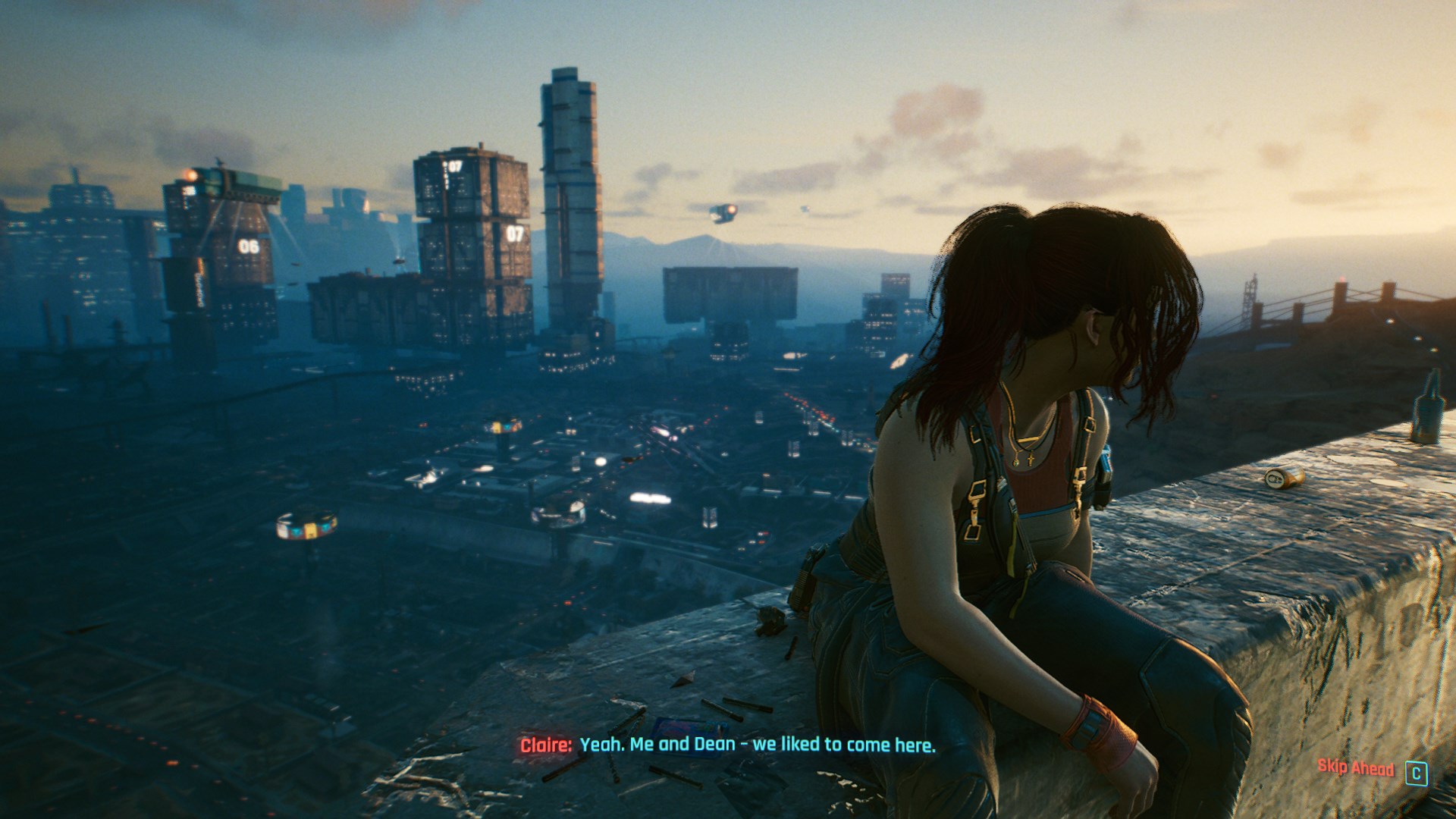 For gaming, the first title was Cyberpunk 2077, a game steeped in controversy when first launched, however very playable now. Cyberpunk 2077 is an action role-playing video game developed by CD Projekt Red and published by CD Projekt. It is an open-world, action-adventure story set in Night City, a megalopolis obsessed with power, glamour and body modification. The updated Cyberpunk 2077 looks glorious on a system that can run it at full detail.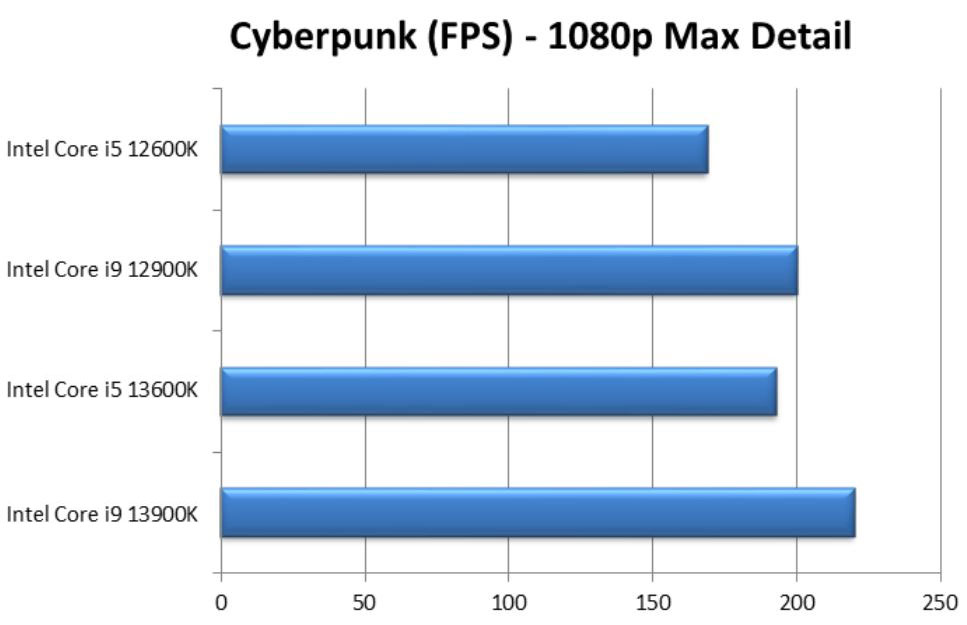 To play this game at 1080p with frame rates of over 150 is gaming at its best. All four CPU's performed well with the new contenders the Intel Core i9 13900K at 220 FPS, the i5 13600K 190 is silky sooth for frames per second.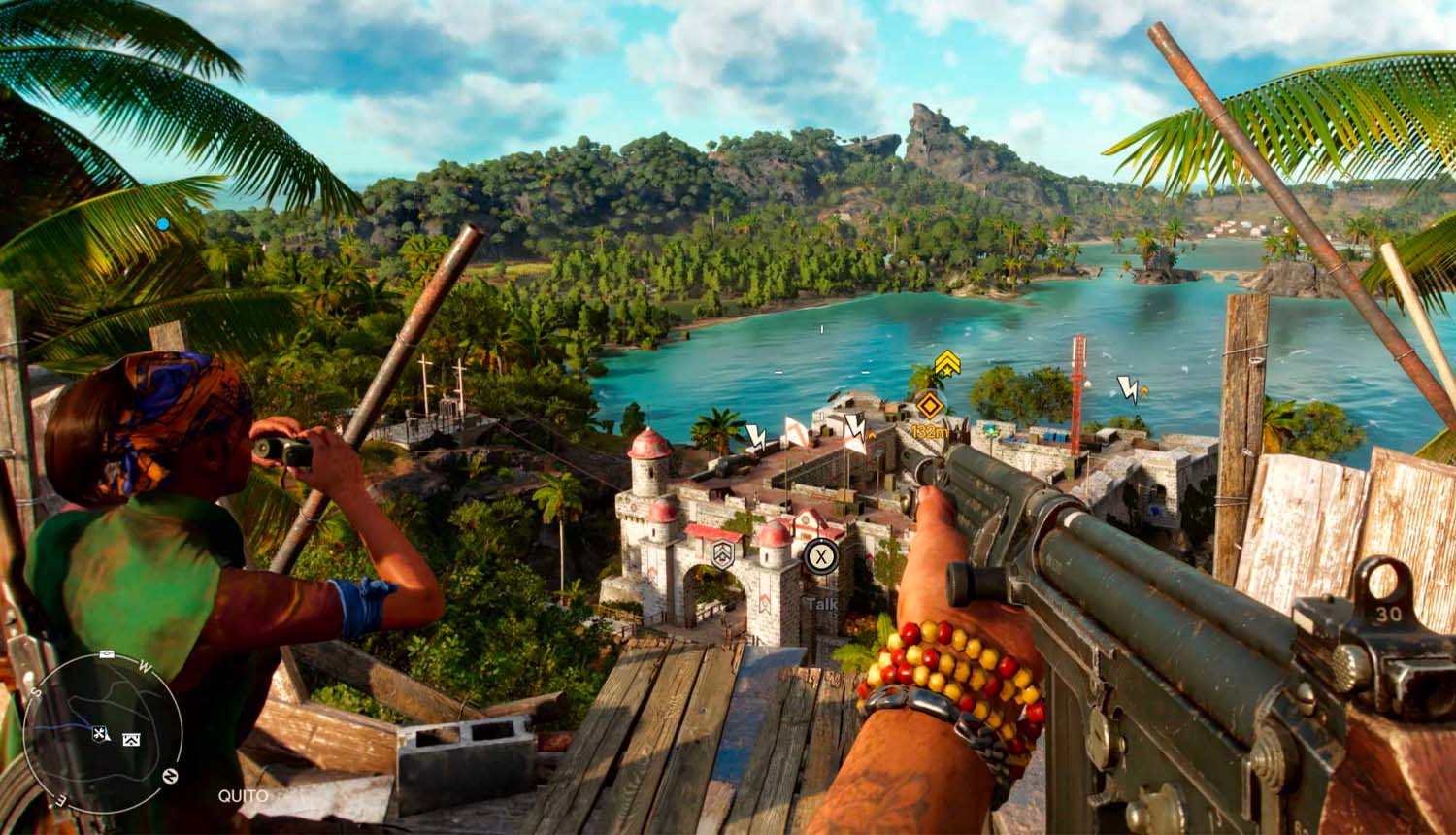 Another graphical intensive game is Far Cry 6 that is developed by Ubisoft. Far Cry 6 is a first-person shooter game, set in an open world environment that again performed admirable on this CPU and of the graphics card of course.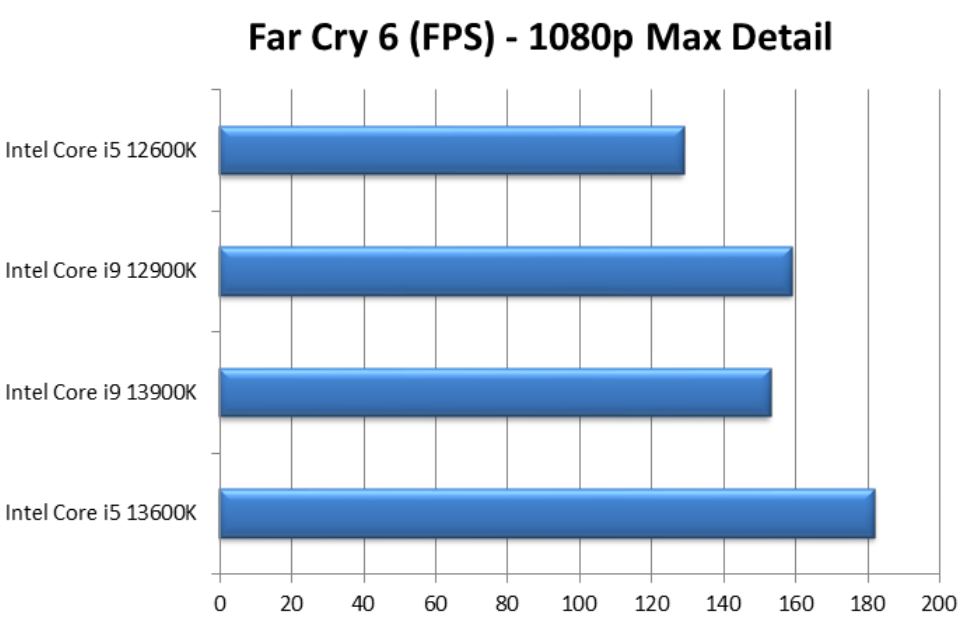 As you can see from the above graphs, the improvement from the Intel Core i9 13900K (182) from the 12900K (159) is 15% and from the Intel Core i5 12600K (129) to Intel Core i5 13600K (153), it's 19%. Obviously the increase number of cores and cache makes a noticeable dent on the previous generation of processors.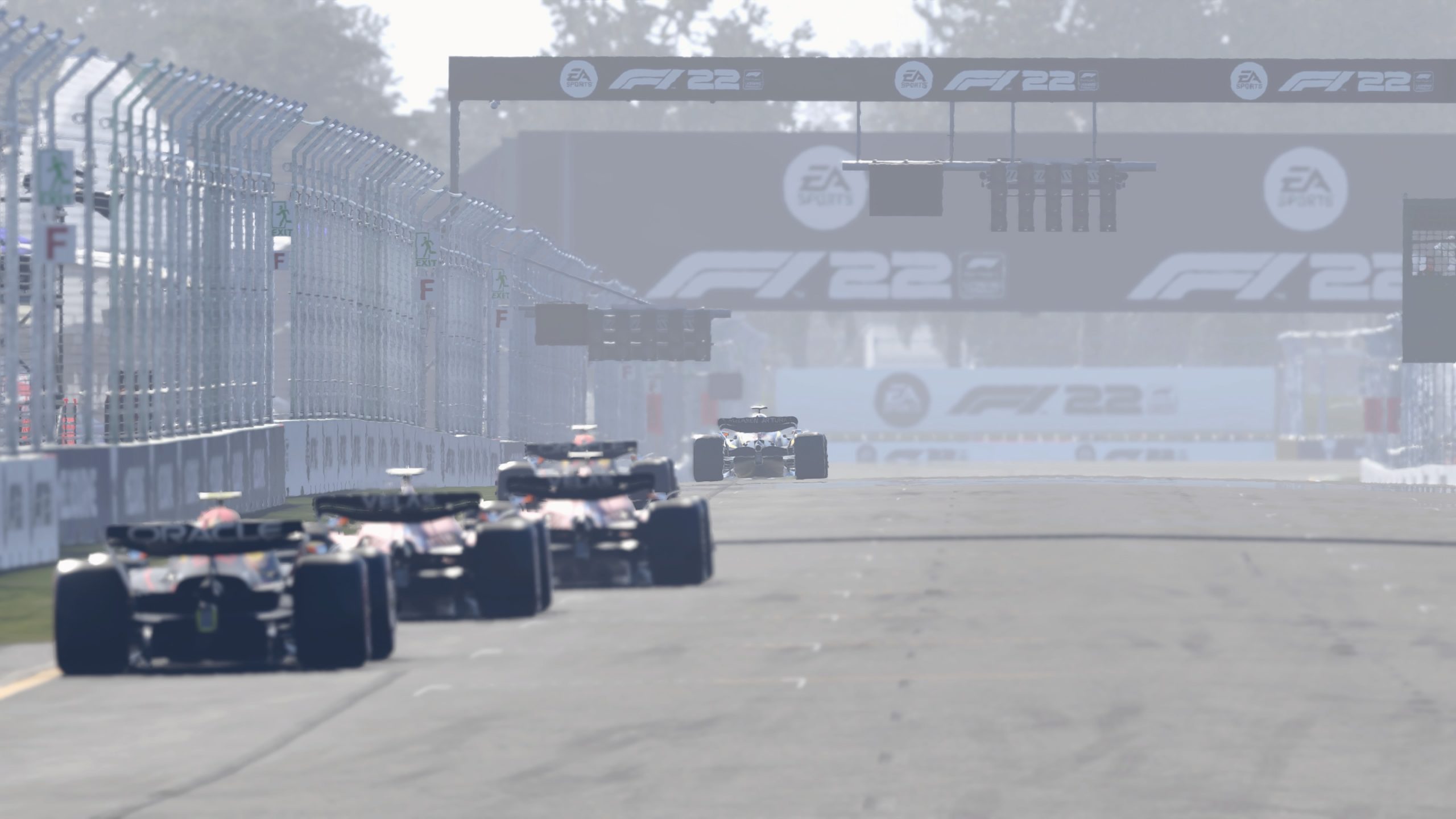 Last up was F1 2022 which is one of the most realistic looking F1 simulators to date. Again, a decent upgrade from the previous generation with the a very fast 136 frames per second on the i9-13900K and 119 on the i5-13600K. Zoom zoom!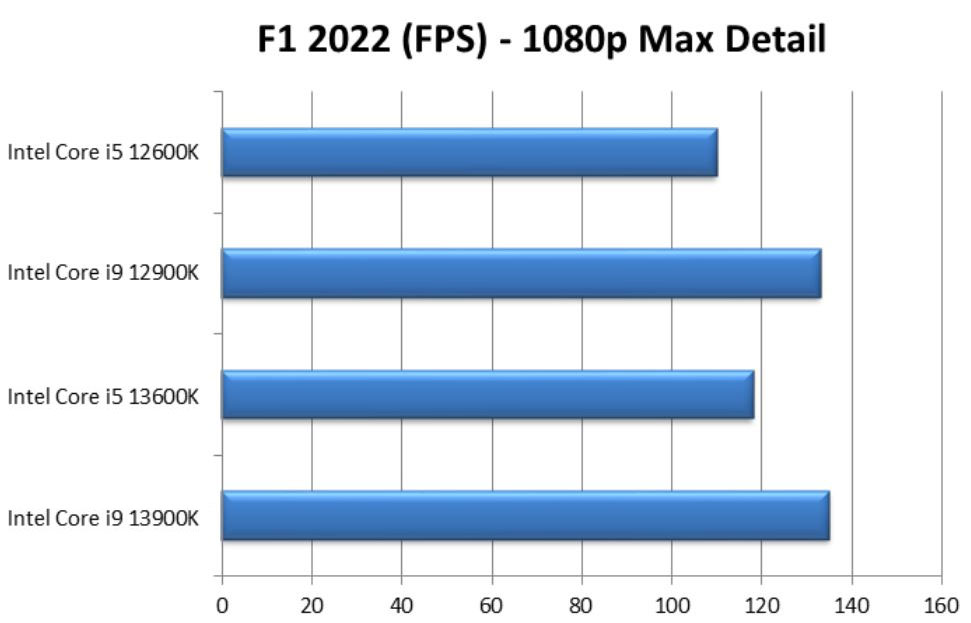 Final Thoughts?
Like last year, Intel continue to redefine and set a new bar for their processors and the 13th Generation of CPU's is no exception to this rule. While there are some caveats to full maximise the power of the Intel i5-13600KF to Intel i9-13900K processors that include the new Z790 motherboard and DDR5 RAM, these two companions will definitely give you the best possible performance. However if you already own last year's Aldar Lake CPU's, you might want to wait unless you have money available, even though there are noticeable differences. Nonetheless, if you're looking to upgrade or purchase a new system, Intel offer an excellent choice, particularly for gamers and PC enthusiasts.
Recommended!