Hardware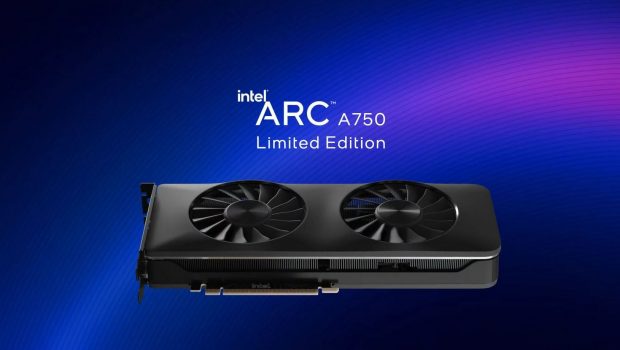 Published on September 3rd, 2023 | by James Wright
Intel Arc A750 Review (2023)
Summary: There's a new kid on the block with the Arc and it's great that Intel is challenging the two long standing players of AMD and NVIDIA.
For quite some time in the realm of PC gaming (after the pixel dinosaurs roamed the virtual world), there have been two brands of graphics cards, NVIDIA GeForce and AMD Radeon, however Intel have now thrown a third truth into the mix. Of course Intel is the definitive manufacturer of CPU's and they are also no stranger to GPU's, particularly from a built-in hardware perspective… but things change…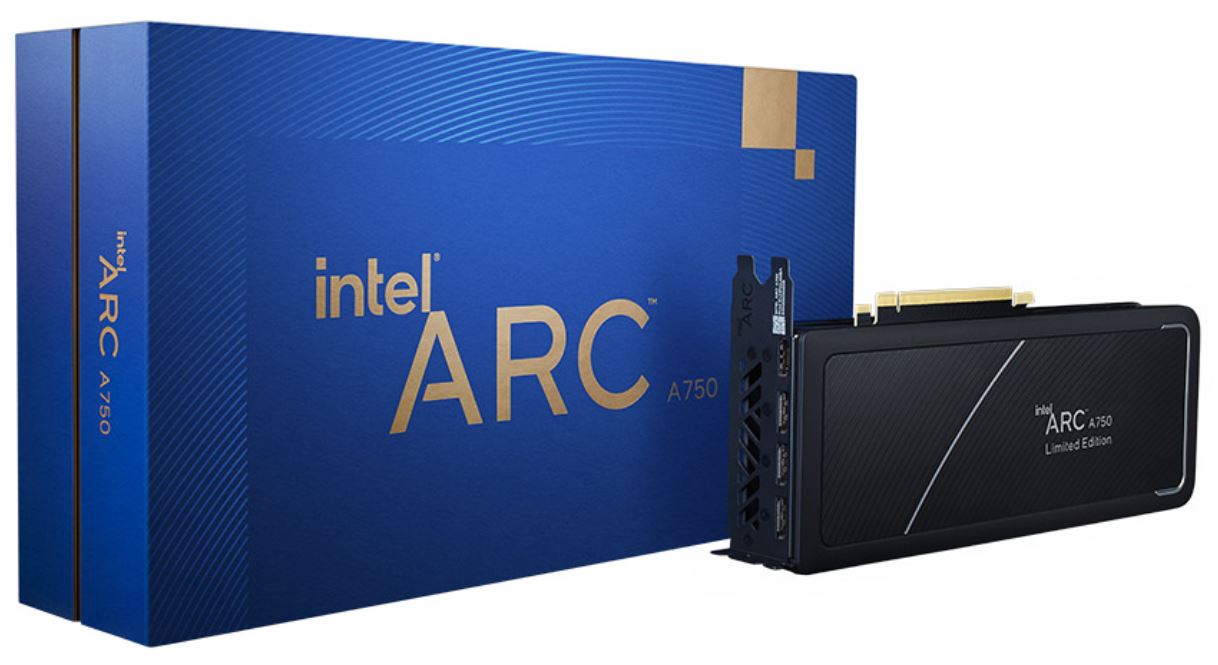 To support with competition, Intel have released their own unique standalone graphics cards in 2022 to compete with the dominance of AMD's Radeon and NVIDIA GeForce and thanks to Intel, we were given the opportunity to check out their Arc A750 which is a midrange card and retails for around $349AUD online. It should be noted that although the launch of the new Arc series of cards from Intel last year had technical issues with drivers, including other hardware challenges. these have thankfully been resolved and more importantly, we had no issues with testing.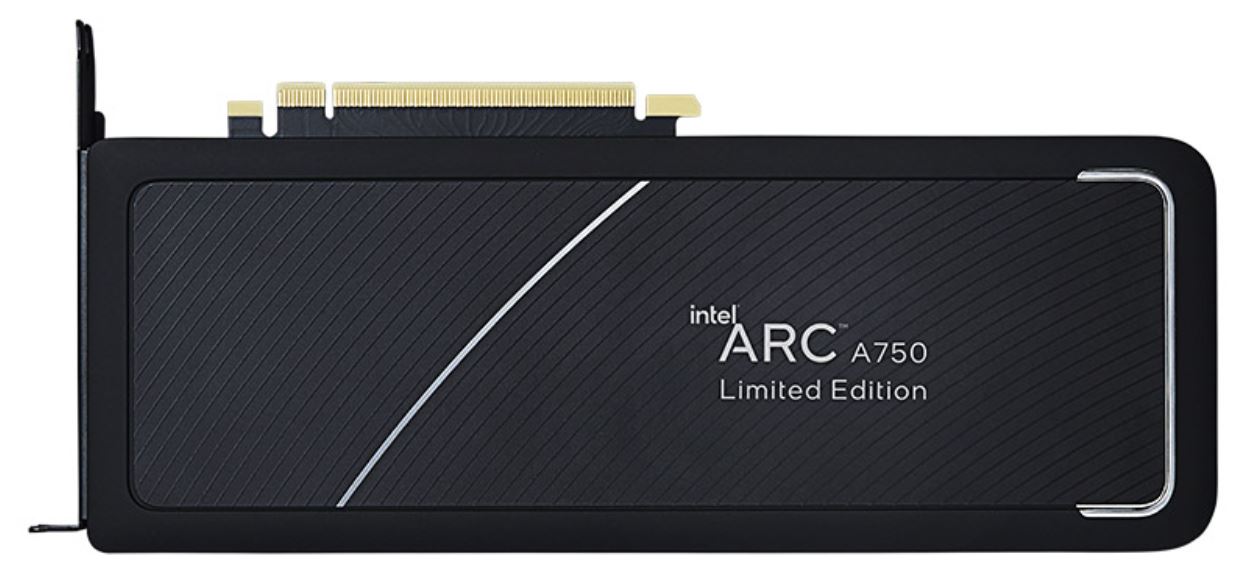 The Intel Arc A750 Graphics Card features a 2050Mhz graphics clock, 8GB GDDR6 256-bit memory interface, 16Gb/s memory speed, PCI-E 4.0, 1 x eDP 1.4, 1 x DisplayPort 2.0, 1 x HDMI 2.1, 1 x HDMI 2.0b, OpenGL 4.6 and DirectX 12 Ultimate which makes it ideal to play the latest games. While it supports 4K and Ray Tracing capabilities, its best run at a 1440p card to ensure optimal performance which is 2K. Given that, the card can do a maximum resolution of 4096 x 2160 @ 60Hz via HDMI or a whopping 7680 x 4320 @ 60Hz through DP.
Intel Arc A750 Features
Xᵉ Super Sampling (XᵉSS)
Take your gaming experience to the next level with AI-enhanced upscaling technology, enabling more performance with high image fidelity

DirectX 12 Ultimate Support
Fully compatible with the latest breakthrough in graphics technologies, including ray tracing, variable rate shading, mesh shading and sampler feedback – the fundamentals for next-gen gaming
Cutting-edge AI-accelerated content creation
With industry-first AV1 hardware encode and the advanced Intel Xᵉ Media Engine, the most comprehensive media capabilities are at your fingertips
Intel Arc Control
Refine your gaming experience with Intel Arc Control in an intuitive and modern layout. Get seamless driver updates and optimise many of your favourite games
Maximise your Intel system
Enhance your creation, gaming and streaming experiences with Intel Deep Link Technology features by pairing compatible Intel Core processors with Intel Arc graphics.
In terms of price, the Intel Arc A750 has an excellent price point that makes it quite appealing compared to its competitors, particularly if you're on a budget. The Intel Arc A750 is comparable to the NVidia GeForce RTX 3060 and AMD Radeon RX 6600 with all three cards having their pros and some minor cons. We also reviewed the Intel Arc A750 Limited Edition model that comes with a dual fan design that runs along the full back-plate with an RGB logo that lights up, including the fans and border. For power, it is a 225W TPB card that requires 8+6 PCIe power connectors. Outputs include 3x DisplayPorts and 1x HDMI.
For testing, we tested this card on the following system configuration;
Motherboard: ASRock Z790 Pro RS1
Cooler: Corsair iCUE H150i Elite Capellix (water Cooler)
Power Supply: Super Flower Leadex Platinum SE 1000W
Hard Drive: WD_Black SN750 SE NVMe SSD
Memory: Kingston FURY Renegade DDR5 RGB Memory
Case: Thermaltake V250 Mid-Tower
Operating System: Windows 11 Professional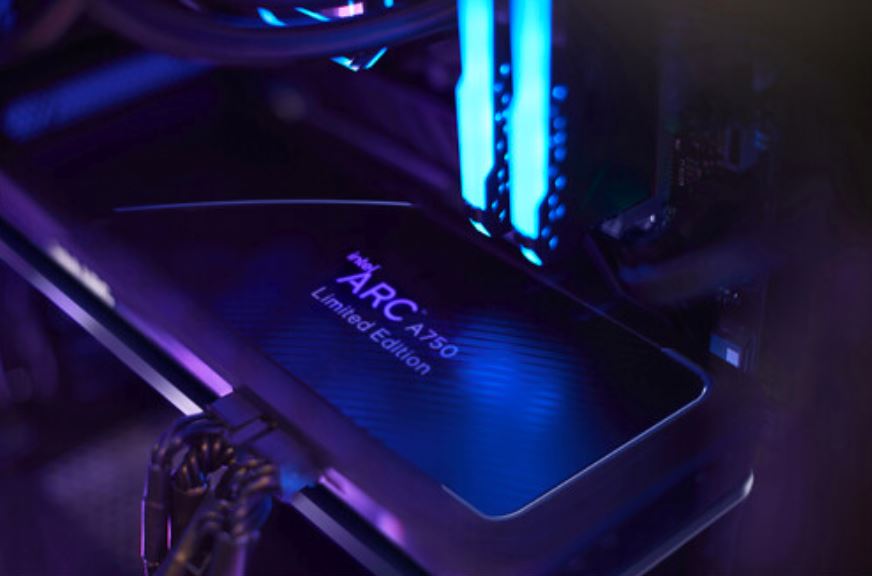 Unboxing & Gallery
Well packed from Intel, the Arc A750 is an impressive looking card and is quite distinct with its aesthetics when compared to NVIDIA and GeForce.
Benchmarks
We tested a handful of games with the A750 and the card scored quite well at 1080p and 2K for gaming. As you can see from the snapshot below, the frame per second ranged from 50 to over 200.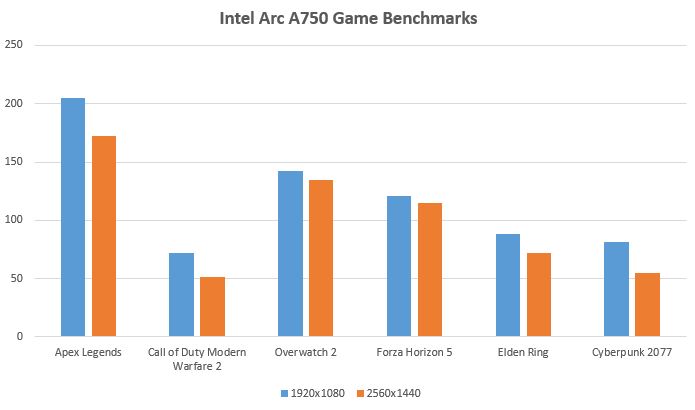 Apex Legends
Apex Legends is a free-to-play hero shooter game where legendary competitors battle for glory, fame, and fortune on the fringes of the Frontier. The A750 scored a very respectable 208 frames per second (fps) at 1080p and equally respectable 172 at 2560×1440 (2K).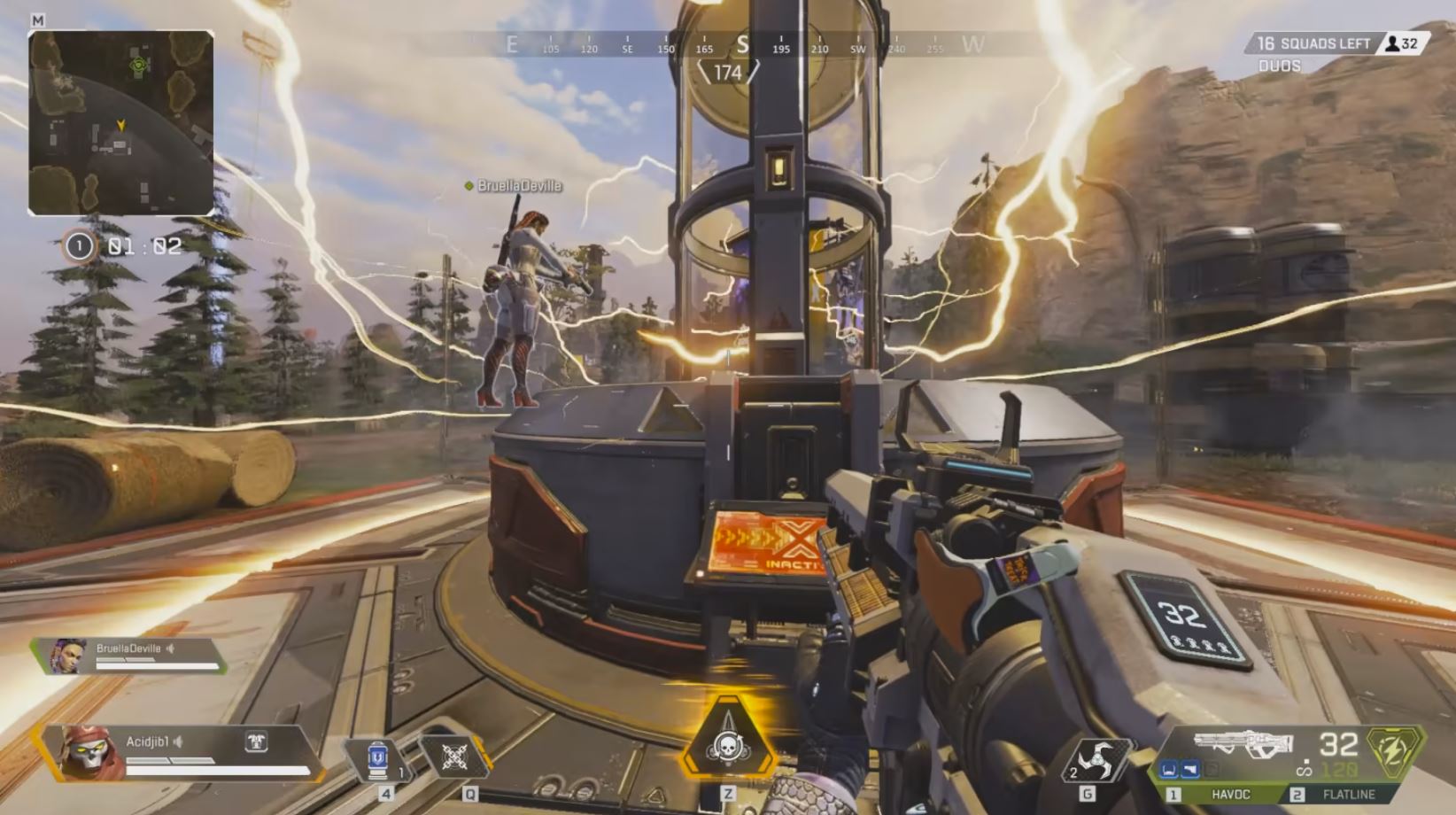 Call of Duty Modern Warfare 2
Call of Duty: Modern Warfare II is a 2022 first-person shooter video game developed by Infinity Ward and published by Activision. It drops players into an unprecedented global conflict that features the return of the iconic operators of Task Force 141. On the Intel Arc A750, it again scored a very playable 72 fps at 1080p and 51 fps at 2k.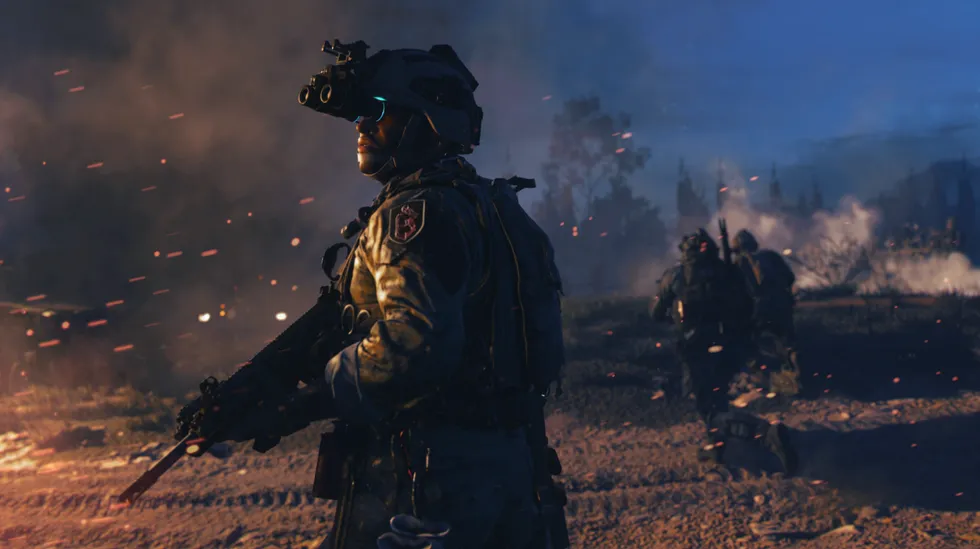 Overwatch 2
Overwatch 2 is a free-to-play, always-on, and ever-evolving live game that is a first person shooter and like Apex Legends, excellent scores at 142 fps at 1080 and 135 at 2K. Given that, Overwatch 2 is a super smooth game with the Intel Arc A750.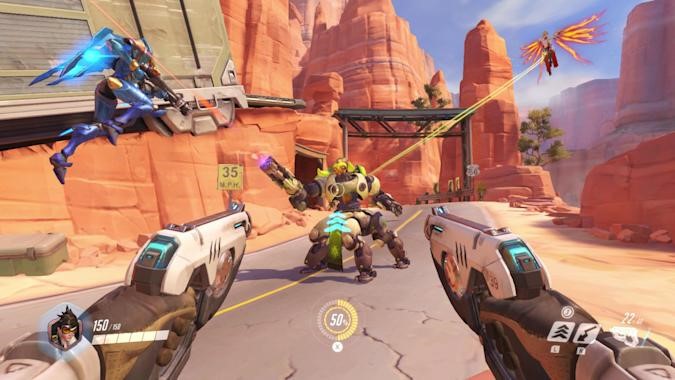 Forza Horizon 5
Forza Horizon 5 is a 2021 racing video game developed by Playground Games and published by Xbox Game Studios that is one of the nicest looking racers to date. On this Intel graphics card, again very playable scores with 121 on 1980×1080 and 115 at 2560×1440. Needless to say, you need fast frames per second to give that illusion of speed which this card does remarkably well.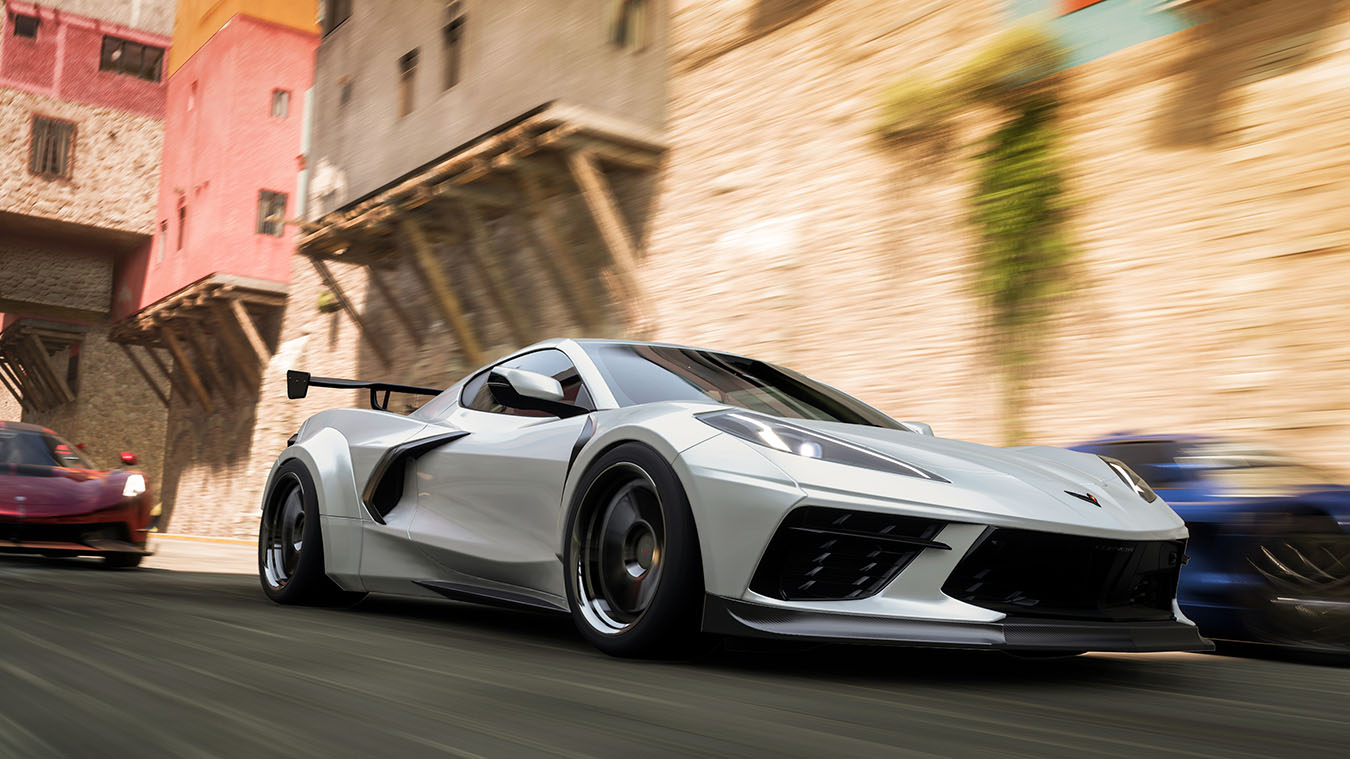 Elden Ring
Elden Ring is a 2022 action role-playing game developed by FromSoftware. It was directed by Hidetaka Miyazaki with worldbuilding provided by fantasy writer George R. R. Martin (Game of Thrones) and is very resource hungry when it comes to performance. Nonetheless, the A750 scored well at 88 frames per second at 1080p and equally high 77 on 2K. Again, a very smooth gameplay experience.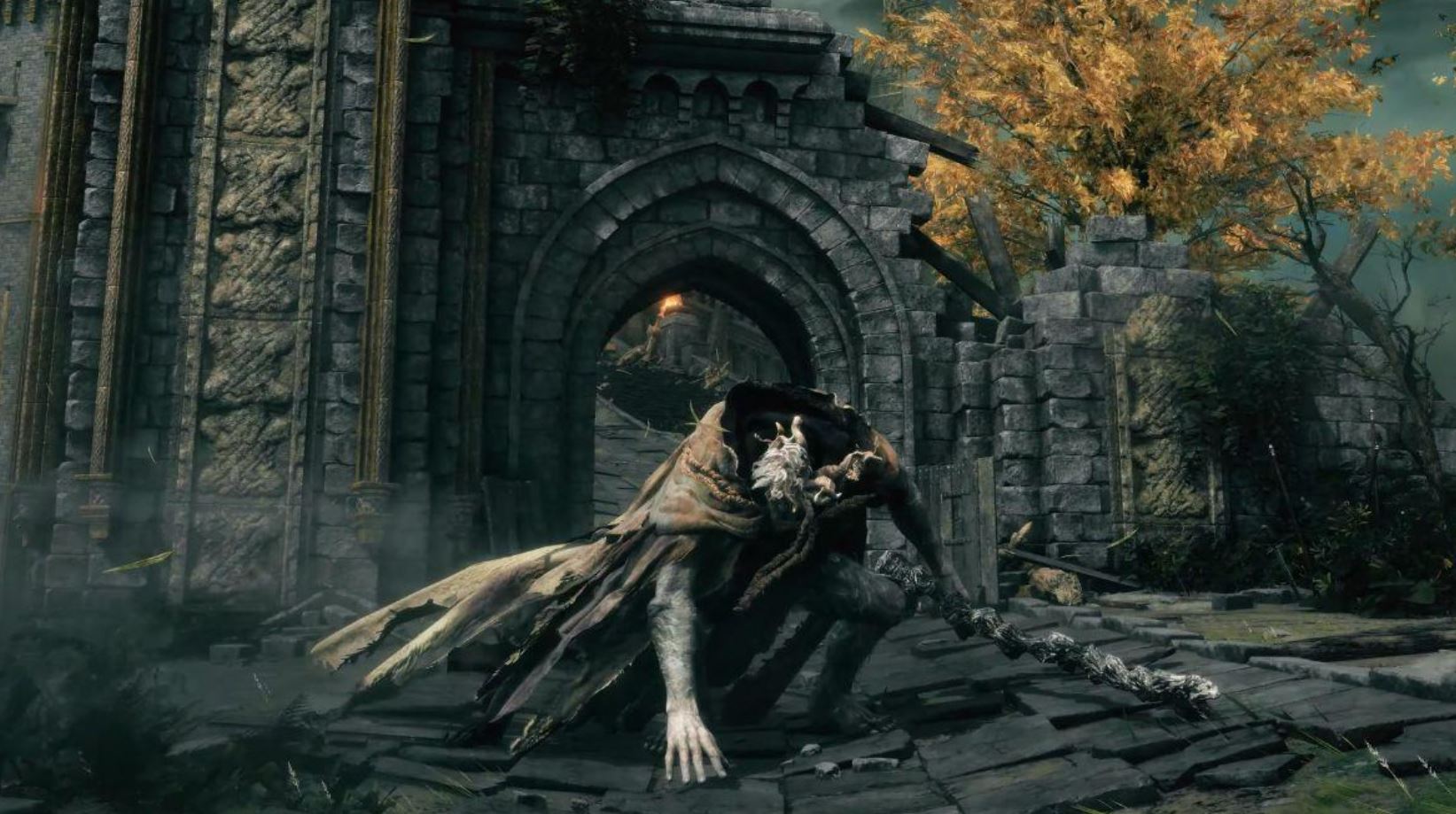 Cyberpunk 2077
Lastly the final gaming test was Cyberpunk 2077 which is a 2020 action role-playing video game developed by CD Projekt Red and like this card had issues on launch. Fortunately all rectified on both platforms with the Intel Arc A750 scoring 81 frames per second on 1080p and 55 fps with 2K. Again, excellent graphics and performance, especially for a card at this price point and detail on this game is outstanding.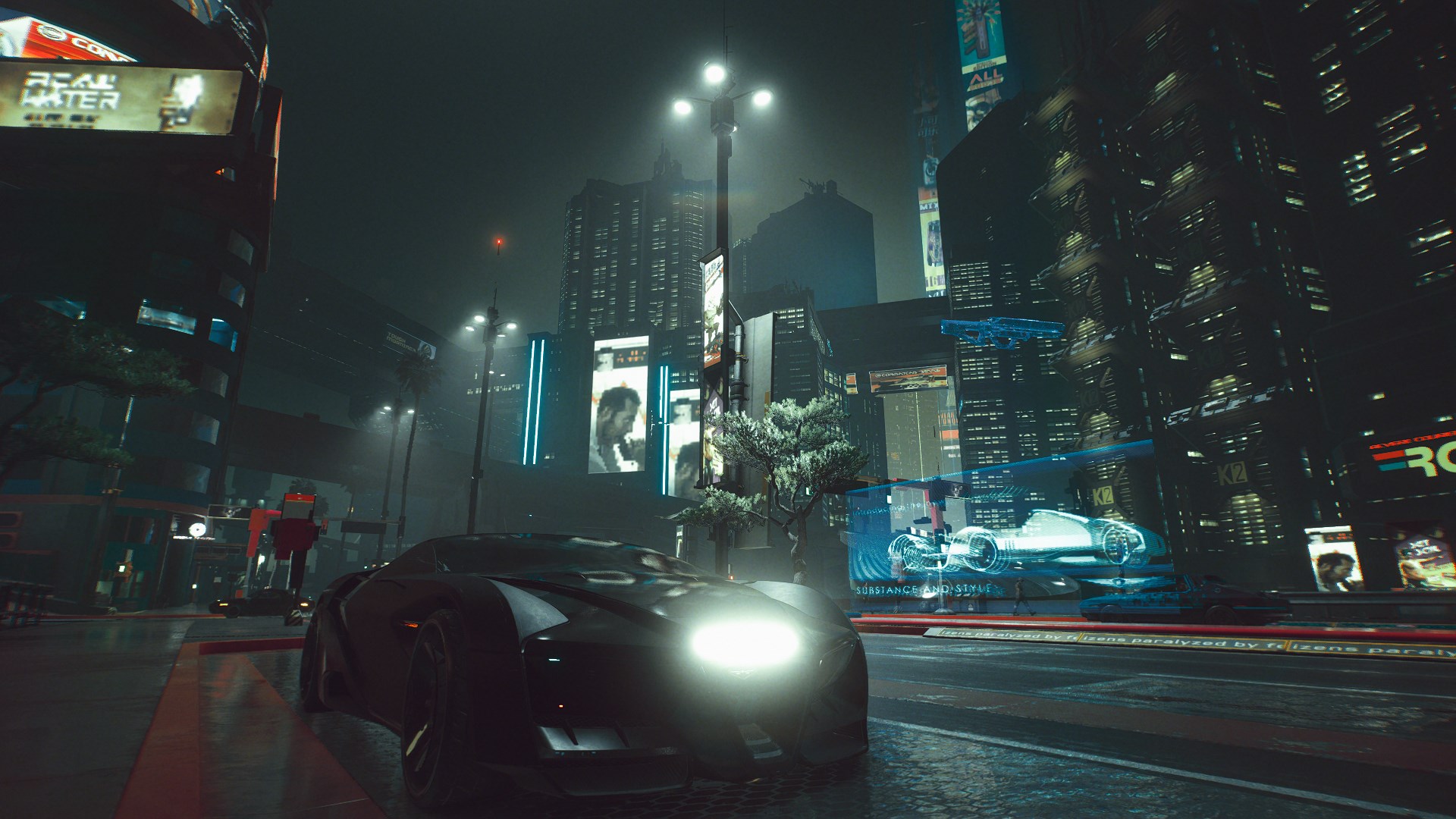 Finally one of the benchmarks to rule them all. 3DMARK, a 3D graphical benchmarking app and with the test Time Spy, the A750 scored 12566 with NVIDIA GeForce 3060 at 12196 and AMD Radeon RX 6600 12800 – as you can see, very comparable scores.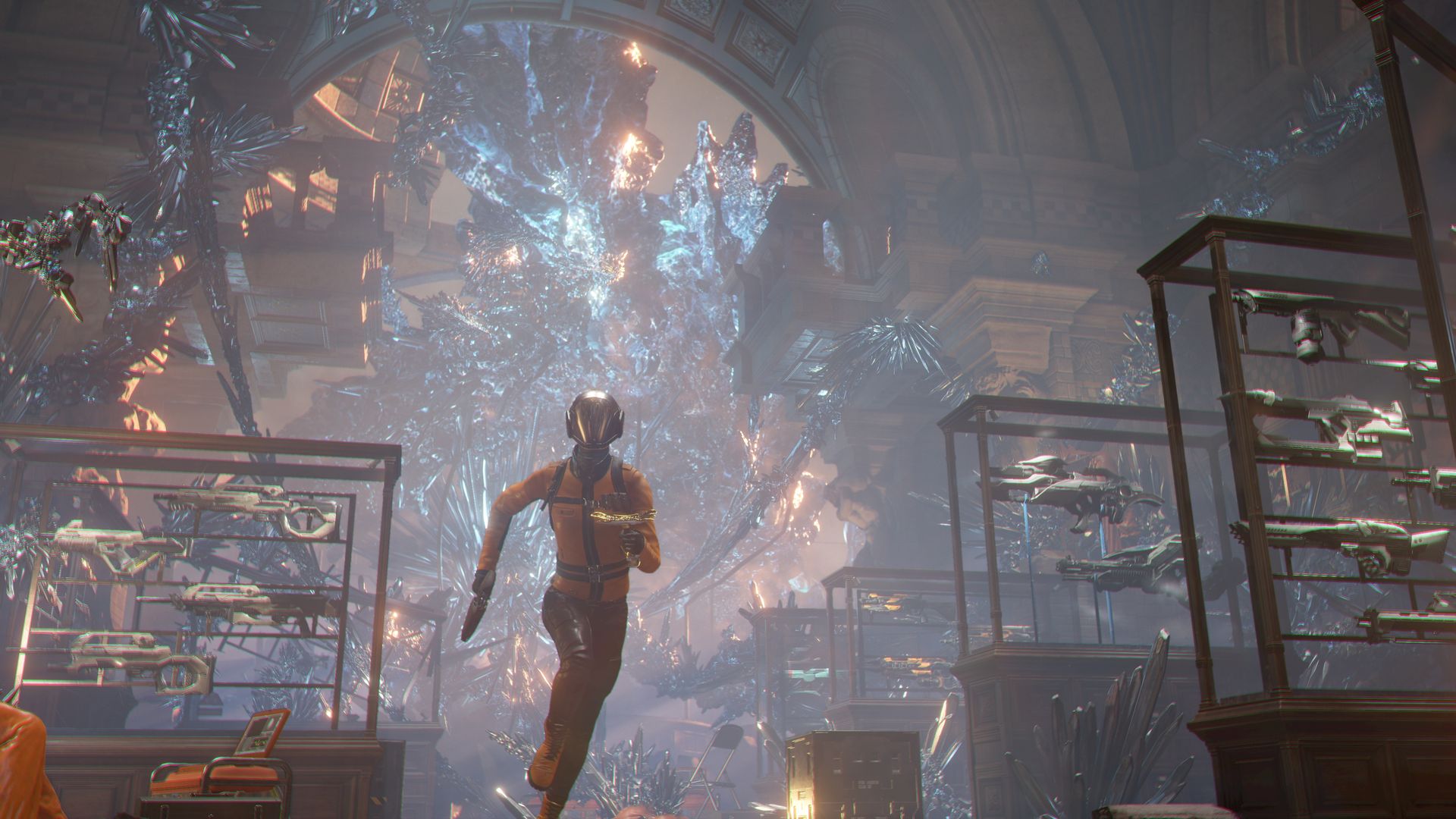 And your question about ray tracing? Firstly, what is ray tracing? Ray tracing is a lighting technique that brings an extra level of realism to games. It emulates the way light reflects and refracts in the real world, providing a more believable environment than what's typically seen using static lighting in more traditional games.
The Intel Arc A750 can indeed run games with ray tracing enabled and for Cyberpunk 2077, the A750 scored 35 frame per second at 1080p with 25 fps at 2k which is a little on the lower side but still playable at 1920 x 1080. The once PlayStation exclusive Spider-man scored a playable 45 frames per second at 1080p and 32 and 2k. So yes, the card can offer ray tracing, however you do need to tweak the settings to make it more playable and for real-time graphical processing, the visuals are to die for.
So yes, ray tracing works with tweaks.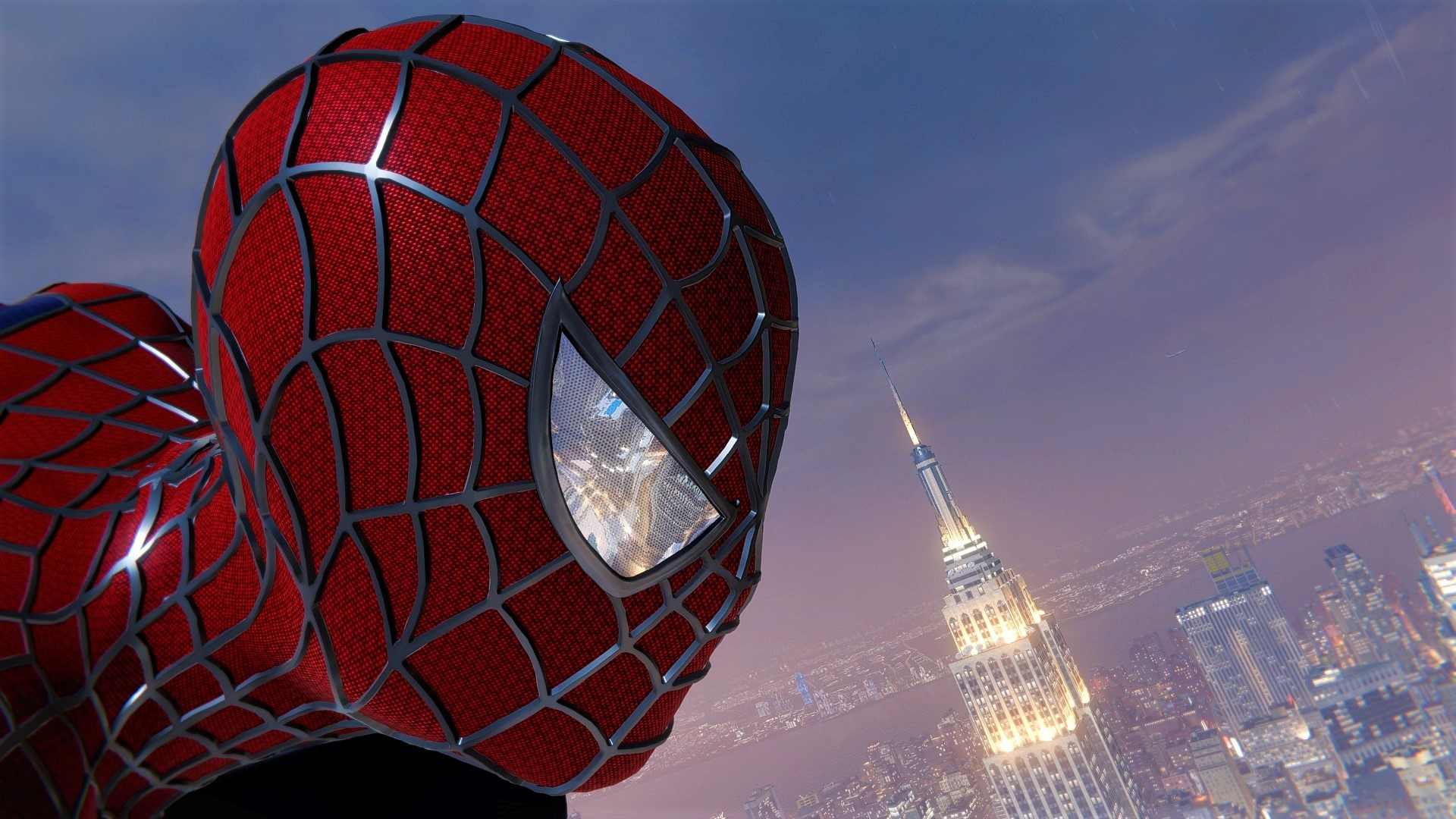 Final Thoughts?
There's a new kid on the block with the Arc and it's great that Intel is challenging the two long standing players of AMD and NVIDIA.
However given the bumpy launch of their Arc cards last year, Intel have a challenging road ahead of them and if they continue to refine and optimize their drivers, including their technology, the landscape of graphics cards will change for the better.
In our testing, we had no issues with the A750 with the games we trialed this card on and more importantly (for the most part), the results were impressive to say the least. The highlight for me was the performance of this card at 1440p (2K) for games that delivered smooth gaming, particularly with its high frames per second.
The other highlight is its ability to delivery ray tracing that while not uncommon for a card of this level, it actually does a decent job with its performance. So while the naysayers are still on their soap boxes and if you're on a budget, you really should investigate the Intel Arc A750 if you want an alternative to the big two.
Recommended!
Intel Arc A750 Specifications


| | |
| --- | --- |
| Xe-cores | 28 |
| Render Slices | 7 |
| Ray Tracing Units | 28 |
| Intel® Xe Matrix Extensions (Intel® XMX) Engines | 448 |
| Xe Vector Engines | 448 |
| Graphics Clock | 2050 MHz |
| TBP | 225 W |
| PCI Express Configurations | Up to PCI Express 4.0 x16 |
| Memory Size | 8 GB |
| Memory Type | GDDR6 |
| Graphics Memory Interface | 256 bit |
| Graphics Memory Bandwidth | 512 GB/s |
| Graphics Memory Speed | 16 Gbps |
| Ray Tracing | Yes |
| Variable Rate Shading (VRS) | Yes |
| DirectX Support | DirectX 12 Ultimate |
| Vulkan Support | 1.3 |
| OpenGL Support | 4.6 |
| OpenCL Support | 3.0 |
| Multi-Format Codec Engines | 2 |
| Adaptive Sync | Yes |
| Number of Displays Supported | 4 |
| Graphics Output | eDP 1.4, DP 2.0 up to UHBR 10, HDMI 2.1, HDMI 2.0b |
| Max Resolution (HDMI) | 4096 x 2160@60Hz |
| Max Resolution (DP) | 7680 x 4320@60Hz |
| H.264 Hardware Encode/Decode | Yes |
| H.265 (HEVC) Hardware Encode/Decode | Yes |
| AV1 Encode/Decode | Yes |
| VP9 Bitstream & Decoding | Yes |
| Intel® Deep Link Hyper Compute | Yes |
| Intel® Deep Link Hyper Encode | Yes |
| Intel® Deep Link Stream Assist | Yes |