Games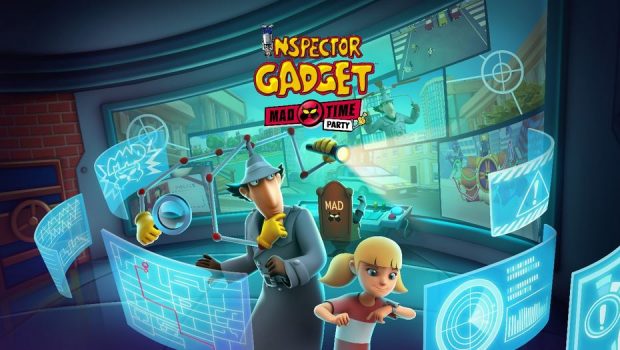 Published on September 15th, 2023 | by Admin
Inspector Gadget – MAD Time Party is now available!
Prepare your gadgets! Inspector Gadget – MAD Time Party is now available in physical and digital version on Nintendo Switch, PlayStation 5, and digital on PC, and PlayStation 4.
Discover the game trailer now: https://www.youtube.com/watch?v=_Y4FbDT7TsI
Get ready to save Metro City with your friends!
Developed by Smart Tale Games, this new party game for 1-4 players will immerse you in the iconic world of Inspector Gadget. Stroll through the environments of the original series, meet characters such as Chief Quimby, Penny, or the M.A.D. agents, and use Inspector Gadget's various gadgets to fight the M.A.D. forces.
Inspector Gadget – MAD Time Party comes with 2 sticker sheets and a poster at launch on PlayStation 5 and Nintendo Switch!
About Inspector Gadget – MAD Time Party:
Wowsers! Play as the iconic Inspector Gadget and join your friends in this new party game! Metro City has fallen under the control of the evil Dr. Claw. In order to save the city, Inspector Gadget must use a time machine to go back in time. Unfortunately, the machine breaks down and the Inspector's ancestors are teleported to the present.
Your mission is to explore Metro City and confront Inspector Gadget's ancestors to recover the missing parts of the machine. You'll have to solve mini-game quests to unlock the bolts needed to repair it.
Features:
Embark on a fun and exciting adventure as the legendary Inspector Gadget and save Metro City from Dr. Claw!
Explore Metro City and complete quests and challenges in Adventure Mode.
Discover 16 entertaining mini games inspired by the Inspector Gadget universe, such as Count Them All, My Precious and Pass the Bomb!
Have fun with family and friends in Multiplayer mode.
Enjoy the exceptional soundtrack by Tanis Chalopin, the daughter of Inspector Gadget's creator, Jean Chalopin.
Inspector Gadget – MAD Time Party is now available in physical and digital versions on Nintendo Switch and PlayStation 5, and digitally on Steam and PlayStation 4. Xbox One and Xbox Series X|S available digitally very soon.
The partnership with Microids was brokered by leading licensing agency WildBrain CPLG, part of WildBrain, a global leader in kids' and family entertainment and owner of the Inspector Gadget brand.