Films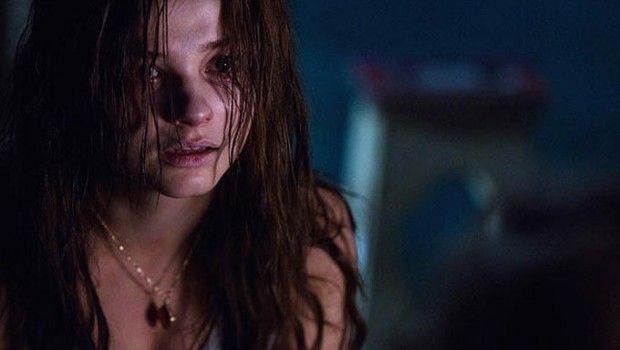 Published on July 22nd, 2015 | by Curtis Mayfield
Insidious: Chapter 3 – Film Review
Reviewed by Curtis Mayfield M-H on July 14th, 2015
Sony Pictures presents a film by Leigh Whannell
Written by Leigh Whannell
Produced by Jason Blum, Oren Peli & James Wan
Starring: Stefanie Scott, Lin Shaye, Dermot Mulroney, Angus Sampson, Leigh Whannell & Hayley Kiyoko
Music by Joseph Bishara
Cinematography: Brian Pearson
Edited by Timothy Alverson
Running Time: 97 minutes
Rating: M
Release Date: July 16th, 2015
Australian filmmakers James Wan and Leigh Whannell made a gory entrance into the movie business when they created the mega-series of low budget but high grossing Saw films. The two eventually let the torture porn series slip away into the Hollywood abyss for others to continue making and began to compose horror movies that relied less on violence and focused more on tension to create fear. Wan and Whannell started making another series of scary films that cost nothing and made tons of money, as well as carving a path for themselves that allowed the pair to produce movies that were well made and scared the crap out of people. The first Insidious movie came out in 2011 with Rose Byrne and Patrick Wilson starring as a young couple whose family home had been haunted by a terrifying entity. The movie made nearly 100 times as much as its meager $1.5 million budget and placed the two filmmakers back into the forefront of the horror movie genre. The Melbourne duo established clear job titles for themselves with Wan directing and Whannell writing, with the latter starring in minor roles. Insidious: Chapter 2, and the equally as scary The Conjuring both came out in 2013 to good reviews and healthy box office intakes. Now in 2015, Leigh Whannell has taken over as both writer and first-time director for Insidious: Chapter 3.
The latest edition of the Insidious franchise begins with the vague caption: "A few years before the Lambert haunting", which refers to the first two films. Though it's not entirely important to the plot to know what happened in the original movies, it does have some significance be familiar with the reoccurring character of psychic Elis. Basically it helps to understand where she's been and where she's headed. This prequel shows her as the complete opposite of what we've seen in the initial films. She's meek and unwilling to do much in the way of talking to anybody (living or dead) since her husband killed himself. One day she is approached by 17-year-old protagonist Quinn (Stefanie Scott). The teen has recently lost her mother to cancer and is desperate to communicate with her. Elise warns that talking with the spirit world could bring some unwanted nasties back into her realm. This of course sets the story in motion with Quinn being stalked by a sickly demon that dons a hospital gown and a breathing mask that makes him sound like a demented Darth Vader. Whoever this mystery spirit is he has a fun time missing with Quinn. He appears in the shadows only when she's alone, stalks her and plays tricks on her mind. It gets so bad to the point where she's completely distracted that she gets hit by a car and breaks both legs, leaving her in a Rear Window type of situation. Quinn has a hard time convincing her father Sean (Dermot Mulroney) that someone or something really is haunting her.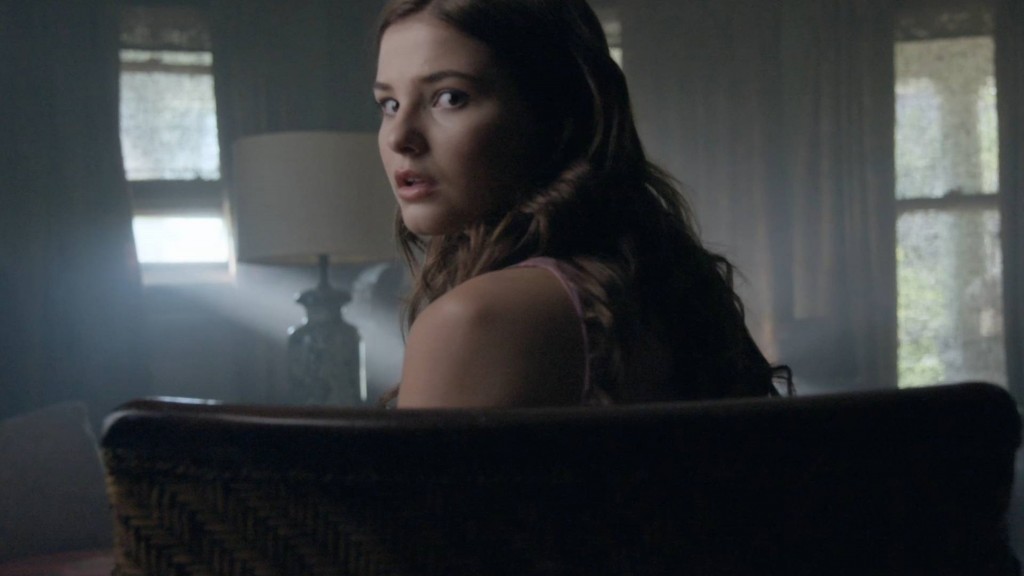 Quinn's story is interesting but not enough to make an audience feel empathy for her. In addition to this there are multiple characters who make appearances but for no real purpose. There's Quinn best friend Maggie (Hayley Kiyoko) who is the stereotypical rebellious friend with dyed hair and her brother Hector (Ashton Moio) who has a hopeless crush on Quinn. Both characters have such little screen time and once the jump scares begin they're nowhere to be seen. This makes it confusing as to why they're a part of this story but I guess that doesn't matter when there's a demon lurking in the shadows. The absolutely shining star of this whole production is Lin Shaye who plays Elise the ghost-busting psychic. The history of how she became the kickass spirit-hunting hero she was in the first two movies is really great to witness. The entire plot could have been dedicated to her but I think audiences prefer seeing teens going through hell and back in horror films rather than senior citizens, though Elise does have her own story of triumph told. The presence of the comic relief team that is the bickering poltergeist nerds Tucker (Angus Sampson) and Specs (Leigh Whannell) is always welcome as their roles are like a refuge island in a movie series that has jump scares that are so terrifying that they're stressful. Whannell has done the same thing as he did with Wan in the previous Insidious films by creating a large amount of tension before every scary scene happens. It's like pulling a rubber band to the point you think it's going to break but stretches even further until you can't take it anymore. Psychological head fucks ahead for all who dares to watch. This is how Whannell scares the pants off viewers and it's a winning formula. Though not as scary as the first, Insidious: Chapter 3 does a good job of creating a backstory for some interesting characters as well as being a nicely constructed horror movie that ties up loose ends and will be appreciated by fans of the series.
Summary: A nicely constructed horror movie that ties up loose ends and will be appreciated by fans of the series.