Films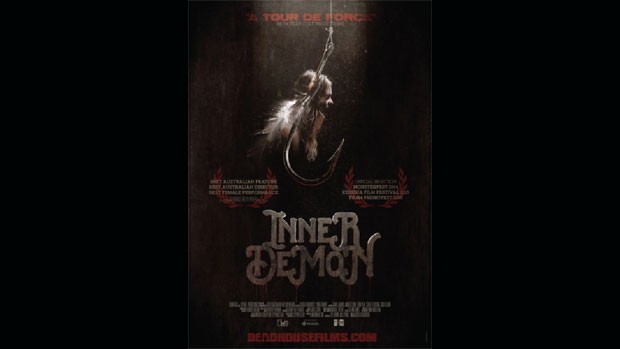 Published on October 6th, 2015 | by admin
Inner Demon Confirmed for Release in November – Australian Horror/Thriller in Sitges Film Festival Line-Up
A year on from its world premiere at Sydney's A Night of Horror International Film Festival Australian horror/thriller Inner Demon will be available exclusively online via www.deadhousefilms.com from November 19 2015.
Directed and co-produced by South Australia's Ursula Dabrowsky and co-produced by Julie Byrne, Inner Demon has already notched up a massive international following having featured in Los Angeles' Etheria Film Night as well as London's Film4 FrightFest.  
With two showings at the 48th Sitges Film Festival on October 11 and 13 2015 Inner Demon is part of the Panorama Fantastic category.  Ursula will attend the film festival in Spain with the film's star, Sarah Jeavons.
The trailer for the 84 minute film is released today and can be viewed via www.deadhousefilms.com
"It's great to see Ursula's persistence with this film paying off – it has been a long road for Inner Demon, but screening at the 48th Sitges Film Festival is evidence of the strength of this Australian film.  I think horror fans all over the world are going to respond positively to the film upon release," said Deadhouse Films' Enzo Tedeschi.
Inner Demon tells the nightmarish tale of a teenage girl, Sam (Sarah Jeavons), who is abducted by a serial killer couple.  Sam manages to escape and find refuge in an isolated farmhouse, only to discover it is home to greater terrors and a malevolent spirit.  Hiding in a cupboard, bleeding to death, and waiting for her chance to escape, Sam is propelled into a struggle for survival, one that will push her to the limits not only physically and emotionally, but spiritually.
Inner Demon was awarded 'Best Australian Feature', 'Best Australian Director' and 'Best Female Performance' at A Night of Horror International Film Festival in 2014 and has already received rave reviews including "Sarah Jeavons is a revelation" by Bryn Tilly, Cult Projections and dubbed a "chilling ride" from David Nolte of Crimson Celluloid.
Inner Demon was supported and developed through the South Australian Film Corporation's FilmLab initiative.  FilmLab provided a professional and career development opportunity for South Australian filmmakers through an intensive and bespoke development program, culminating in the production of low budget feature films, with many going onto win awards and critical acclaim.
South Australian Film Corporation Chief Executive Annabelle Sheehan said she was delighted to see Inner Demon released after its success last year at A Night of Horror International Film Festival in Sydney.
"The film's selection for Sitges Film Festival is testament to Ursula Dabrowsky's excellent direction, her talented crew and cast including the award-winning rising star, Sarah Jeavons."