Comics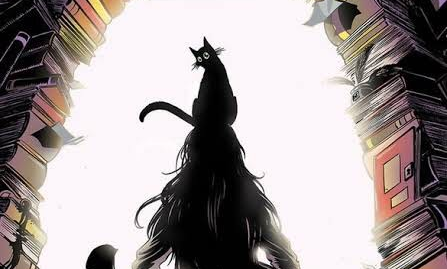 Published on August 10th, 2020 | by Sandro Falce
INKBLOT #1 (2020) Advance Review
Summary: This opening issue may be light on character and plot but it's filled with charming humor, fun art, and a very cute portal-jumping cat.
High-Fantasy is a genre many know and love. We've had many different stories set in this genre, some long and dense, some short and easy-going. Inkblot is a new ongoing series from Emma Kubert and Rusty Gladd that is set to entertain many fans of High-Fantasy. But how does it set itself apart from the rest? By having an adorable, time-and-space-traveling cat!
The art is the big stand-out for me. It's quite cartoony but with a great sense of scale. Our main character, a sorceress called The Seeker, spends a lot of her time in a library during this issue and seeing the massive piles of books inside this very large building has some rather nice scope to it. There's also a couple action sequences here where character movements are quite swift and there's a good scale to certain enemy encounters.
Story wise, this issue is just set-up. There's a bit of world-building, some fun hijinx with a cat, but nothing here that really hooked me in. The description of this title does tease some interesting concepts that aren't really teased at all in this issue so I'm sure the book will continue to get more suspenseful and story-driven, however without that knowledge this opening chapter did feel a little flat.
Still, the charming art style and the couple jokes thrown in are fun to read. Inkblot might need time to grow into the fantasy epic it feels like it wants to be, however there's enough here for readers to enjoy. And, let's be honest, who would say no to a book about portal-jumping cat?
Inkblot #1 is out September 2nd via Image Comics.