Comics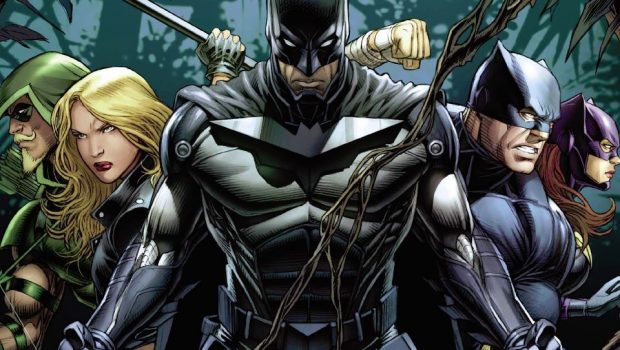 Published on September 11th, 2017 | by Andrew Bistak
Injustice 2 #9 Review
Summary: Injustice 2 #9 is my pick for comic of the week!
4.8
The countdown begins!
Once again Tom 'Terrific' Taylor points to where he wants this comic to go and hits the bulls-eye with his latest issue of Injustice 2 featuring the glorious 'Godfrey' art of Daniel Sampere that together, deliver another engaging and exciting chapter of this alternate universe gone mad. With Batman in Washington D.C. with Black Lightning, Aqualad and Steel, they are ensuring that the President stays alive. However Batman's other team is on their way to Brazil to rescue the kidnapped children from the villainous Ra's Al Ghul with Babs and the Plastic Men in the lead. Once again the issue feels like a Hollywood blockbuster and Taylor has this knack for creating a story filled with action, adventure and emotion.
There's also a great scene between Damien Wayne and Animal Man as Buddy Baker explains why he joined Ra's Al Ghul and as Tom is Australian, he cleverly adds a couple of Thylacines (Tasmanian tigers) in the sanctuary of endangered animals of this madman trying to 'save' the world in his image. Needless to say Buddy does question Ra's motives and does disclose that they took the children to stop Batman and his allies. Like other issues, there's some great characterisation and I really enjoyed the moment between Babs (aka Batgirl), Green Arrow, Wildcat and Blue Beetle who unfortunately gets benched again but does receive a reassuring 'pat' from Ollie. This issue also serves as a set-up for the next issue and with the 'detective' and his team in the hidden sanctuary of Ra's Al Ghul, our favourite villain calls El Diablo to the forefront that will definitely make things 'hot'.
Final Thoughts?
All in all, Injustice 2 #9 hits the mark again and Taylor really captures the characters well, even though some have been corrupted over the years. The series also has this JLA: The Nail feel to it, however Taylor makes this universe his own and does it really well. Then you have the excellent art of Daniel Sampere who creates dynamic panels that really explode, including characters filled with emotion and realism. He also draws some very mean action scenes that channels that Hollywood blockbuster feel. However what I enjoyed about Injustice 2 is the unexpectedness as nothing is predictable and that my friends is where this comic shines above all else!
Injustice 2 #9 is my pick for comic of the week!
Gallery