Comics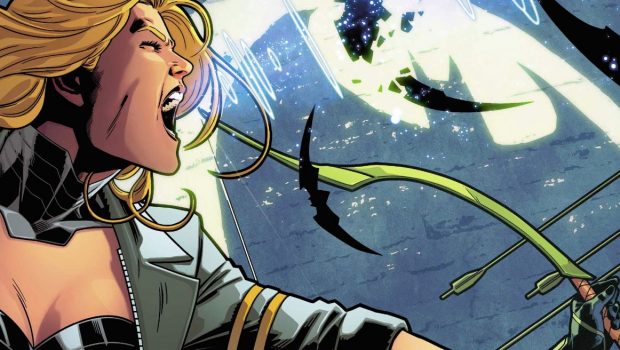 Published on August 16th, 2017 | by Andrew Bistak
Injustice 2 #8 Review
Summary: Injustice 2 #8 is another out of the ball park issue from Tom Taylor and team!
Tom Taylor continues hitting the ball out of the park with his spectacular run on Injustice 2 as each page delves into not just the psyche of all the characters but a story of a heroic world gone crazy. After Damian Wayne stole the corpse of Alfred Pennyworth from Wayne Manor in order to raise him in the Lazarus Pit, we discover that the process has been corrupted and our loyal butler is just a husk of a man he once was.
"He may not look very animated. But Alfred is breathing, detective… for now."
– Ra's al Ghul
Making matters worse for Batman and his team, Ra's Al Ghul calls them together in order to cunningly tease that he has their children, warning them that if they try to challenge his plans, there will be repercussions. Then with a twist of his dagger, he informs Bruce that he has his 'father' and proudly displays the shell of Alfred to a shocked Batman. However the twists keep on coming from Taylor as Ollie (Green Arrow) and Dinah (Black Canary) learn that Batman put a tracking device on their son and in a great panel by artist Bruno Redondo, the Emerald Archer is given one free punch at the Dark Knight… priceless!
"I let you have that one. That's the only one you get."
– Batman
In order to recover the children and Alfred, Batman searches for the one man who can blend perfectly into any situation as he finds Plastic Man and his son Luke. There's a great scene here as Luke attempts to hide from Batman only to be found again and again, no matter what form he takes. So while they prepare to head to South America where Ra's is hiding, Blue Beetle (Jamie Reyes) has come to help and although he is dismissed by Bruce, it is Plastic Man who helps his cause by highlighting the similarities between Bruce and Jamie.
"Sounds like the kid's one a crusade to avenge the murder of a loved one."
– Plastic Man
Damn you Tom Taylor, I really enjoy this twisted universe of heroes and villains… and to make matters worse, you not only get inside their heads to deliver some perfect characterisation but the dialogue flows perfectly. Then you add twist after twist and twist and sure, we're reading about 'Bat-God' but by the New Gods, it's a thoroughly entertaining read and although it's a dark read, there's plenty of humour thrown into the mix. The last part of the Injustice 2 puzzle is the detailed and amazing art of Bruno Redondo who brings these characters to life with some very dynamic panels, including some very powerful emotions.
"No problem. He really does have a heart buried under all that Kevlar and grimace."
– Plastic Man
Final Thoughts?
Injustice 2 is a true rollercoaster ride that's getting more and more insane and although you want it to finish, you also want it to go on a little longer and if Taylor's past work is any indication, the play-off is going be big and more importantly, a killer conclusion!
Talent


Written by:
Tom Taylor
Art by:
Bruno Redondo, Juan Albarran
Covers:
Dale Keown
Gallery