Comics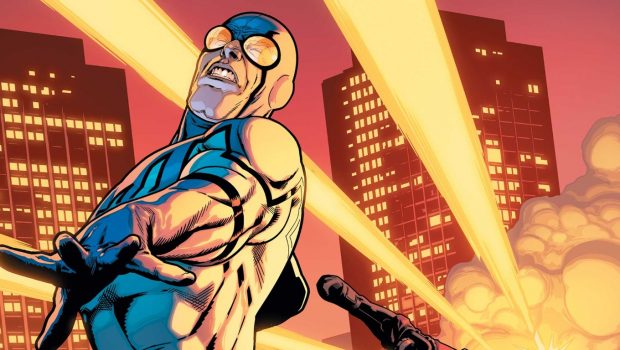 Published on July 6th, 2017 | by Andrew Bistak
Injustice 2 #5 Review
Summary: Injustice 2 #5 is another powerful issue by Tom Taylor!
Injustice 2 #5 opens like a blockbuster film as the newest Blue Beetle, Jamie Reyes is being surrounded by mech-like creatures. With spectacular art by Bruno Redondo, he really captures the moment of this epic battle before we the reader discover that it's all a training opportunity for our young hero, courtesy of the former Blue Beetle, Ted Kord. Unfortunately the bravado of Jamie gets the better of him as he takes out one of Ted's very expensive Battle Bugs.
Skeets? How much was that Battle Bug worth?
– Ted Kord
Three hundred and fort-five thousand dollars.
– Skeets
After the battle, Ted is greeted by his old 'friend', Batman (aka Bruce Wayne) who is there for a very important reason. Ted believes that Batman is here for Jamie and needless to say, our former Blue Beetle doesn't take too kindly to the question and loses his temper. However Bruce is here for Ted and wants him to help rebuild the world after the tyrannical reign of Superman.
Not the first people to love a tyrant
– Ted Kord
Unfortunately it's not Ted's night and he receives another visitor with that being his best friend Booster Gold. Booster is here to support Ted to the end as he delivers a prophetic warning to his close friend. Once again donning the suit of Blue Beetle with some awesome references to the classic Justice League series by Keith Giffen and J.M. DeMatteis, Ted is ready to fight again and regrettably his friend cannot stop the inevitable. As the three attackers arrive, Damian Wayne, Katana and Deadshot, Ted is easily overpowered in quite a graphic scene. After the inevitable, Ted is taken to meet Ra's Al Ghul.
Everything you build with the blood of the planet… today… it crumbles
– Ra's Al Ghul
Meanwhile Batman's plans of making the word a better place continue as he introduces the President-Elect to his team that include Lucius Fox, Jackson Hyde, Jefferson Pierce, Oliver Queen and Dinah Lance. However one more member has yet to show and his name is Ted Kord. To compound the situation, Ra's Al Ghul has been kidnapping key players from around the globe who he believes are destroying the world, including Ted as he shows the world that he means business by destroying the building of Kord Industries, killing thousands of people in the process. While the world watches this madman, he orders Killer Croc and Orca to 'feed' on the men he has kidnapped. The comic finishes with a touching moment between Ted and Booster Gold as he stays with his friend until he passes away.
Man, you can't Just… who am I gonna laugh at now?
– Booster Gold
Just…just look in the mirror.
– Ted Kord
Final Thoughts?
Wow! What an issue! It's another fine example of why Tom Taylor is the master of the Injustice universe as he successfully pays homage to a simpler time but then turns up the edginess to 10. It's quite an emotional issue that shows Ted finally accepting the responsibilities of the man he has become, not to mention his very sad death. Although it was relatively quite short, a fair bit happened in the issue which definitely cements the story for things to come in issue #6. The artwork of Bruno Redondo is amazing and when matched with the excellent dialogue from Taylor, it creates a very gripping and powerful comic from start to finish. The panels are well placed and all in all, this is another solid comic from Australia's very own Tom Taylor!
Recommended!
Gallery
Talent
Written by: Tom Taylor
Art by: Juan Albarran, Bruno Redondo
Cover by: Bruno Redondo
Specs
Series: INJUSTICE 2 2017
U.S. Price: 2.99
On Sale Date: Jul 5 2017
Volume/Issue #: 5
Color/B&W: Color
Trim Size: Comic
Page Count: 32