Comics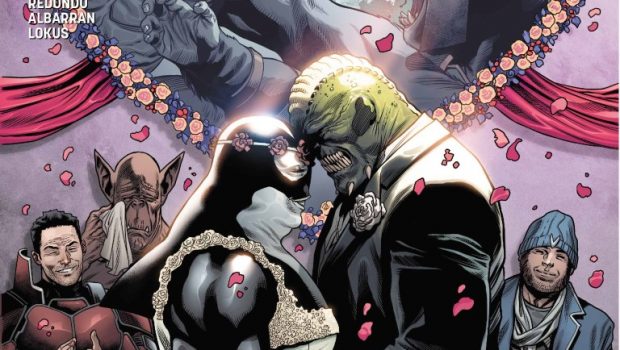 Published on October 10th, 2018 | by Andrew Bistak
Injustice 2 #35 Review
Summary: Injustice 2 #35 is another fun instalment from this twisted and crazy universe about a world gone mad
After the conclusion of the previous issue, Brainiac has 'ordered' Gorilla Grodd to become one of his personal soldiers on Earth in order to help locate the Kryptonian and prepare the planet for this interstellar tyrant's invasion. However Grodd defiantly informs Brainiac that he will help… right after he takes his home back from Solovar.
Elsewhere the Suicide Squad have entered the sewers of Gorilla City led by Deadshot who search for Killer Croc to give him a proposal that he cannot refuse… a marriage to Orca who is also carrying his child! So while Killer Croc attempts to work up the courage to ask Orca to marry him, the Suicide Squad watches on in shadows giving him the thumbs up in classic Tom Taylor fashion.
As the celebrations commence in Gorilla City for the marriage between Orca and Killer Croc, Ra's al Ghul offers these newlyweds their freedom from the Suicide Squad program by deactivating the bombs inside their heads. However this gift is misjudged by the ancient manipulator as these two apex predators turn on their former master before Grodd and his new found army arrive.
Expected the unexpected is what the motto of Injustice 2 is all about and writer Tom Taylor once again delivers this mandate with lots of twists and turns along the way. I so wish DC would offer Taylor a permanent gig on their writing team because this man not only knows about the DCU but successfully brings them to life in some amazing and enjoyable ways.
Final Thoughts?
All in all, another enjoyable issue from Tom Taylor and although a little on the slower side, it was still a great read from start to finish with some clever dialogue, world-building and excellent art by Daniel Sampere and Bruno Redondo who were made to draw this comic.
Recommended!
Gallery