Comics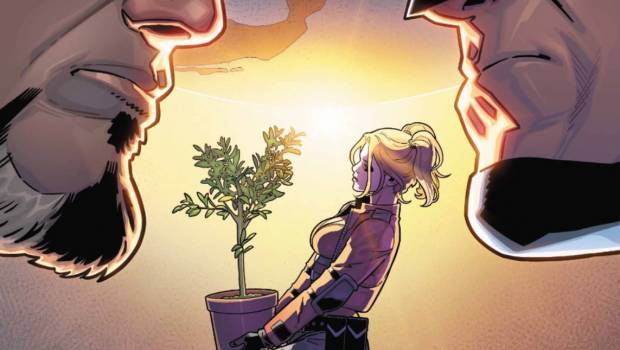 Published on September 22nd, 2018 | by Andrew Bistak
Injustice 2 #34 Review (Peace Offerings)
Summary: Will peace last? Not with the video game just around the corner but hey... the journey is priceless!
With the events of the video game Injustice 2 only a stone's throw away, the villain Brainiac has set his eyes on Earth in order to take it over and more importantly, retrieve the Kryptonian. Elsewhere Alfred is visiting Athanasia al Ghul in prison who is attempting to reason with the daughter of Bruce Wayne that the Batman is not the monster she believes him to be. After the conversation, Alfred returns to Bruce in order to force him to meet Ra's al Ghul to broker peace, not before our favourite butler has a dig at him about spending billions of dollars on becoming the world's most sophisticated peeping tom. However something strange happens to Alfred during this conversation courtesy of the affects from the Lazarus Pit which does seem to make Bruce see reason and he arranges an emissary to speak with Ra's al Ghul… the enigmatic Harley Quinn.
As Harley is taken to Ra's courtesy of Poison Ivy, she discovers that Orca is glowing and that she is pregnant in a classic Tom Taylor scene. With all jokes aside from Harley, she eloquently tells Ra's that Batman wants to listen and show his daughter Athanasia that there is a better way forward and that he wants to save the world with this villain. Ra's agrees and a meeting is held in the underwater city of Atlantis with a handful of world delegates and of course Batman and his team. Needless to say, things almost hit the fan during these 'peace' talks as factions turn against each other, only to be stopped by Harley who performs her own form of marriage counseling. Whether this truce lasts will be found out in the next issue, however Injustice 2 #34 ends with Brainiac capturing and controlling Grodd for his own nefarious purposes.
This was another strong issue of Injustice 2 and I've said it again and I'll say it again, Tom Taylor captures the voices of the DCU well and the interaction between these characters is almost flawless. Seeing Harley Quinn be the voice of reason are these moments why Injustice works so well. The issue is beautifully drawn by Daniel Sampere and Bruno Redondo who create a dynamic story with some great panels that really draw out the emotions from these characters. If you're interested in Injustice, you are a little late here but thankfully DC have some great trades available to catch-up and with Christmas just around the corner so it might be time to treat yourself. All in all another strong issue from Taylor and co!
Recommended!
Gallery