Comics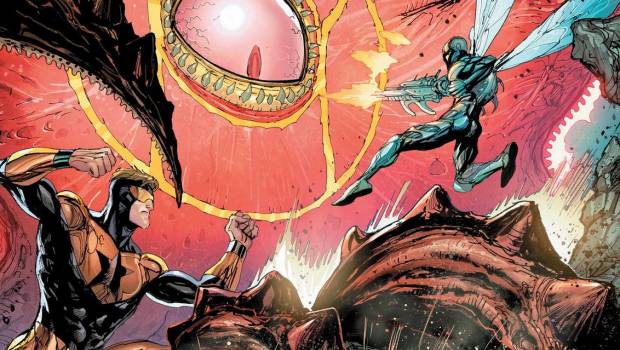 Published on September 8th, 2018 | by Admin
Injustice 2 #33 Review …. DYNAMITE!
Summary: Tom Taylor and Xermanico bring us another blockbuster issue of Injustice 2 with unexpected twists and the return of sorely missed character.
To save the universe, they'll pay the ultimate price as the cover of Injustice 2 #33 boldly informs the reader and although it's a classic comic book cliche, it also defines this comic well. So while Connor (Superman) and Cassie (Wonder Girl) are taking on the forces of Brainiac, they are forced to concede defeat when their oxygen source is removed as one of them meets this powerful intergalactic entity.
Elsewhere and high above OA, the Green Lanterns led by Hal Jordan are successful in defeating the Red Lantern Corps as Atrocitus embarrassing flees with his 'tail' between his legs as he vows to come back. Although both corps have took heavy causalities, the universe can once again be protected by the Green Lanterns and with Hal Jordan's atonement, the 'ghost' of Guy Gardner farewells himself with a warning not to align himself with dictators. It's these little moments between characters like Hal and Guy where Tom Taylor excels.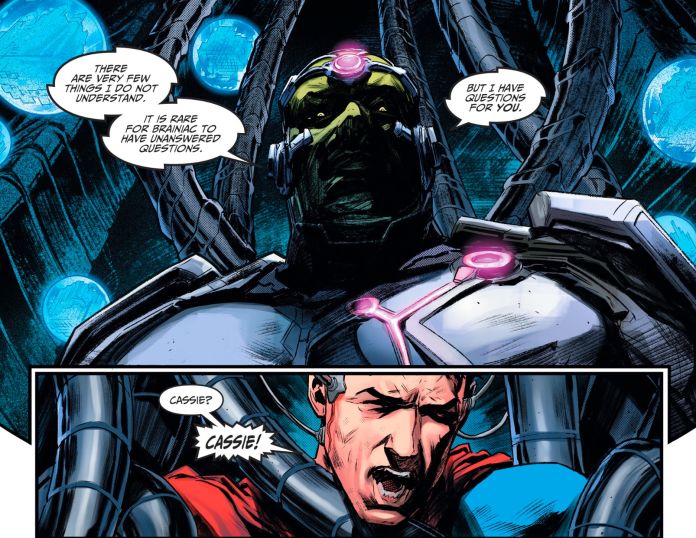 With Connor now enslaved by Brainiac, this intergalactic despot finds no use for this 'created' Superman as he vows to find the last remaining Kryptonian. Banished, Connor and Cassie are saved by the Legion of Superheroes courtesy of Booster Gold's intervention… as we now have two Booster's in this timeline. The current bearer of Blue Beetle Jamie Reyes also learns that in ancient times, they could not to defeat Starro the Conquerer without removing the bond between human and scarab. So while Jamie breaks the bond, he is saved by our Booster and his trusty sidekick Skeets.
And in a truly unexpected and in classic Tom Taylor fashion, the second Blue Beetle of the 20th century returns, Ted Kord as his buddy Booster managed to find him a few more year before his inevitable death. Although Ted can't change the timeline and in an emotional moment between two best friends, our former Beetle states that he can be there in the end for Booster as they sacrifice themselves to take on Starro.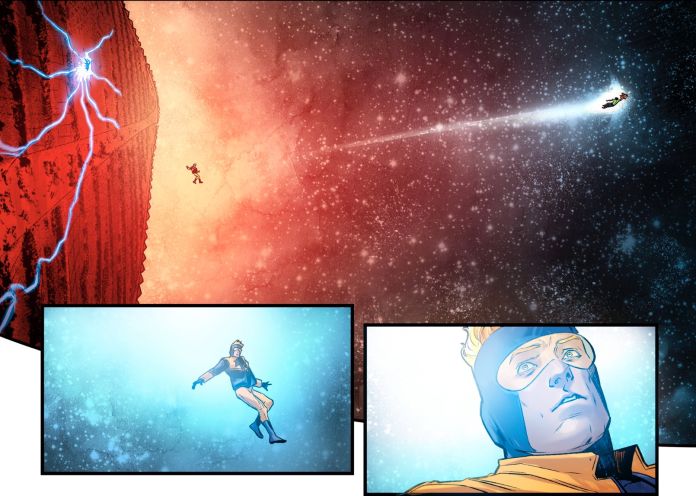 Wow… what another spectacular issue that was not only well-written but contained some excellent charaterisation, relationships and powerful scenes between these characters. As much as I love Injustice 2, it's quite a bitter sweet universe because these are the characters I grew up reading before DC went a little crisis crazy with reboots, revamps and rebirths…. and too many deaths Nonetheless, when matched with the art of Xermanico (even though I'm still missing the previous artist), he still channels that summer blockbuster feel with dynamic panels with characters brimming with emotion and for some, determination. So Mr Taylor has another great partner in crime.
Final Thoughts?
BOOM! Injustice 2 #33 once again ticks all the right boxes for a fantastic read!