Comics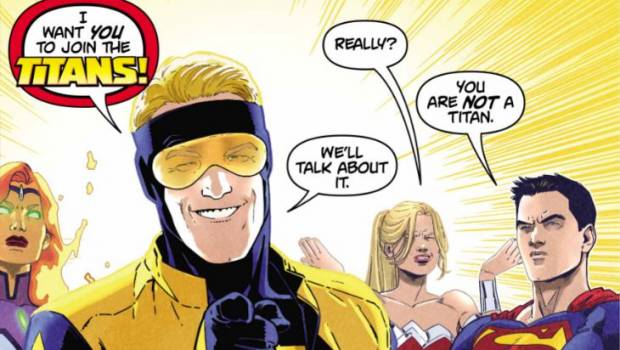 Published on July 4th, 2018 | by Andrew Bistak
Injustice 2 #29 Review … Blue Beetle gets BOOSTED!
Summary: Injustice 2 #29 is another classic story from Taylor and Redondo with some truly unexpected twists and amazing art!
With a classic cover showcasing Booster Gold that has some parallels to the classic Justice League covers by artist Kevin Maguire, writer Tom Taylor and artist extraordinaire Bruno Redondo (this guy rocks by the way) bring us a thoroughly enjoyable issue of Injustice 2 #29 with more twists than an episode of Game of Thrones.
This issue also focuses on Booster Gold (Michael Jon Carter) and Blue Beetle (Jamie Reyes) that starts with the Titans rocking up to Jamie's parents house in "civilian" clothing, although this doesn't really work for Starfire (aka Princecess Koriand'r of Tamaran) which is brought to life perfectly by Bruno Redondo, especially the facial expressions.
The three members of the Titans, Connor (now Superman), Cassie (Wonder Girl) and Starfire want Jamie to join, however he declines for his own personal reasons. Needless to say, Booster and his partner in crime, Skeets are a little disappointed that he declined and to make matters worse, they receive a visit from the last czarnian himself, Lobo. This bounty hunter wants Blue Beetle and although Booster Gold tries to stop him, he fails. Thankfully for Michael Jon Carter, he has the help of the Titans and their "borrowed" ship the Javelin to travel inter-space and rescue Jamie from the clutches of Lobo.
And when it comes to Injustice 2 surprises, Tom Taylor once again does the unexpected as we learn that the New God Metro has commissioned the services of Lobo to deliver the bearer of the scarab. W also discover that Metron needs Blue Beetle to "man-up" in order to stop Starro the Conqueror that ends the issue in a truly "what the" moment that I can't wait to see how this story plays out.
Like previous issues, this story has some great character development, world building and Tom Taylor successfully captures the voice of each and every character. There's also an amusing moment when Batman finds out that the Booster and the Titans have stolen the Javelin from the Hall of Justice and even though he is quite annoyed, his partner Selina (Catwoman) watches on in amusement. Add in the amazing art of Bruno Redondo and he really brings this issue to life with some larger than life panels and great emotions that turns this issue into my favourite comics for the week.
Recommended… no, highly recommended!
Gallery