Comics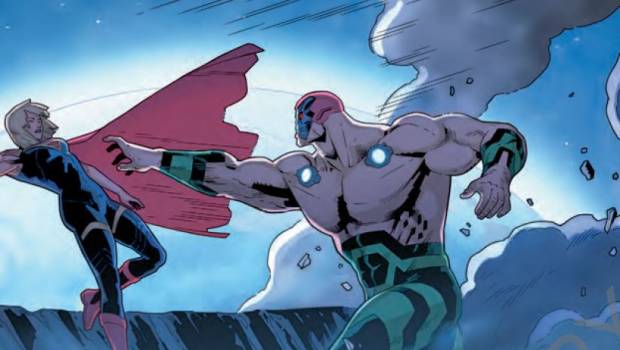 Published on April 18th, 2018 | by Andrew Bistak
Injustice 2 #24 Review (Last Stand Against Amazo)
Summary: Injustice 2 #24 (Last Stand Against Amazo) is the ultimate DCU gone crazy but a comic that had me glued to the book from start to finish!
10
Perfect Taylor and Redondo
After the shocking cliff-hanger from the previous issue, Batman's team is falling against the crazed android known as Amazo in the decimated city of Delhi courtesy of Ra's al Ghul. While Harley attempts to rescue an unconscious Batman, more and more heroes continue to fall, including Booster Gold who valiantly enters the fray, only to be squatted away like a fly by Amazo. His new 'buddy' Blue Beetle calls his battle cry but his chance to face this crazed killer is cut short by Supergirl who takes this creature off world.
Now, stop your monster.
– Jason Todd
Elsewhere in Gorilla City, the 'other' Batman (Jason Todd), Damian Wayne, Vixen and Animal Man discover that Professor Ivo is behind the current rampage of Amazo, however he is being forced by Ra's al Ghul as this villain is threatening his children… including sending pieces of them back that secures his obedience. Unfortunately this incarnation of Amazo may be beyond control.
Time to leave my tower.
– Supergirl
As Supergirl fights this android on the dark side of the Moon and with victory turning towards this technological monster, this gives Professor Ivo the time needed to create a work-around to slow Amazo down, before he is shot dead by Athanasia al Ghul. This allows Damian Wayne to give Supergirl the information needed to defeat this android in truly spectacular fashion as another enjoyable issue of Injustice 2 ends.
I'm … I'm just a little melted.
– Offspring
Like previous issues of Injustice 2, it is well written and Tom Taylor who creates a compelling yet broken universe, including some excellent dialogue and witty humour. Not only Taylor get into the head space of each and every character, he also adds an element of suspense and surprise that works on every level. Then you have the impressive art of Bruno Redondo who gives the comic that Summer Blockbuster feel and is almost to die for.
The world has a freaking Supergirl
– Blue Beetle
Final Thoughts?
Perfect Taylor and Redondo!
Gallery