Comics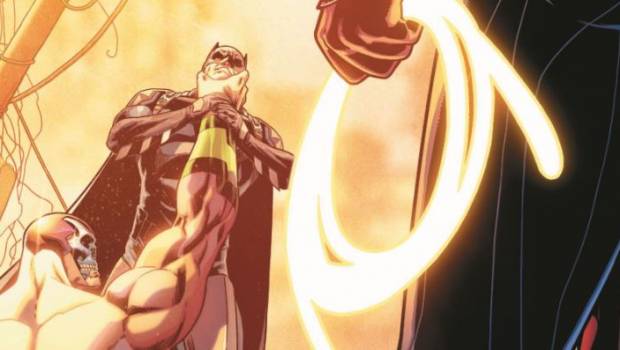 Published on April 4th, 2018 | by Andrew Bistak
Injustice 2 #23 Review
Summary: Injustice 2 #23 kicks another goal in spectacular fashion
As Amazo rains destruction on Delhi with over 23,000 lives lost, Batman and his team attempt to ground the android responsible as the Dark Knight unleashes his wildcard. This card is the recently healed Superboy who was unable to leave the Phantom Zone due to a life threatening injury who is now wearing the regalia of Superman. His second card is Ray Palmer, the Atom who also discovers something uncanny about Amazo.
Although Batman's team get their collective butts handed to them, even with Green Arrow firing a nuclear arrow into its head, it seems that this technological Frankenstein is unstoppable. However an unexpected Amazonian steps into the fray as a new trinity is formed. Elsewhere, Gorilla City to be exact, Animal Man, Vixen and Damian Wayne are questioning the genocide of Ra's al Ghul as these trio are interrupted by the 'other' Batman as we finally get to see who is under the cowl.
Like previous issues, Tom Taylor hits another home run with Injustice 2 #23 with excellent story telling and some great dialogue thrown into the mix. I'm thoroughly enjoying his unexpected twists, even though some of it can be a tad violent but hey… we're talking Injustice here. Add in the detailed art of Daniel Sampere who captures the majesty and wonder of all these characters and when combined with the text of Taylor, he helps create a truly engaging comic from start to finish.
Final Thoughts?
Twists twists and more twists! Injustice 2 #23 delivers spectacularly!
Gallery