Comics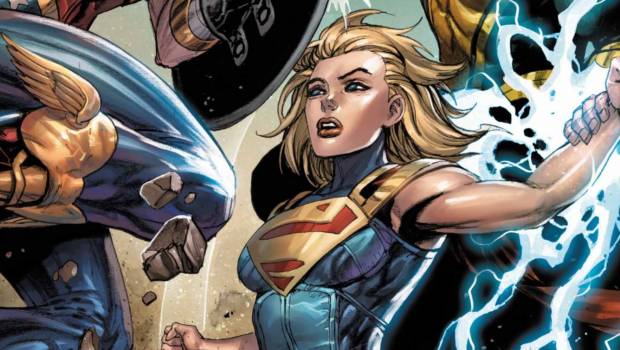 Published on March 7th, 2018 | by Andrew Bistak
Injustice 2 #21 Review (Trial by Combat)
Summary: Tom Taylor's Injustice 2 continues kicking superhero goals!
Tom Taylor commences this issue with an Amazonian 'battle' cry… NOW! STOMP ON HIS TESTICLES! … as Kara (aka Supergirl) is fighting against Black Adam in the capital of Kahndaq. She is being taught how to fight. However Kara refuses to unleash her fury as the exiled Wonder Woman gives her a heart to heart that she must be ready to win by any means necessary and that one day she may be the difference between peace and destruction.
Elsewhere, Jamie Reyes, the current Blue Beetle is also engaged in training with Booster Gold when these heroes receive an unexpected visitor about the estate of the recently killed Ted Kord. As Booster inherits Kord Industries, the recently deceased Ted is still looking after his buddy as he ensures that Booster's debt in the future will eventually be paid and that his suit which he stole is now his.
We also learn that Ra's has wiped out a town in Arizona as Damien Wayne goes to investigate his grandfather's motives in Gorilla City before giving Kara another pep talk about finding that inner strength within her.  As a result of Damien questioning his grandfather, this causes a rift in Gorilla City as Grodd attempts to usurp power from Solovar as Ra's attempts to call his allies.
Tom Taylor has a knack for some fun dialogue and there's plenty of it in this issue of Injustice 2. His characterisation is perfect and his world building of this twisted universe continues. The only slight drawback of this issue is the two artists Daniel Sampere and Mike S. Miller who are both excellent artists in their own right does make the comic feel slightly disjointed.
Final Thoughts?
Injustice 2 continues its heading towards the video game and this series makes the perfect accompaniment that is made more like a blockbuster comic thanks to writer Tom Taylor.
GALLERY