Comics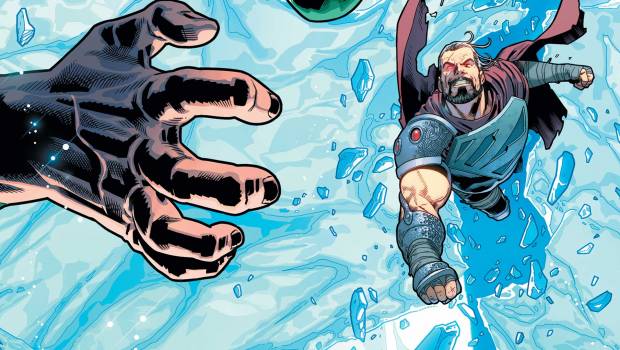 Published on February 21st, 2018 | by Andrew Bistak
Injustice 2 #20 Review (Amazo vs Zod!)
Summary: Unexpected and thoroughly enjoyable is the latest issue of Injustice 2 #20!
After the devastating events of the previous issue that saw Titan Tim Drake murdered by the nefarious General Zod, Batman has taken matters into his 'own' hands as he seeks justice. With his powerful battlesuit, the fear toxin from the Scarecrow, he has tricked the general in thinking that he is fighting against Kal-El. However an unexpected element is thrown into the mix  courtesy of Ra's al Ghul and when Zod sees through Batman's guise, Amazo arrives and easily defeats the general and in a powerful panel by Bruno Redondo, he is decapitated… welcome to Injustice 2 #20!
Tom Taylor once again does the unexpected as we're treated to another engaging issue of Injustice with some great characterisation and lots of twists along the way. So with Wildcat in a coma in hospital, Batman pays him a visit and with modern medicine unable to heal this ageing hero, Bruce does the unthinkable and kills this heavyweight champion. As a result, this kick starts Wildcat back to life with Batman's endgame is finding out from Ted Grant where famed surgeon Charles McNider (aka Dr Mid-Nite) is living.
Why? Batman wishes to use his skills as a surgeon to help Connor Kent heal who is trapped in the Phantom Zone due an injury that will kill him if he returns to Earth. McNider does the impossible and with his surgical skills, he manages to save Connor with the help of his 'assistant' Harley Quin. Although last issue felt a bit forced with the death of Tim Drake, Taylor successfully manages to bring the story back on track with all these fun little twists and great conversations found along the way between characters. When matched with the detailed and action-packed panels from artist Bruno Redondo, he helps bring the word's of Taylor to life in spectacular fashion.
Final Thoughts?
Boo-yeah! This was one of my favourite issues of Injustice 2 and with Ted Grant (aka the Wildcat) and Charles McNider back, does this mean we might be seeing another doctor from the Justice Society?
Highly Recommended!
Gallery