Comics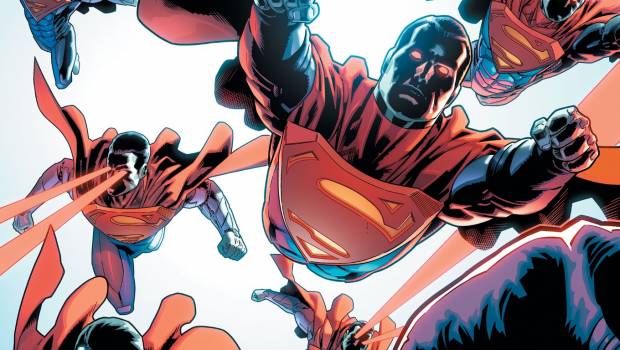 Published on January 17th, 2018 | by Andrew Bistak
Injustice 2 #18 Review
Summary: Injustice 2 #18 continues the extraordinary journey of this dark universe with Batman holding the beacon of hope
The repercussions of the battle with Ra's al Ghul continues as Bruce comes to the 'Quiver', the base of Oliver Queen (aka Green Arrow) bearing gifts… a puppy for Harley Quinn! Although in all seriousness (this actually happened), our Dark Knight is being questioned by Green Arrow and Black Canary for their involvement in his last missions which not only saw the destruction of several extinct species but Bruce used their son as bait… needless to say, they are both pissed.
Batman has a puppy!
– Harley Quinn
Although a 'hot head', Oliver does explode at his visit, however he does see reason when Bruce delivers the message that Wonder Woman has escaped Paradise Island and that they need more power on their team to face what's to come. Catwoman who is tagging along with Batman informs the group that the Teen Titans are alive and were imprisoned by Superman under his regime in the Phantom Zone which may give them the power they need.
And under your leadership, the U.S. lost its government and all of its living presidents.
– Green Arrow
However before things literally go bat crazy, Bruce has planned a mission to the Fortress of Solitude to help break the Titans out which includes Green Arrow, Black Canary, Harley Quinn, Plastic Man and his son, Catwoman and Steel (Natasha Irons). As a little bit of a disconnect to the story and before the mission, it jumps to Wayne Manor as the recently resurrected Alfred Pennyworth is becoming more like his old self as Bruce gives him the puppy he offered to Harley.
Are you hiring me a butler sir?
– Alfred J. Pennyworth
As the story resumes, the heroes successfully break into the Fortress of Solitude as its defense mechanism kicks in which is a small army of Eradicators. With the odds against them and with a very unexpected twist, the Eradicators are told to stand down by the adoptive parents of Clark Kent, Martha and Jonathan Kent. Although Batman's group is welcomed into the Fortress, there is one member who is not allowed as Harley is denied access due to the catalyst of what her former lover the Joker had done in Metropolis. The issue ends with Plastic Man entering the Phantom Zone as he eloquently informs the reader… Oh, this is **** as he observes something off-panel.
You are not welcome in this house.
– Jonathan Kent
Injustice 2 #18 was a really fun read and once again I loved the characterisation of what Tom Taylor delivered and his unique look into this twisted version of the DCU. More importantly, he nails the characters perfectly and with the great dialogue and world building, Injustice 2 #18 was my favourite comic of the week. Add in the flawless art of Xermanico who creates some very dynamic and explosive panels and the words of Taylor with this art comes together very well.
Final Thoughts?
All in all, another great issue from Tom Taylor and crew!
Talent