Comics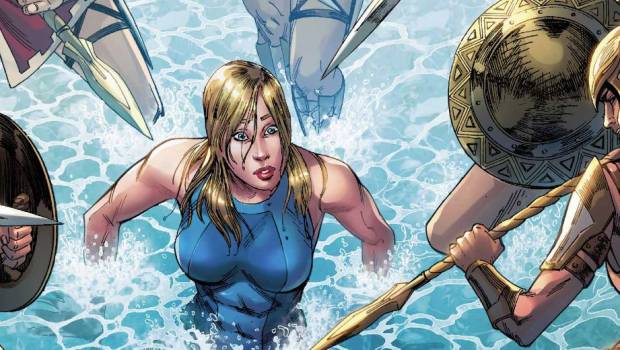 Published on December 11th, 2017 | by Andrew Bistak
Injustice 2 #15 Review (Supergirl on Paradise Island)
Summary: Injustice 2 #15 is a story about Paradise Lost!
It's a great time to be a DC fan, especially with all the great titles being released each month from this company and one of these titles in Injustice 2 written by Australia's very own Tom Taylor with art by Mike Miller. Sure, it's a darker universe but the characterisation is flawless as is the engaging story as we observe this corrupted world. This issue focuses on Wonder Woman who has been imprisoned by her Amazon sisters for leading them into an unjust war. The former princess of Themyscira is also tormented by Ares himself who gives Wonder Woman a very cryptic clue about remembering who she was in order to train the 'one'.
I want you to remember who you were, and train the only one who can. – Ares, the God of War
Meanwhile Kara is being given a history lesson by Damian Wayne as they make their way to Themyscira by boat before the estranged son of Batman and Black Adam fake the crash of Supergirl onto the shores of Paradise Island in order to start her mission. 'Rescued' by the Amazons, she is also greeted by Nubia who now calls herself Wonder Woman and needless to say, these warriors are apprehensive of their guest. When she is questioned by Philippus and Menalippe by the lasso of truth one night which threatens to reveal her plan, she is rescued and taken to a group of sympathizers to Diana and needless to say… things are about to hit the fan on Paradise Island.
You are a coward, mother. – Wonder Woman
Like previous issues, Tom Taylor delivers another riveting story and unlike the regular DCU, this world is all about expecting the unexpected which is where this writer succeeds. Furthermore, Tom creates a very compelling universe and his knowledge of the lore of the DCU is exceptional, especially with all the characters he includes in his stories. With lots of surprises along the way and lots of action, Injustice 2 #15 also boasts some exceptional art thanks to Mike Miller, even though the cover looks a little too much like Fathom. Nonetheless, a very enjoyable read from start to finish!
Final Thoughts?
Do yourself a favour and check out Injustice #2 now!
Release the Queen. – Nubia
Gallery