Comics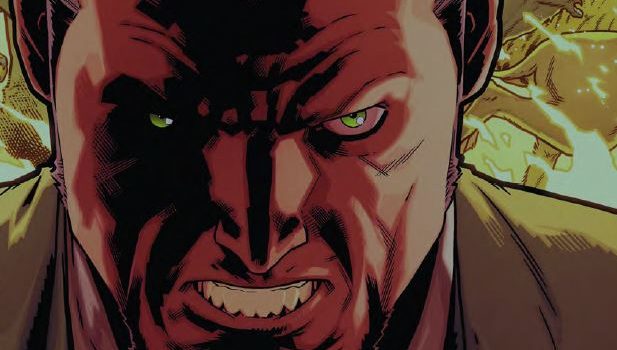 Published on October 18th, 2017 | by Andrew Bistak
Injustice 2 #12 Review (The Rage of Ra's al Ghul) *** Spoilers ***
Summary: It's Batman vs Ra's al Ghul in Injustice 2 #12 as a queen dies!
It's king vs king in the latest issue of Injustice 2 as both Batman and Ra's al Ghul are both dealt a devastating blow in this epic conclusion. We also learn that the mysterious arm that prevented Batman from finishing his son Damian was none other than the recently resurrected Alfred Pennyworth whose dip into the Lazarus pit has proved successful. Alfred also demands that Bruce and Damian forgive each other and also proves to the be quite the diplomat as he politely informs that Batman and Ra's, two of the most intelligent men on the planet that they should be working together.
Unfortunately 'fate' intervenes which is the reckless Jamie Reyes as Blue Beetle who is using his full power of the scarab to breach the sanctuary of Ra's al Gul. As a result, both teams erupt into a chaotic fight and in another thoughtless move by Blue Beetle, he unleashes his powers onto El Diablo and as this villain is unable to control his fire powers, the entire sanctuary of Ra's is wiped out, including all the endangered animals and as a further repercussion, it causes the death of Ra's daughter Talia.
Meanwhile at the President's inauguration in the United States where Steel and Aqualad are protecting the ceremonies, we discover that Jackson is working with Ra's. By evoking his birth powers from Atlantis, he summons a gigantic tidal wave to wipe out the inauguration as Steel helplessly watches on. As Batman achieves his goal by saving the children and bringing back Alfred, Ra's has experienced a bigger loss, however our villain still has one more card up his sleeve with Professor Ivo.
Thoughts?
Injustice 2 #12 was a ripper of an issue as the climactic battle between Batman and Ra's reached boiling point. Tom Taylor injected some excellent dialogue into his story, including (for me anyway), the unexpected twist of Aqualad. Even though this series has that blockbuster feel, he adds several layers to his characters, including emotion and this issue was definitely filled with that. Add to the dynamics of the story was the detailed art of pencillers Daniel Sampere and Bruno Redondo and although they shared the art duties, it flowed very really and both artists produced some excellent work.
All in all, another exciting issue from Taylor Made and Crew!